My father-in-law had bought a huge watermelon at the store, and when he recently came by the house he dropped off half of it for us. I was so excited! He is always so good to Marc and me. I knew immediately that I wanted to use a lot of it to make a gazpacho. When glorious summer peaches entered the equation as well, it became a complete win! This watermelon peach gazpacho is so incredibly refreshing on a Summer's night before the main course. It really wakes up the palette and gets the appetite going. Best of all, it could not be quicker and easier to make!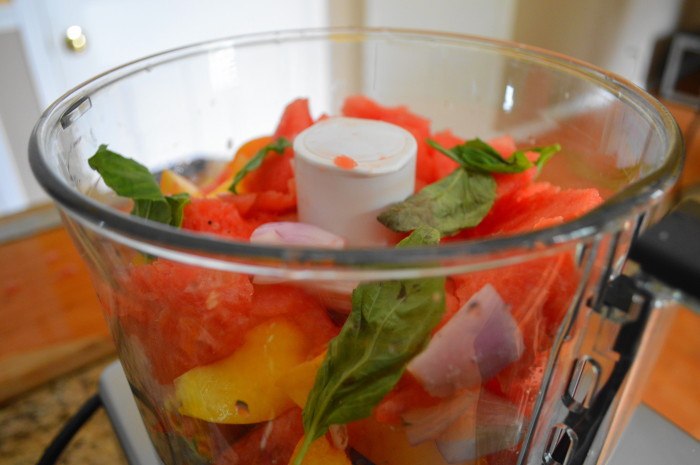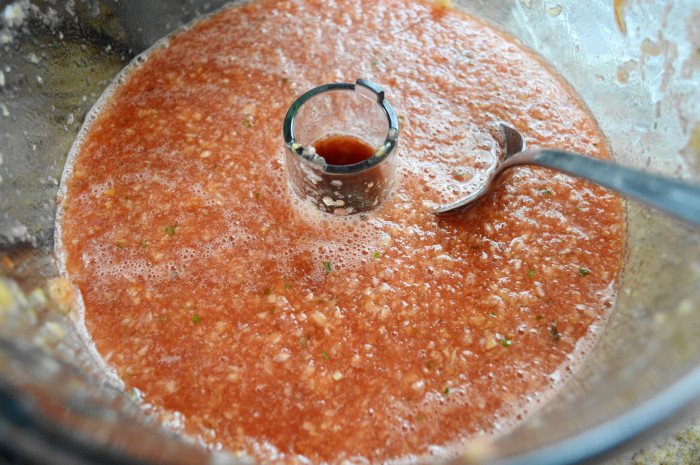 Once it was pureed and flavored to taste, I transferred the watermelon peach gazpacho to a container and sealed it up. It needed to sit and chill in the refrigerator at least 2 hours before serving. I have these really fun martini glasses that you nestle in a matching bowl of ice water to keep them chilled, and I thought they would be so perfect for serving the watermelon peach gazpacho. I garnished with a little bit of basil chiffonade and a thin wedge of watermelon to make it look really effortlessly pretty. Depending on how big the portions are that you serve, this can serve about 4-6 people. You will wow everyone with this gorgeous dish that highlights the best of summer!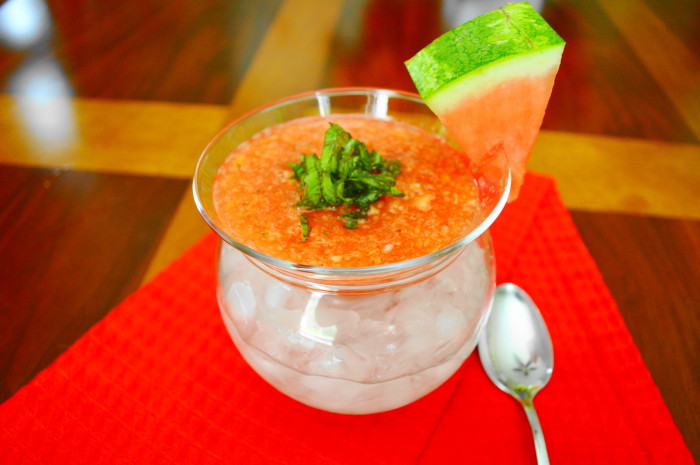 Watermelon Peach Gazpacho
Ingredients
1/4

whole

watermelon

seeded, scooped off of the rind and roughly chopped

2

whole

peaches

pitted and roughly chopped

1

whole

shallot

peeled and roughly chopped

6

whole

basil leaves

2

pinches

salt

1/2

teaspoon

Sriracha

1/2

teaspoon

strawberry balsamic vinegar

1/4

teaspoon

worcestershire sauce

Additional

basil leaves

cut into chiffonade, as needed for garnish

Additional

watermelon wedges

as needed for garnish
Instructions
Set up your food processor. In the bowl of it, combine the watermelon, peaches, shallot, basil, salt, Sriracha, strawberry balsamic, and Worcestershire, sauce. Give it a puree until it is uniform but still has some texture. Taste for salt and heat and add as necessary until it is to your liking.

Transfer the watermelon peach gazpacho to a container and seal it up. Then let it chill in the refrigerator for at least 2 hours.

Spoon the gazpacho into pretty bowls (or even martini glasses!) after it has been chilled, then garnish with some tendrils of basil chiffonade and a thin watermelon wedge. So pretty and refreshing to start a meal!
SaveSave