A hearty spaghetti bolognese is one of the great joys of Italian cuisine. Even the name is fun! Bolognese sauce sounds so much prettier and fancier than what it is, which is a hugely flavorful meat sauce. This is family dinners at my Nana Lulu's in sauce form. I happened to put it over fresh spaghetti this time, but this stuff goes on so many yummy things. Think lasagna, pizza, calzones, baked ziti, and the list goes on. My version has four different meats, three different tomato products, lots of aromatics and some red wine to make it really full bodied. It's just layer upon layer of flavor.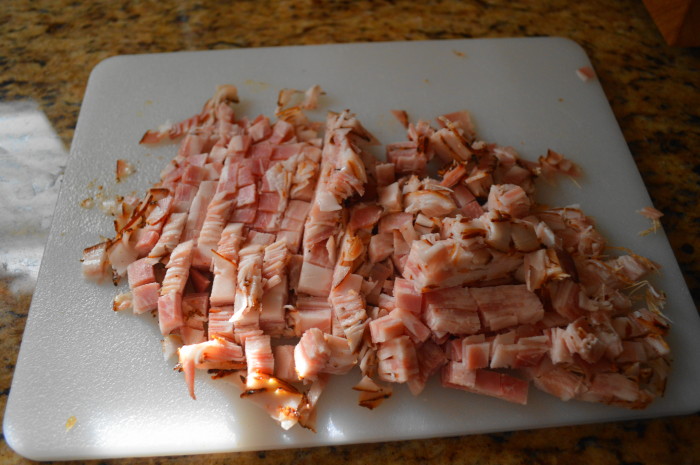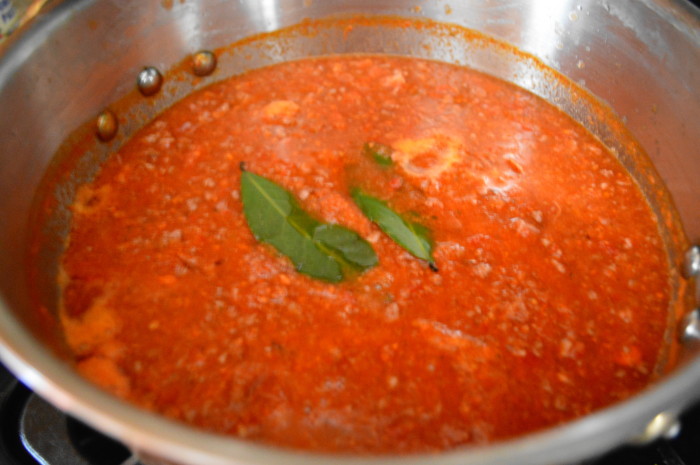 While the sauce simmered, I whipped up a double batch of my fresh pasta dough. Then I rolled it out and cut it into fresh spaghetti. You can see just how I did it in my post about fresh pasta making here! If you are not in the mood to make fresh pasta though, dry spaghetti will work beautifully here too. Just allow for an extra few minutes of cooking time, otherwise the instructions are exactly the same. I tossed the spaghetti with the gorgeous sauce so that it could absorb the flavor a little. After that, I just plated the spaghetti bolognese into pasta bowls and topped it off with extra basil and parmesan to make a truly Italian culinary masterpiece. Enjoy and buon appetito!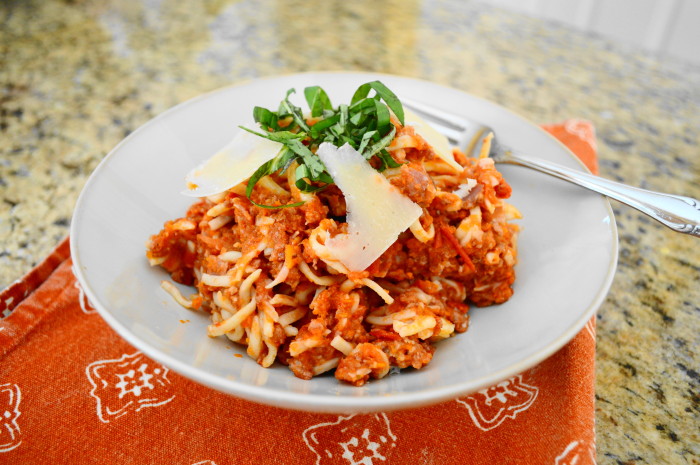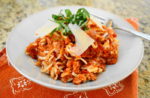 Spaghetti Bolognese
Ingredients
1

dash

herb infused olive oil

for browning

1/2

pound

pancetta

diced small

1 1/2

pounds

meatloaf mix

equal parts beef, pork and veal

1

tablespoon

tomato paste

1/2

cup

red wine

3

large

tomatoes

quartered

2

whole

onions

peeled and quartered

2

whole

carrots

peeled and quartered

2

stalks

celery

quartered

7

whole

garlic cloves

peeled

6

whole

basil leaves

plus additional chopped basil for garnish

1

large pinch

hickory smoked sea salt

1

pinch

crushed red pepper

1

pinch

nutmeg

1/3

cup

chicken stock

1

28 oz can

crushed tomatoes

1/4

cup

freshly grated parmesan cheese

plus additional for garnish

1

tablespoon

butter

2

whole

bay leaves

1 1/2

pounds

spaghetti

use my fresh recipe or dry!
Instructions
In a large pot, heat the olive oil over medium high heat. Add the pancetta and let the fat render out while it cooks through. When it is pretty well cooked through, add the rest of the meat and let it brown in the rendered fat, breaking it up with a spoon.

While the meats all cook, get out your food processor and combine the tomatoes, onions, carrots, celery, garlic cloves and basil leaves in the bowl. Puree it completely, it will naturally have some texture. Set it aside.

When the meat is cooked, add the tomato paste into the pot and let it cook through. Then pour in the wine and let it reduce for 5 minutes. The puree you just made goes in next, let that get cooked and fragrant for another 5 minutes.

Now it's time for everything else to jump into the pool. Season the sauce with the salt, crushed red pepper and nutmeg. Adjust to your taste accordingly, my measurements are a guideline. Then add in the crushed tomatoes, chicken stock, parmesan and butter. Give it a big stir and then lastly add in the bay leaves. Bring the sauce to a boil, then reduce it to a simmer and let it go low and slow for 2 hours.

If you are going to make the pasta fresh, at this point make the dough, let it rest and then get it rolled out and cut while the sauce simmers. Cover it up with a tea towel until you are ready to cook it.

Just before you are ready to serve, get a large pot of salted water on the stove and bring it to a boil. Remove the bay leaves from the pot of sauce. Cook the pasta until just tender. Dry pasta takes about 5 minutes more than the fresh. Drain the spaghetti and get it into the pot of bolognese sauce and toss everything thoroughly to combine it.

Scoop the spaghetti bolognese into bowls and garnish with additional basil chiffonade and parmesan shavings to finish it off. Mangia and enjoy!
SaveSave