It's no contest. My favorite Holiday in the world is Thanksgiving because it is just the best darn food day of the year! Of course the centerpiece is the Thanksgiving turkey, and there are so many ways to make it that it can get overwhelming. To brine or not to brine, to fry or not to fry…these are almost existential level culinary questions in my book. I like a wet brine and the safer roasting method, so that's the route I went this year. The turkey I used was a manageable 16 pounds, which was just perfect. I put my Thanksgiving turkey into the refrigerator to start thawing 3 full days before I wanted to cook it.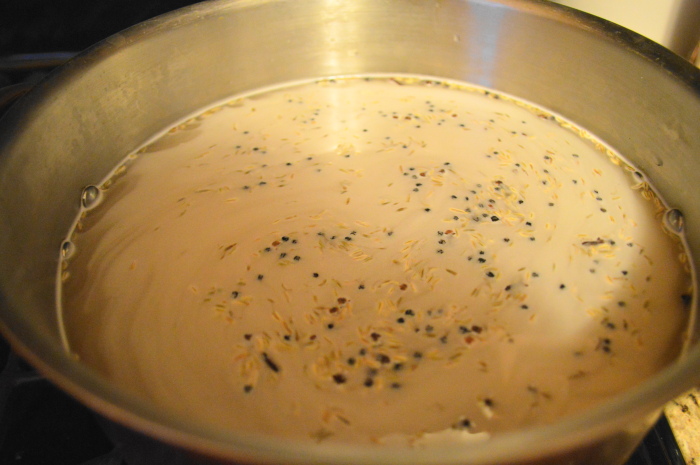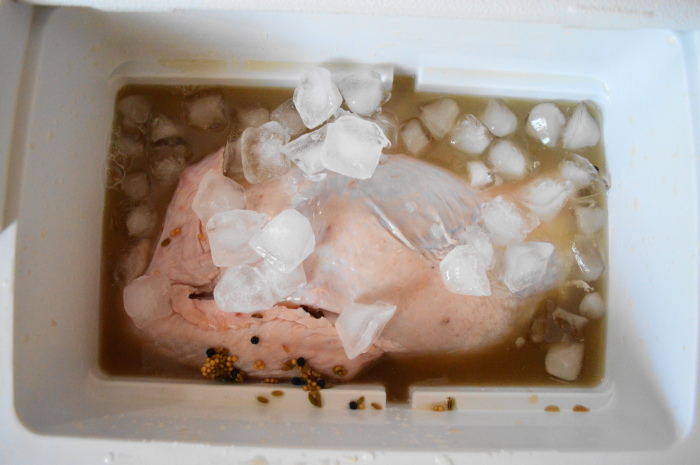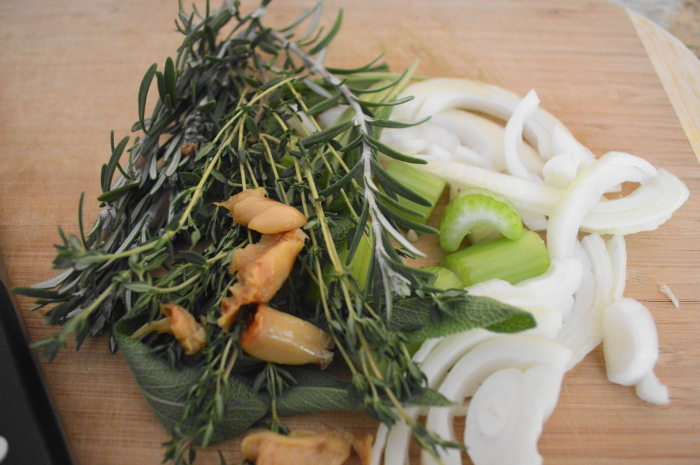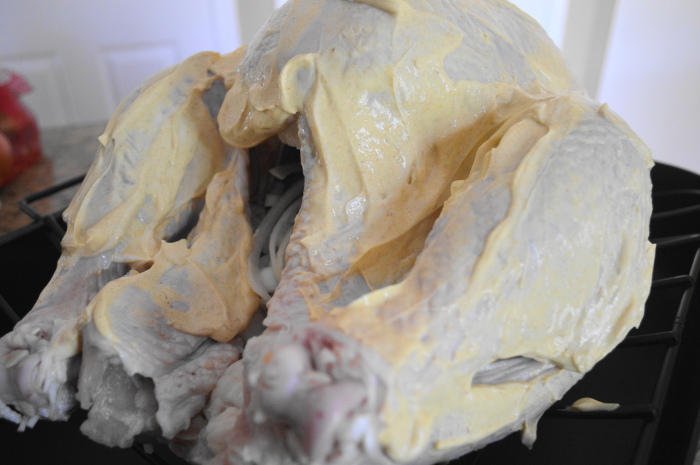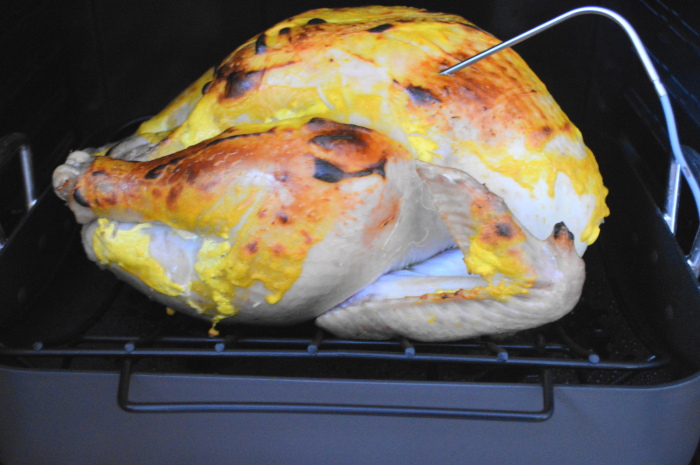 I let the Thanksgiving turkey roast slowly until the temperature read 161 F. Luckily my thermometer also had an alarm that goes off when it reaches the set temperature. That way, while everything else was going on in the kitchen and dining room I wouldn't forget about it! It took just about four hours total to roast to perfection. During this time I was able to decorate and lay the table ready for everyone to arrive. I recently purchased a glass dining table and chairs that I covered with a beautiful table cloth to keep it nice and clean. Once the table was ready, the timer started beeping so it was perfect timing really.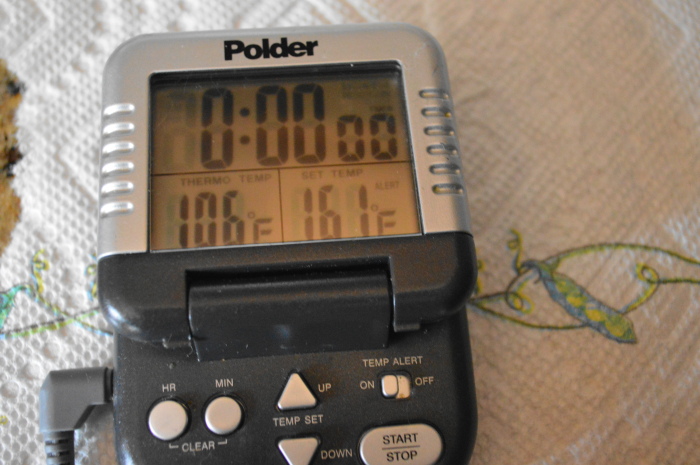 Once the Thanksgiving turkey was done, I took it out and let it rest for 15 minutes with a tent of foil over it. Then I transferred it to a carving board, and after I took about a billion pictures I got to work carving it! The meat was so incredibly succulent and moist, the Greek yogurt worked its magic like a charm. The skin was gloriously crispy on the outside too. I'm a dark meat person, I love nothing more than diving into one of the legs. This Thanksgiving turkey was drama free to make and such a joy to eat. Your family and loved ones will love it!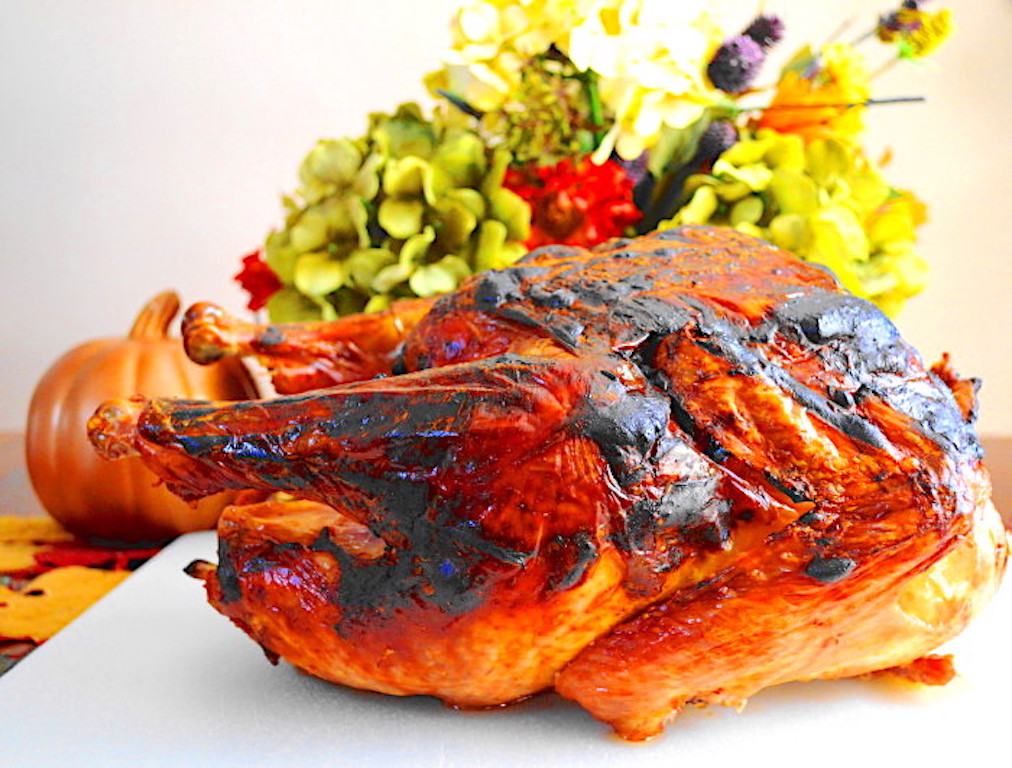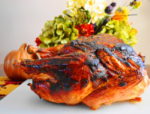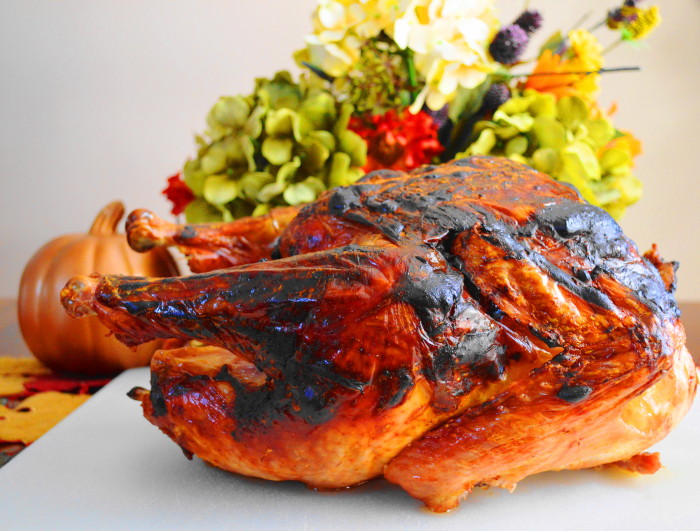 Thanksgiving Turkey
A fantastic brine and lots of aromatics make for an easy, stress free and delectable Thanksgiving Turkey! This bird is so succulent with a crispy skin.
Keyword:
Thanksgiving, Thanksgiving Turkey
Ingredients
FOR THE BRINE (make 2 days ahead)
1

gallon

chicken stock

1/2

cup

kosher salt

1

tablespoon

whole yellow mustard seeds

1

tablespoon

whole fennel seeds

1

tablespoon

whole black peppercorns

1/2

tablespoon

whole cloves
FOR ROASTING THE TURKEY
1

whole

young turkey

16 pounds

1

stalk

celery

quartered

1/2

of an

onion

thinly sliced

3

cloves

roasted garlic

*see note

3

sprigs

fresh thyme

3

sprigs

fresh rosemary

1

sprig

fresh sage leaves

1

container

Greek yogurt

7 oz size

1

teaspoon

herbs de provence

1/2

teaspoon

turmeric

1/2

teaspoon

coriander
Instructions
If your turkey is frozen, take it out on the Monday of Thanksgiving week. It will need 3 days to defrost. The safest way to defrost a turkey is to put it in the refrigerator.

On Tuesday, make the brine. Combine all of the brine ingredients in a large stock pot and bring it to a low boil over medium high heat. Let it gently boil for 5 minutes, then take it off of the heat and let it cool to room temperature. Once it cools, store it in a sealed container in the refrigerator overnight.

On Wednesday night, wash out your biggest cooler thoroughly. Put the mostly thawed turkey into the cooler, then pour the brine all over it. Add a cup of water and about 4-5 cups of ice in, then shut the cooler and store it in a cool location like a basement or garage overnight.

On the morning of Thanksgiving, pre-heat the oven to 500 F. Remove the turkey from the brine and discard the brine. Rinse off the turkey thoroughly with cold water inside and out, then pat it dry with a paper towel. Get the turkey onto a roasting pan fitted with a rack.

Stuff the cavity of the turkey with the celery, onion, roasted garlic, thyme, rosemary and sage. In a small bowl, mix together the Greek yogurt, herbs de provence, turmeric and coriander. Brush that mixture all over the turkey to coat it. Put the turkey into the oven for 30 minutes at the high temperature to really sear the skin.

Once 30 minutes are up, turn down the oven heat to 350. Insert a meat thermometer into the thickest part of the turkey breast. Let the turkey continue to roast until the internal temperature reaches 161 degrees F, which takes about 4 hours total (including the first 30 minutes on high) for a 16 pound bird.

Take the turkey out and let it rest for 15 to 20 minutes with a tent of foil over it, then carefully transfer it to a carving board. Remove the rack from the roasting pan but leave the roasting pan with all of the glorious drippings to make an incredible gravy. Carve the gorgeous Thanksgiving turkey to the delight of your guests and enjoy a wonderful Holiday meal!
Recipe Notes
*to roast garlic, pre-heat the oven to 400. Remove the outer paper layers of a head of garlic and cut the top tip off to reveal the tops of the cloves inside. Dizzle the top with a little olive oil, then wrap it in foil and roast it in the oven for an hour. Perfection, it has so many uses! It can be stored in the refrigerator for weeks, so you can make a head of roasted garlic well in advance of Turkey day. I use it in every dish!
Nutrition Facts
Thanksgiving Turkey
Amount Per Serving (1 serving)
Calories 573
Calories from Fat 143
% Daily Value*
Fat 15.9g24%
Cholesterol 255mg85%
Sodium 252mg11%
Potassium 1042mg30%
Carbohydrates 1.8g1%
Protein 98.9g198%
Calcium 80mg8%
Iron 5.9mg33%
* Percent Daily Values are based on a 2000 calorie diet.
SaveSave