Whenever we go to my dad and step-mom's house for Thanksgiving, my absolute favorite part of the meal is always the incredible sausage stuffing that my step-mom Donna makes. She was great enough to share her basic recipe with me that she plays with every year, so now I've played and made my own variation to share with you all! I assembled it the day before I cooked it. Then it just needed to go into the oven the day of Thanksgiving. It was a great make ahead option to make Thanksgiving that much easier!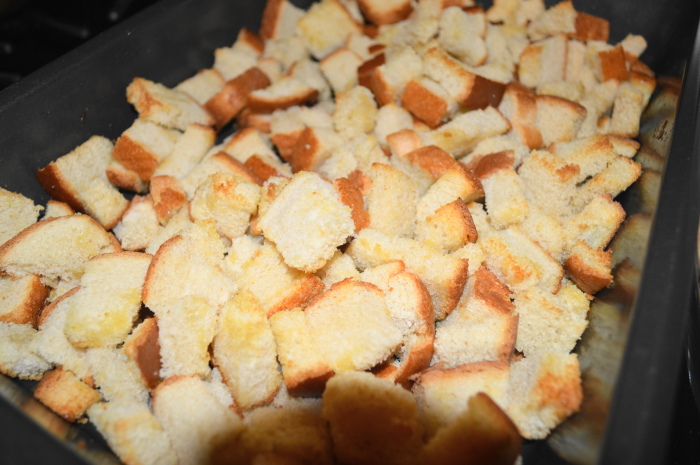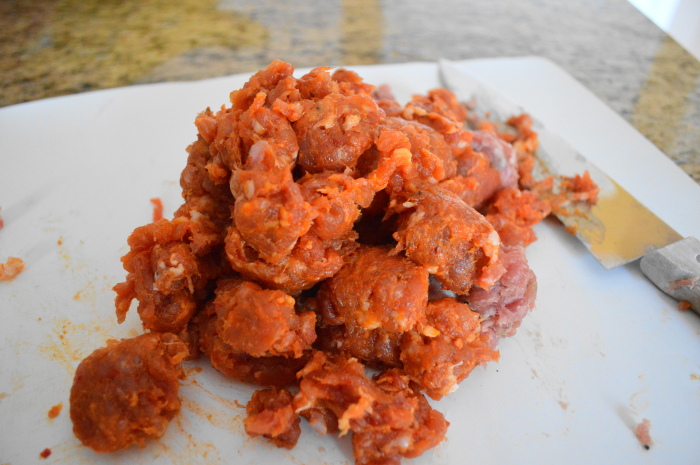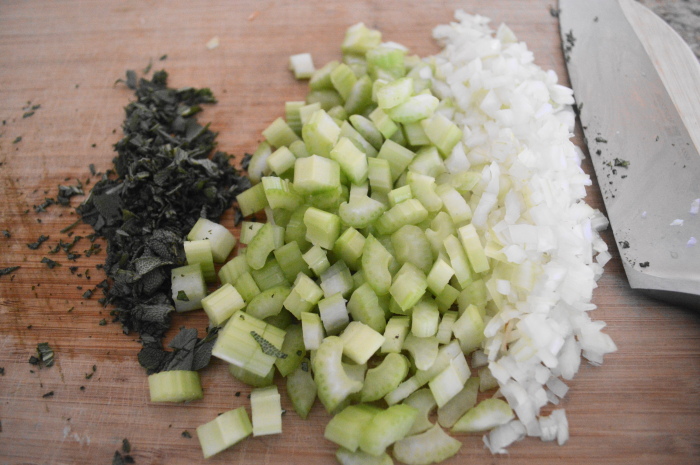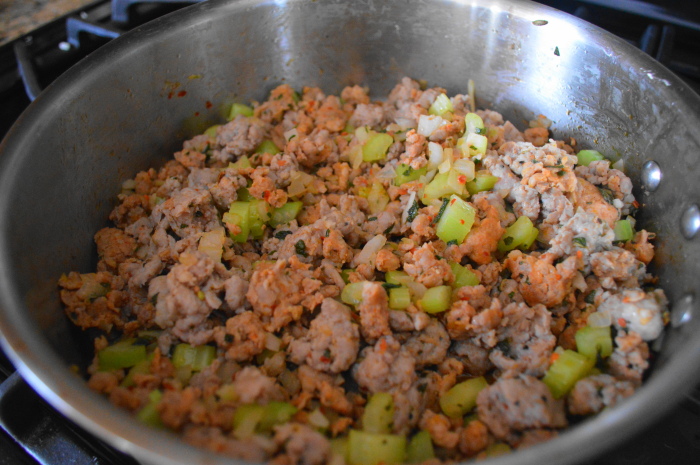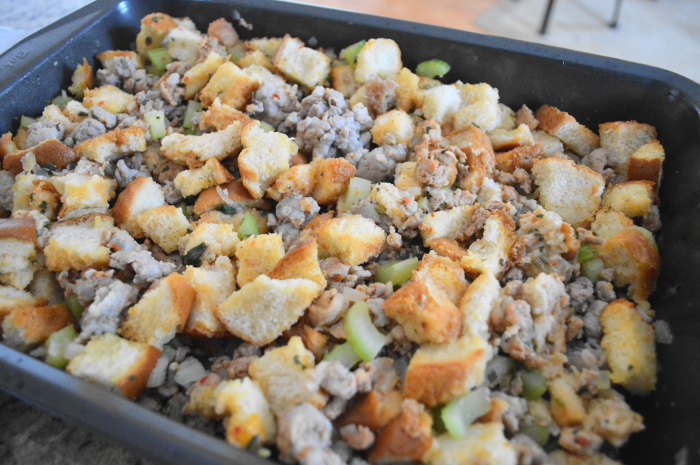 The next day when the sausage stuffing came out of the oven, I was ecstatic. It was and will always be my favorite part of Thanksgiving dinner. OH, and try not to hog it all like I tend to. If you do though, it's understandable and perfectly ok in my book. Enjoy, friends!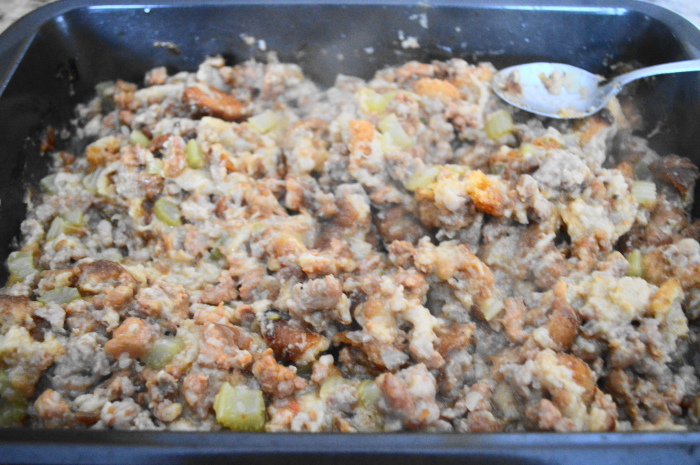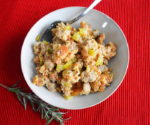 Sausage Stuffing
Ingredients
12

slices

white bread

cubed

3

tablespoons

olive oil

plus additional for cooking

4

links

sweet Italian sausage

casings removed

4

links

spicy Italian sausage

casings removed

4

stalks

celery

diced

1

small

onion

peeled and diced

1/4

cup

fresh sage leaves

finely chopped

1

pinch

hickory smoked sea salt

1

dash

apple cider vinegar

2

cloves

roasted garlic

*see note

2 1/4

cups

low sodium chicken stock
Instructions
Pre-heat the oven to 400 degrees. Lightly spray a 9 x 13 baking pan with cooking spray. Get the bread cubes into the pan and toss the cubes with the three tablespoons of olive oil. Put the baking pan in the oven to crisp up the bread for about 10 minutes. When it's done, take the pan out and set it aside.

Meanwhile, prepare the sausage mixture to go with it. Heat a big dash of olive oil in a pan over medium high heat. Brown the sausage while you lightly break it up with a spoon. Once it is brown add the celery, onion and sage and let them get fragrant for just a minute. Season with a big pinch of the hickory smoked sea salt and then add the dash of apple cider vinegar to deglaze the pan. Mix everything together for a minute, then take it off of the heat to cool for about 5 minutes.

Once it has cooled, pour the sausage mixture into the baking pan with the toasted bread, then also add the roasted garlic cloves and chicken stock. Mix everything well in the baking pan and gently press it so that it becomes even on top, then cover it and refrigerate it overnight. It will just need to bake on Thanksgiving Day!

On Thanksgiving Day your oven will probably already be hard at work on the turkey at about 350 degrees, but if it's not pre-heat it! The tray of stuffing just needs to go in to the oven for an hour and a half or so covered. If you want in more crisp on the edges it can go longer.

Once it's done, take it out and give it a stir in the pan to make sure it is mixed well. Then serve it to your guests with the rest of your wonderful meal! Enjoy the Holiday!
Recipe Notes
*to roast garlic, pre-heat the oven to 400. Remove the outer paper layers of a head of garlic and cut the top tip off to reveal the cloves inside. Dizzle the top with a little olive oil, then wrap it in foil and roast it in the oven for an hour. Perfection, it has so many uses! It can be stored in the refrigerator for weeks, I made it a couple of days prior to Thanksgiving cooking and used it in all of my recipes.
SaveSave