Marrying into my husband's proud Polish family meant learning about a whole new, wonderful world of food. I loved making my late mother-in-law's glorious homemade pierogi and famous lemon coconut bars. This week I made a variation on her incredible stuffed cabbage rolls and I was so happy I did! They were more simple to make than I thought and such a great change of pace from my Mediterranean food.
When they were done my hubby and I couldn't wait to dig in. I loved his reaction so much. While I could never match his mother's, these babies were so darn delicious. They reminded him of his childhood. Food is incredible the way it can evoke memories like that. Hope you all enjoy this family classic!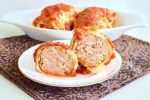 Servings

Prep Time

10

cabbage rolls

45

minutes
Servings

Prep Time

10

cabbage rolls

45

minutes
Servings

Prep Time

10

cabbage rolls

45

minutes

Servings

Prep Time

10

cabbage rolls

45

minutes
FOR THE SWEET AND SOUR TOMATO SAUCE
First, prepare the cabbage. Bring the largest pot of water you have to a boil and salt it generously. Boil the cabbage in it for 3-4 minutes to just get it tender. Carefully remove it to a cutting board and let it cool enough to handle. Carefully pull apart the leaves without ripping them. You will need 10 big leaves for this recipe, which should be most of the head. Cut away the tough bases of the leaves by cutting a V into the base with the point facing away from you. Set the prepped leaves aside.

Make the meat filling next. Combine the beef, pork, onion, egg, rice, mustard, Worcestershire, salt, garlic powder and paprika in a bowl. Use clean hands to mix it all together well. Then make the sweet and sour sauce. Combine the crushed tomatoes, chicken stock, apple cider vinegar, dark brown sugar, garlic powder and salt in a bowl. Stir it all together well into a gorgeous sauce. Pre-heat the oven to 350 and get out a 9 x 13 baking dish. Spoon about 1/4 of the sauce into the bottom of the dish as the base.

Form the cabbage rolls by taking a big handful of the meat filling and forming it into a small log. Place it in the middle of the first cabbage leaf and fold the leaf over it toward you. Continue to roll it up tightly while you bring in the sides and place it into the baking dish. Continue to form the cabbage rolls and place them in the dish all snug next to each other. Pour the remaining sauce over the top and cover the dish with foil. Bake the cabbage rolls for two hours or so. Let them cool for a couple of minutes, then serve them immediately!