My late mother-in-law Catherine was a legendary cook and baker. My husband always talks so fondly of how many bake sales she contributed to and how people would flock to parties she threw because they knew how incredible the food she served would be. This homemade pierogi recipe is her Polish pride right on the plate and she contributed it to a cookbook that raised money for my sister-in-law's dance school. I made these for the first time with my sister-in-law one afternoon and we had such a blast doing it. I decided I wanted to make them again for my in-laws when we had them over for dinner last night and they came out just as amazing as I remembered!
In the meantime, I made the amazing and authentic dough. Any good homemade pierogi dough needs sour cream. That was the key here!
When the potatoes were done, I mashed them in a bowl and stirred in lots of cheese for the amazing filling.
When the dough was rested, I rolled it out thin and cut out circles as close together as I could.
I scooped two tablespoons of filling on one half of each circle. Then I brought the other half over to seal it together.
All of the formed pierogi were boiled in the same starchy, salty water that I boiled the potatoes in. It only took a minute. Then they were tossed with butter and onion in my cast iron skillet to make them golden. After that, the homemade pierogi were ready to serve! I also had boiled up a ring of kielbasa to go with them to have a truly perfect Polish feast.
It was really an honor to make this dinner of homemade pierogi and kielbasa for my in-laws and husband. The luscious lemon coconut bars I made for dessert ended the meal perfectly, another tribute to Catherine. Since I never had the pleasure of meeting my mother-in-law, learning her recipes is such an amazing way for me to feel like I know her and connect with her. Isn't that such a beautiful thing food can do?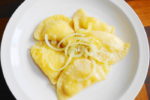 Servings

Prep Time

24

pierogi

40

minutes
Servings

Prep Time

24

pierogi

40

minutes
Servings

Prep Time

24

pierogi

40

minutes

Servings

Prep Time

24

pierogi

40

minutes
First, start preparing the filling. Fill a large pot with cold water and put it on the stove, then salt the water generously. Get the peeled and quartered potatoes into the pot and bring the water to a boil. Boil the potatoes until they are completely tender and mashable, about 20-25 minutes.

In the meantime, make the dough so it can rest. In a bowl combine the flour, sour cream, egg and salt. Stir it together completely and then turn it out onto a lightly floured surface. Knead it for a couple of minutes to have it come together in a wonderful ball of dough. Wrap it in plastic and set it aside to rest for about 30 minutes. This will allow the gluten in the flour to relax and make for a really tender homemade pierogi dough.

When the potatoes are done, it's time to make the filling. Remove them from the water with a slotted spoon and transfer them to a very large bowl. Do not drain the water, leave the pot of water on the stove boilin. There is a master plan behind this, I promise! Mash the potatoes in the bowl and stir in the farmer cheese, american cheese and butter until it becomes a creamy, luscious filling. Add salt to taste, a big pinch should do it. Set the filling aside.

When the dough is done resting, divide it in half. Roll out the first half to about 1/4 an inch thick on a floured surface with a floured rolling pin. With a 4 inch round cutter, cut out perfect little circles. You should get nine circles the first time. Take the scraps and roll them out again to cut out another 3. Repeat this process with the other half of dough to get 24 circles total.

Fill each of the circles with two tablespoons of filling on one half, then bring the other half over to enclose it and pinch it together thoroughly. Really seal them even more and make a pretty pattern along the edge by pressing down with the tines of a fork over the whole edge.

Gently drop the pierogi into the pot of boiling water you used for the potatoes. That extra starchiness just makes them! They only need to boil for a minute. Remove them with a slotted spoon to a platter. Then it's time to finish them up! Heat the butter in a large cast iron skillet. Let the sliced onion get soft and fragrant in it for a minute. Gently toss the pierogi in the pan with the onion to let them get slightly golden. Then plate them and serve them immediately! Serve with kielbasa to have a perfect Polish feast.