It is getting to be that time of year when I am constantly breaking out my dutch oven. I use it so often to braise meats, make soups and stews and so much more. It is also so fantastic for making one pot complete meals like these sausage sage meatballs with tortellini. One pot wonders are my favorite for two reasons. First and foremost, since I hate doing dishes it makes clean up so much easier. Secondly, the flavors all build together in the pot. In this case, the meatballs made the most fantastic, flavorful base.
I scooped the sausage sage meatballs, tortellini and sauce into pretty bowls. Then I sprinkled lots of asiago cheese on top to really bring the dish over the top. Oh my goodness, it was just the Italian one pot comfort I needed this week. Hope you all love it too! xoxo
SaveSave
SaveSave
SaveSave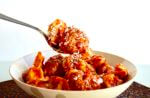 Servings

Prep Time

6

15

minutes
Servings

Prep Time

6

15

minutes
Servings

Prep Time

6

15

minutes

Servings

Prep Time

6

15

minutes
FOR THE ASSEMBLING THE DISH
First, make the meatballs. Combine the ground sausage, breadcrumbs, egg, sage, roasted garlic, salt and pepper in a bowl and mix it all together well with your clean hands. Form the mixture into little meatballs about the size of the palm of your hand and lay them out on a plate. Then it's time to put this dish together. Heat the canola oil, olive oil and butter together in a sturdy dutch oven over medium high heat. Brown the meatballs for about 3 minutes on each side, then remove them to a plate and set them aside.

Add the mushrooms to the pan next and let them start to soften for a couple of minutes. Then add the onion, roasted garlic and sage and let them become fragrant and translucent for another minute or so. Pour in the wine and scrape up any brown bits, then pour in the crushed tomato and chicken stock. Return the meatballs to the pot and season it all with generous pinches of salt and pepper. Bring it to a boil, then cover the pot and reduce it to a simmer. Let it simmer for 30 minutes.

When the 30 minutes are up, uncover the pot and bring it back up to a low boil. Stir in the tortellini and let it cook for about 6-7 minutes, until tender. Scoop out generous helpings into pretty bowls and top them all off with a good sprinkling of asiago cheese. Enjoy!!
*to roast a head of garlic, pre-heat the oven to 375. Cut off the top of the heat of garlic to expose the tops of the cloves. Drizzle the top with olive oil and sprinkle a little salt on top. Wrap it in foil and roast it for an hour. When it is done, keep it wrapped up and in the refrigerator to use it as you need it!