My husband and I were out for lunch recently and had the most incredible salad. It was loaded with flavorful chicken, mandarin oranges, peanuts and a gorgeous soy ginger dressing. We loved it! I really wanted to have it again this week, so I made my own version right at home. Oh my goodness was I happy with how it came out. Best of all it was super simple to make!
When we sat down to eat we were so happy. It tasted just like the salad we had out at lunch! The sweet oranges worked so well with the savory chicken and crunchy peanuts. This mandarin chicken salad satisfied like a complete meal with loads of flavor! Hope you all enjoy it. xoxo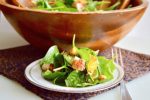 Servings

Prep Time

6

30

minutes
Servings

Prep Time

6

30

minutes
Servings

Prep Time

6

30

minutes

Servings

Prep Time

6

30

minutes
First, prepare the chicken. Pre-heat the oven to 350 and line a sheet tray with a silicone mat. Combine the chicken, sesame oil, olive oil, Chinese five spice, garlic powder, and Lawry's seasoned salt together in a zip top bag. Mush it all together well so that the chicken gets coated. Then lay it out on the sheet tray in a single layer and bake the chicken for 25 minutes. While it bakes assemble the rest of the salad. Simply toss the rest of the ingredients together in a large salad bowl.

Make the dressing as well at this point. Wrap a bowl in a cold, wet towel to help it emulsify. Whisk the soy sauce, mustard, sesame oil, vinegar, garlic, ginger and salt together well in the bowl. Then slowly pour in the olive oil while you keep whisking until it is a gorgeous dressing. If it settles just stir it more to make it uniform again. Take the cooked chicken and dice it up into small chunks. Then toss the chicken and dressing with the rest of the salad and serve it immediately! Enjoy!