There is a joke in my family at every gathering that I need my own whole basket of biscuits. I have no problem admitting that I am a huge carb fiend and biscuits are one of my biggest weaknesses! That is why I absolutely love making easy drop biscuits like these rosemary garlic biscuits.
I baked the rosemary garlic biscuits for about 15 minutes to let them just start to brown around the edges. They were still fluffy pillows in the middle! The final touch was to brush them all with more melted butter while they were hot. It just seeped into them and made them even more decadent. Once they cooled a bit, they were ready. I have to confess that I kept a stash at dinner just for me! Oh my goodness was I glad I did. These rosemary garlic biscuits were so fragrant, flavorful and fluffy. Try saying that three times fast! xoxo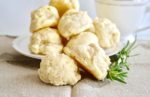 Servings

Prep Time

25

biscuits

15

minutes
Servings

Prep Time

25

biscuits

15

minutes
Servings

Prep Time

25

biscuits

15

minutes

Servings

Prep Time

25

biscuits

15

minutes
Pre-heat the oven to 350 and line two baking sheets with either silicone mats or parchment paper. In the bowl of a food processor combine the flour, baking powder, salt, garlic rosemary and cheddar. Pulse it to sift them together and get the garlic and rosemary chopped. Add the butter in next and pulse the mixture until it is pebbly. Lastly, run the processor while you slowly pour in the buttermilk just until it becomes a sticky dough.

Use a 1.5 inch cookie scoop to scoop perfect little mounds of the dough onto the lined baking sheets. Using that measure you should get 25 cute little biscuits. Bake them for 15-20 minutes, until golden around the edges and baked through. When they are done, take them out and brush them all with the melted butter. Let them cool for a couple of minutes, then serve immediately!