These parmesan crusted chicken tenders have been a staple in my family for a very long time. I remember my Nana Jeanie making these but using chicken cutlets, and she taught my Mom to make them. I grew up with these as such a favorite. When I moved into my first apartment, my big sister wrote out the recipe for me so that I could always make them. It felt special to have the recipe and carry on the tradition! I played with it just a bit, while still being true to how my Nana would always make it. The best thing about these parmesan crusted chicken tenders is how incredibly easy they are!
I let the parmesan crusted chicken tenders bake for 30 minutes. I wanted to make sure they were fully cooked through and the outside breading was slightly crispy. Then it was just time to plate and serve them! The parmesan breading was so amazing and slightly crunchy before getting into the super moist chicken. One bite transported me right back to childhood and I was instantly thinking of my Nana. I served this with my wild mushroom gratin on the side and it was truly an incredible meal!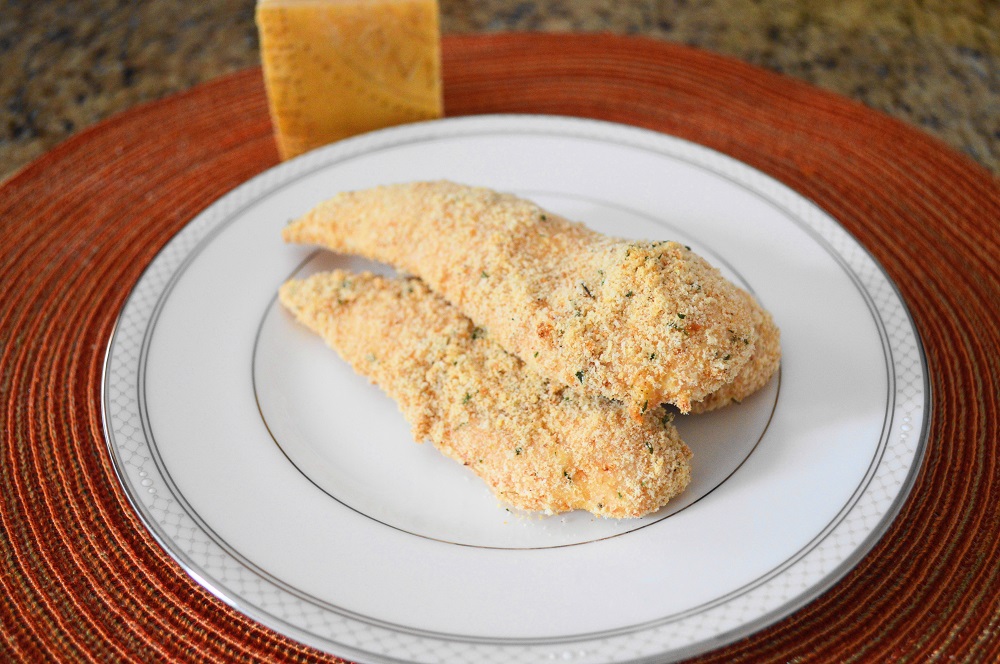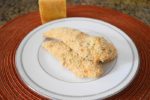 Parmesan Crusted Chicken Tenders
Ingredients
1.5

pounds

chicken tenders

kosher salt

as needed for seasoning the chicken

2

whole

eggs

1

dash

water

1/4

teaspoon

minced garlic

1/4

teaspoon

dried basil leaves

1

cup

seasoned breadcrumbs

1

cup

freshly grated parmesan cheese
Instructions
Pre-heat the oven to 375 degrees. In a bowl combine the eggs, water, garlic and dried basil. Whisk them together thoroughly. In another bowl stir together the breadcrumbs and parmesan cheese. Take the chicken tenders out and give them a sprinkle of salt for seasoning.

Take a sheet tray and fit it with a cooling rack. Now it's time to bread the chicken tenders! Take a chicken tender and dip it in the bowl of the egg mixture. Then transfer it to the bowl of parmesan and breadcrumbs and completely coat it. Then transfer it to the prepared tray. Repeat with the rest of the tenders.

Bake the chicken for 30 minutes, until cooked through and the outside is golden. Then just serve and enjoy!
SaveSave