Memorial Day weekend was an onslaught of juicy burgers, hot dogs and potato salad. Marc and I had a really nice cookout at my father-in-law's house! As much as I loved it, it was time for a vegetarian change of pace to help my poor stomach recover. Since I had a can of chickpeas sitting in my pantry, I decided to make some super healthy and amazing baked falafel! The mixture came together in minutes in my food processor.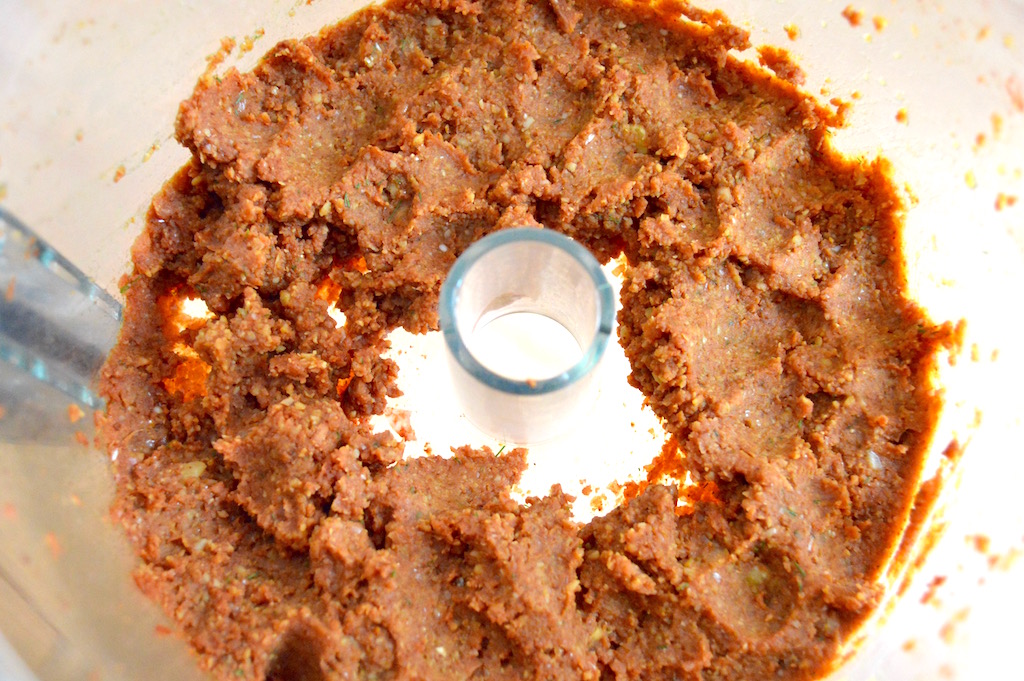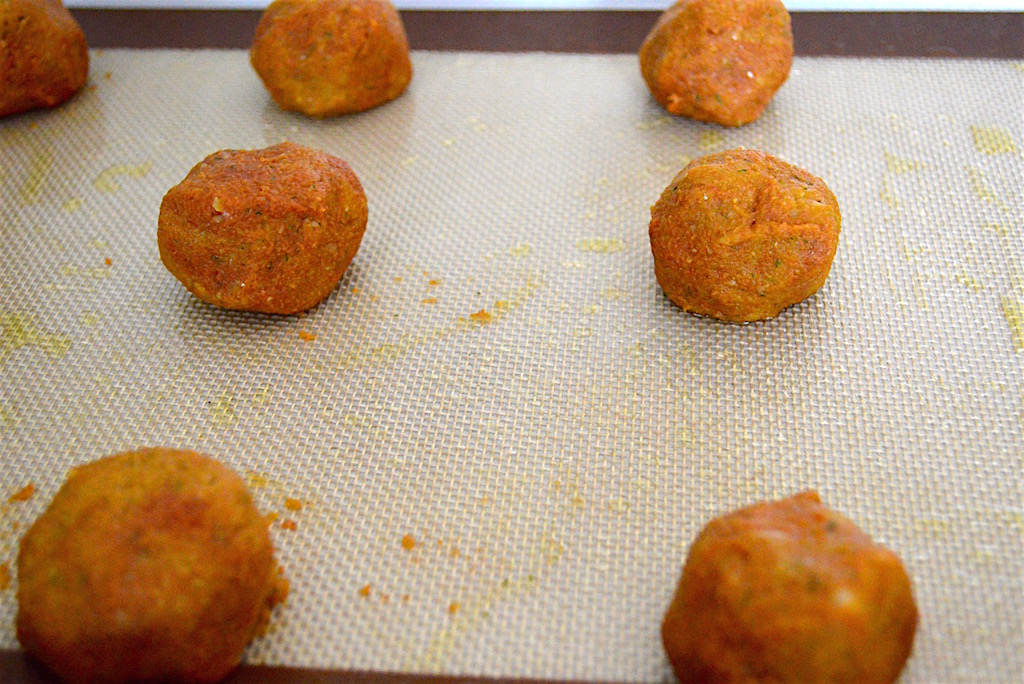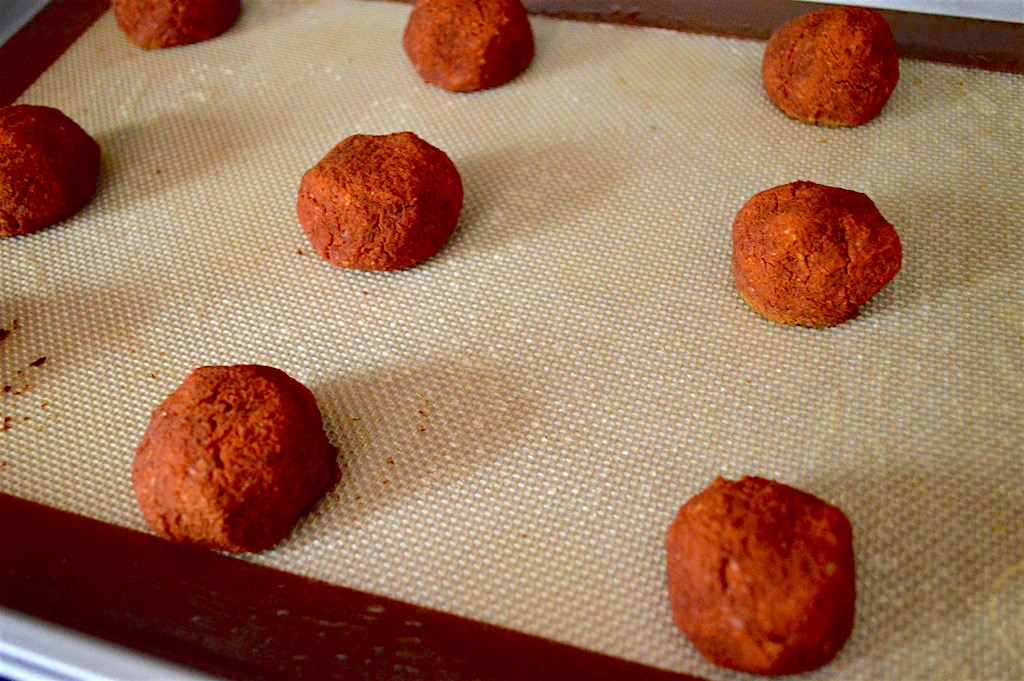 I like to serve my falafel with sliced tomato, sliced cucumber and Greek yogurt on fluffy, warm pita bread. Sometimes I even like to get fancy and make my own amazing whole wheat pita bread! (pssst, it's much easier than it seems). Oh my goodness, it was like having little flavor bombs in my mouth when I bit in! There was a slight heat from the spices coupled with the freshness from lemon zest and dill. The texture was perfect! I was one happy woman. My Nana Jeanie would have been proud of me. She loved to make this stuff. Hope you all enjoy it! xoxo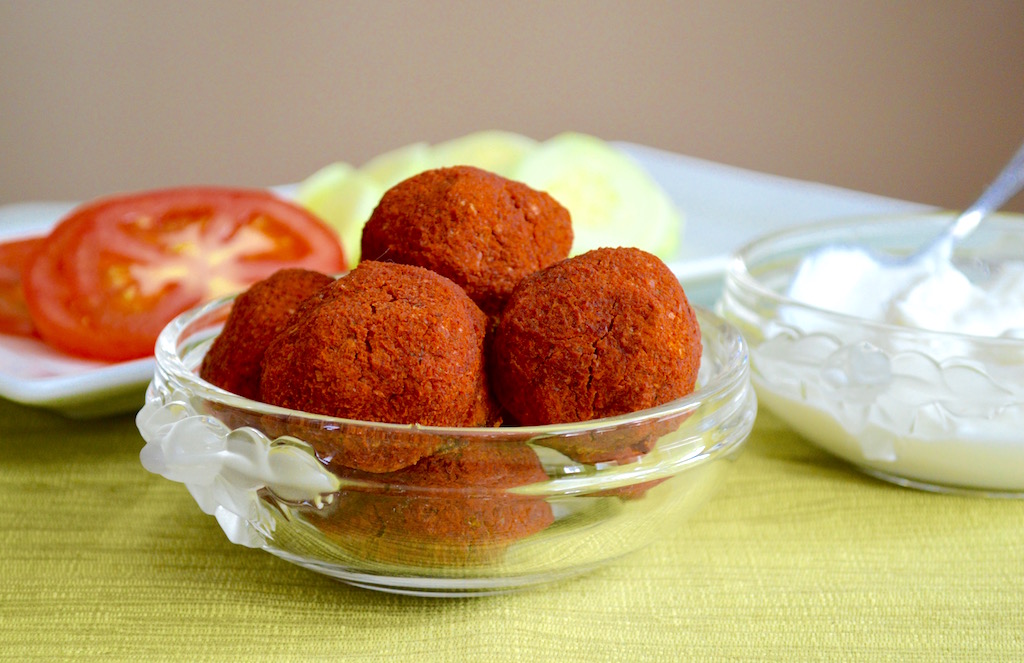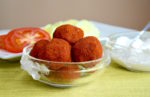 Falafel
Ingredients
olive oil

to lightly grease the baking sheet

1

can

chickpeas

15 oz size, drained, rinsed, and patted dry

1

small

onion

peeled and quartered

2

cloves

garlic

peeled

1

tablespoon

fresh dill

1/2

a

lemon

zested

1/2

teaspoon

baking soda

1/2

teaspoon

Lawry's seasoned salt

1/2

teaspoon

turmeric

1/2

teaspoon

cumin

1/2

teaspoon

smoked paprika

Greek yogurt

as needed for serving

pita bread

as needed for serving

sliced tomato

as needed for serving

peeled and sliced cucumber

as needed for serving
Instructions
Take out a food processor and combine the chickpeas, onion, garlic, dill, lemon zest, baking soda, seasoned salt, turmeric, cumin and smoked paprika in its bowl. Pulse the mixture until it is well combined but still has some texture. Use a spatula to push down the sides midway through to make sure everything gets in there. Cover the mixture and let it sit in the refrigerator overnight.

The next day, pre-heat the oven to 400 degrees. Take a sheet tray and line it with a silicone mat or parchment paper. Lightly grease the lined tray with olive oil. Scoop out 2 tablespoon portions of the mixture and roll those portions into balls. Line the balls up on the prepared baking sheet and gently flatten each of them into small patties.

Bake the falafel for 25 minutes, until the outside is golden and crispy. Take the tray out when they're done and let them cool for a minute. Transfer them to a plate and serve with Greek yogurt, pita bread, tomato and cucumber if you wish for a wonderful vegetarian sandwich!