We are getting into strawberry season here in NJ and it makes me so happy. They're my absolute favorite fruit! I wanted to make a treat for this weekend to highlight them in all of their glory. This strawberries & cream crumb cake did just the trick! It was super easy to put together and perfect for either breakfast or dessert. That's why I love crumb cakes like this, they're so versatile and can take on so many different flavors!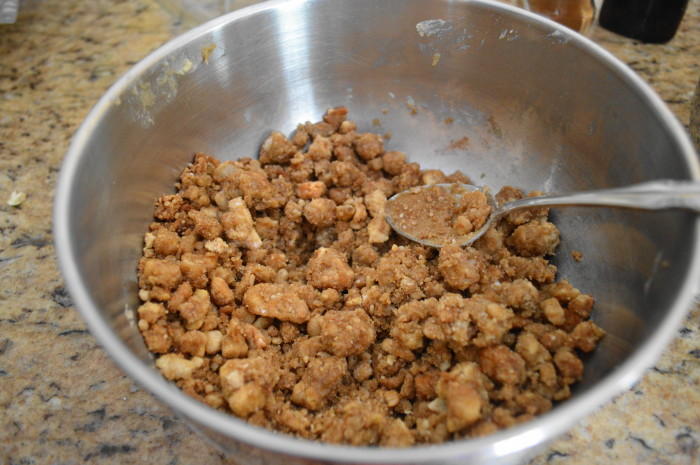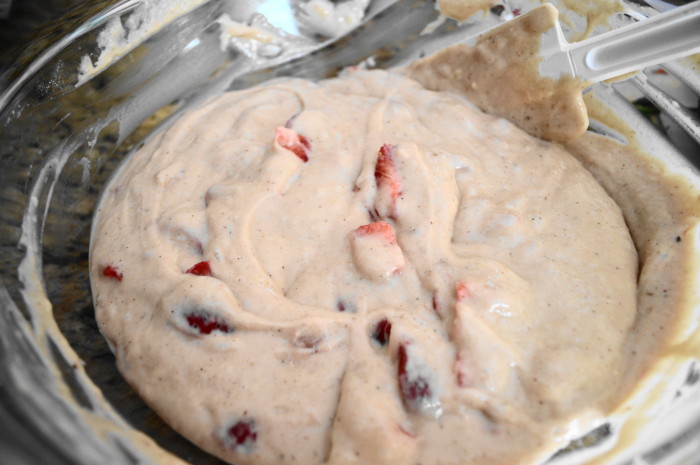 After the strawberries & cream crumb cake cooled, it was ready to cut and have a piece! My favorite part! Oh my goodness, the cake had the most amazing mouthfeel from using softened strawberry cream cheese in the batter. Then there were the juicy bursts of fresh strawberry and the crunchy crumb topping. There was texture and flavor happening all over the place. Enjoy, friends!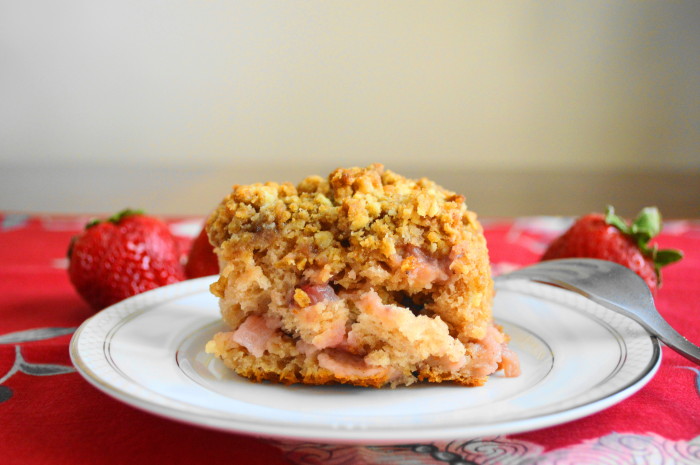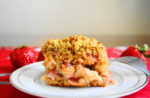 Strawberries & Cream Crumb Cake
Ingredients
FOR THE CRUMB TOPPING
1/2

cup

granola

1/2

cup

flour

1/3

cup

dark brown sugar

1/2

stick

butter

melted and cooled slightly

1/2

teaspoon

vanilla extract

1/4

teaspoon

cinnamon

1/4

teaspoon

salt
FOR THE CAKE
1 3/4

cups

flour

3/4

cup

granulated sugar

1

tablespoon

baking powder

1/4

teaspoon

cinnamon

1/4

teaspoon

salt

1/4

teaspoon

baking soda

1

cup

buttermilk

1

cup

strawberry cream cheese

softened

2

whole

eggs

1/2

teaspoon

strawberry balsamic vinegar

1

cup

hulled and roughly chopped fresh strawberries

about 1/2 a pound
Instructions
First, prepare the crumb topping. In a mixing bowl combine the granola, flour, brown sugar, butter, vanilla, cinnamon and salt. Stir it all thoroughly together until it is a uniform, wet sand texture crumb topping. Set it aside and pre-heat the oven to 375. Grease an 8 x 8 square pan liberally with cooking spray.

In a large bowl, whisk the flour, sugar, baking powder, cinnamon, salt and baking soda together to aerate the dry ingredients. In another bowl, whisk the buttermilk, strawberry cream cheese, eggs and strawberry balsamic together until smooth for the wet ingredients. Pour the wet ingredients into the bowl of dry ingredients and gently whisk it just until it becomes a smooth batter. A few little lumps are ok, it is best not to overwork it. Switch to a rubber spatula and fold in the chopped strawberries.

Pour the batter into the greased baking dish and smooth it out to be nice and even. Sprinkle the crumb topping to make an even layer on top of the batter. Get the crumb cake into the oven to bake for about 50-55 minutes. A toothpick should come out clean and the cake should be gorgeously golden.

When it's done, take the crumb cake out and let it cool for 15 to 20 minutes at least. Then just cut into the desired sized pieces and serve! It doesn't get much better to pair it with a great cup of coffee or tea.
SaveSave