Red velvet is such a classic. It's my favorite cake if I had to pick just one! Since it's Memorial Day weekend, I decided to make it in waffle form as a decadent sweet end to brunch after lots of eggs and bacon. It was the perfect way to end the long weekend. The batter for these red velvet waffles was simple and quick to put together. I actually like to make my waffle and pancake batters the night before if possible. There are culinary reasons for this. It allows the flavors to meld and deepen. The gluten in the flour also gets to relax and make the end result super tender. The most important reason though is that I am an awful morning person. I can barely function before I have coffee in the morning, let alone measure ingredients and think!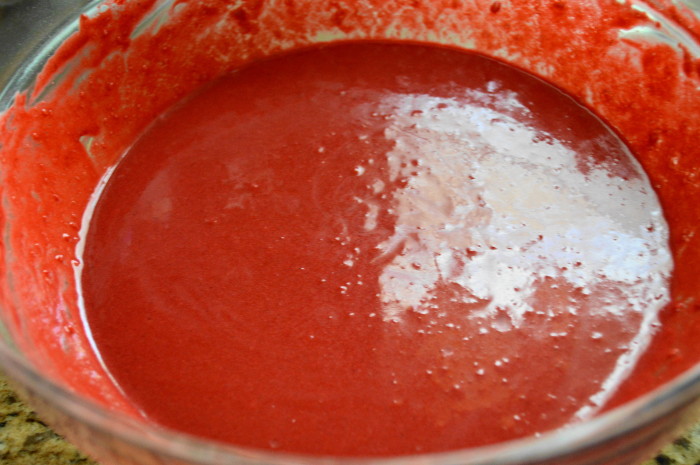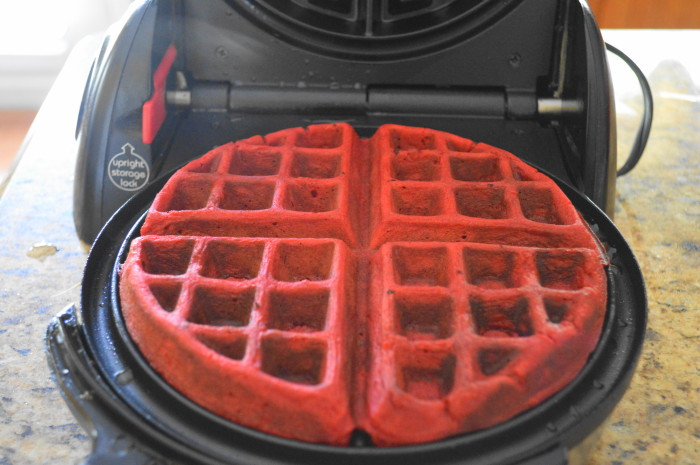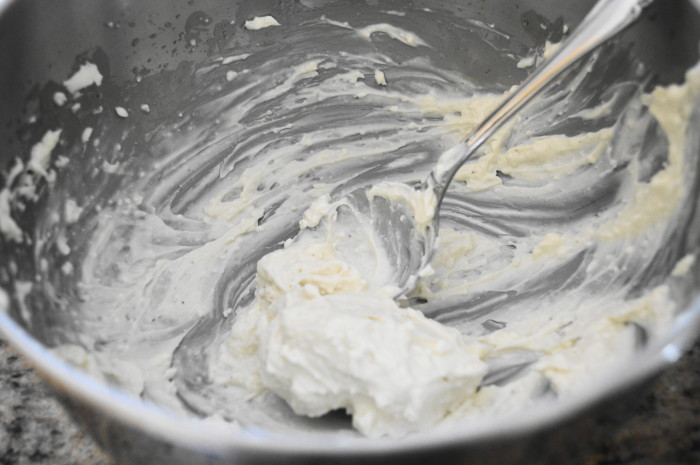 I dolloped a big scoop of the cream cheese mixture on the cooked waffles. For an added decadent touch, I shaved some bittersweet chocolate right on top. Oh my goodness, it was everything I hoped for in a brunch dessert and more. The red velvet waffles were so fluffy and flavorful. Then that cream cheese topping just sent it over the top! After the eggs and bacon it was an amazing sweet end to the meal. I loved that it looked patriotic too for Memorial Day weekend. Here's to the memory of our brave troops who have made the ultimate sacrifice for our country. Enjoy the weekend, friends! xoxo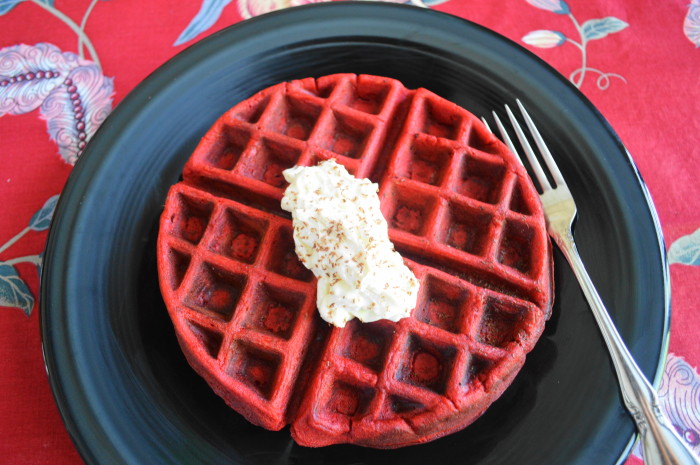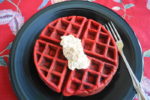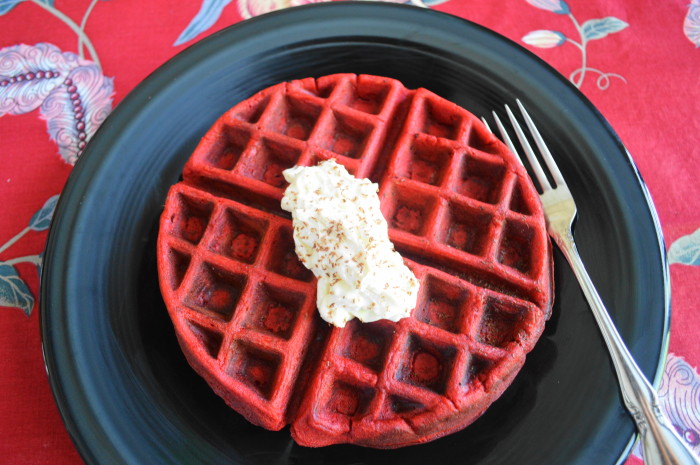 Red Velvet Waffles
Ingredients
FOR THE RED VELVET WAFFLES
1 1/2

cups

all-purpose flour

1/2

cup

granulated sugar

2

tablespoons

cocoa powder

2

teaspoons

baking powder

1/4

teaspoon

cinnamon

1/4

teaspoon

salt

1 1/2

cups

buttermilk

1

stick

butter

melted and slightly cooled

4

whole

eggs

1

bottle

red food coloring

1 Fl. oz size

1/4

teaspoon

distilled white vinegar
FOR THE CREAM CHEESE DRIZZLE
4

ounces

cream cheese

softened to room temperature

2

tablespoons

regular or almond milk

1 1/2

tablespoons

maple syrup

1/2

teaspoon

granulated sugar

1/4

teaspoon

cinnamon

shaved bittersweet chocolate

as needed for garnish.
Instructions
In a large bowl whisk together the flour, granulated sugar, cocoa powder, baking powder, cinnamon and salt to aerate them. In another bowl whisk together the buttermilk, melted butter, eggs, red food coloring and distilled white vinegar. Pour those wet ingredients into the bowl of dry ingredients and gently whisk it all together just until a smooth batter forms. A few lumps are ok! At this point the batter can be covered and refrigerated ahead of time overnight if needed.

When you are ready to make the waffles, pre-heat the waffle iron. Be sure to check the manufacturers instructions on your particular waffle iron to get the best results. Liberally spray the iron with cooking spray to prevent any sticking. Scoop about 1/4 of the batter to just cover the bottom of the iron, then close it and let it cook for about 5 minutes.

When it is done, remove it to a plate and repeat the process with the remainder of the batter to get 4 waffles total. While the waffles cook, prepare the cream cheese drizzle. Combine the cream cheese, milk, maple syrup, granulated sugar and cinnamon in a bowl. Use a hand mixer to whip it up into a uniform mixture.

When the waffles are all done and plated, simply scoop a big dollop of the cream cheese mixture on top. Then add an extra decadent touch by shaving bittersweet chocolate with a fine grater on top! Serve immediately and enjoy dessert for breakfast.