The best part about the Thanksgiving meal is doing fun, delicious things with all of those leftovers! I had a small tupperware full of mashed potatoes left from the meal yesterday that I wanted to transform. So I decided to turn them into the most incredible potato croquettes. They came together so quickly and easily since the potatoes were already cooked and chilled.
After all 8 of the potato croquettes cooked and cooled for a couple of minutes, I served them immediately! Oh my goodness, they made ordinary leftover mashed potatoes extraordinary. There was loads of flavor and just enough heat from the smoked paprika. The best part was biting through that crispy exterior and getting to the fluffy goodness within. My hubby went absolutely nuts for them. Enjoy transforming your Thanksgiving leftovers my friends! xo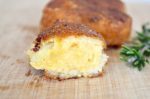 Servings

Prep Time

8

croquettes

10

minutes
Servings

Prep Time

8

croquettes

10

minutes
Servings

Prep Time

8

croquettes

10

minutes

Servings

Prep Time

8

croquettes

10

minutes
In a bowl, combine the leftover mashed potatoes, cheese, milk, flour, rosemary, dried onion, paprika, salt and the egg yolk in a bowl. Stir it together well until it becomes smooth and uniform. Use a large ice cream scoop to scoop out uniform portions of the batter and form them into croquettes. You should get 8. Have the lightly beaten whole egg set up in a bowl and the breadcrumbs set up in another bowl.

Dip each croquette in the egg before coating it in the breadcrumbs, then set them on a small platter once they're breaded. Take a large skillet and fill it with about 2 inches of vegetable oil. Heat it up over medium high heat. It will shimmer and start to bubble a little when it's hot enough. Pan fry the croquettes in two batches of four so that the pan doesn't get over crowded. They need to cook for about 2-3 minutes on each side to get golden brown and crispy. Remove them to a plate lined with paper towel to blot them and repeat with the second batch. Once they are all done, serve them immediately and enjoy!