I love making lean turkey meatballs and I also love hot, hearty Mexican inspired soups. When I was stumped on what to make this week, I came up with the idea of putting them together into one incredible and comforting one pot dish! This Mexican turkey meatball soup was absolutely packed with flavor, lean protein and veggies to make a hearty meal in a bowl. It was just the ticket on a super chilly night here in New Jersey. First, I made the meatballs.
It smelled so amazing as it cooked that I was practically salivating. When Marc came home he said he could smell it from the driveway! The meatballs and the soup base ended up in this gorgeous symbiotic relationship where the meatballs absorbed so much flavor from the liquid and the liquid absorbed so much flavor from the meatballs. When it was done I just scooped it into big bowls and garnished it with sliced avocado for a creamy addition, crispy tortilla strips for some crunch and a sprig of cilantro for pretty green. Then I served it piping hot! Let me tell you, this Mexican turkey meatball soup was glorious. It wasn't spicy, there was just this slow warmth that crept up on me and comforted my soul. Enjoy the hearty goodness friends, the handy printable is just below!
SaveSaveSaveSave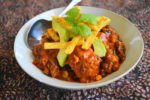 Servings

Prep Time

4

15

minutes
Servings

Prep Time

4

15

minutes
First, prepare the meatballs. In a large bowl combine the turkey, cheddar, breadcrumbs, egg, cilantro, Greek yogurt, Worcestershire, salt and spices. With clean hands mix it together thoroughly. Scoop out two tablespoons of the mixture and roll it into a tight ball, then set it aside on a lined tray or board. Repeat with the rest of the mixture until it is gone, yielding 16 meatballs.

In a sturdy, large dutch oven heat the canola oil over medium high heat. Brown the meatballs in it in 2 batches of 8, just until a golden crust forms on the outside. Be gentle when turning them over so that they don't break apart. They do not need to be cooked through completely since they will finish cooking in the soup. When they have all browned, remove them and set them aside.

Add the onion, jalapeno, corn and peas into the pot and let them get soft and fragrant for a minute. Add in the flour and let it cook off for another minute to make everything thick. The tomato paste goes in next, let it cook for a minute while stirring.

Deglaze the pot with the tomato vinegar and scrape up all of the yummy brown bits, then add the Worcestershire sauce. Then pour in the black beans, chicken stock and crushed tomato and give the mixture a pinch of salt. Gently add the meatballs back to the pot and bring the soup to a boil, then reduce it to a simmer. Let it simmer for about two hours.

When the Mexican turkey meatball soup is done, take it off of the heat and ladle it into bowls. Top each bowl with a few thin avocado slices, crispy tortilla strips and fresh cilantro, then serve piping hot. Enjoy!