Gnocchi is one of my absolute favorite foods. They usually are found under the pasta sections of most restaurant menus, but to me they are much more close to a delectable little dumpling. Gnocchi literally means "little pillow" in Italian and they live up to their name. Traditionally they are made with regular potatoes and/or ricotta, but I decided to put a spin on them with these incredible sweet potato gnocchi!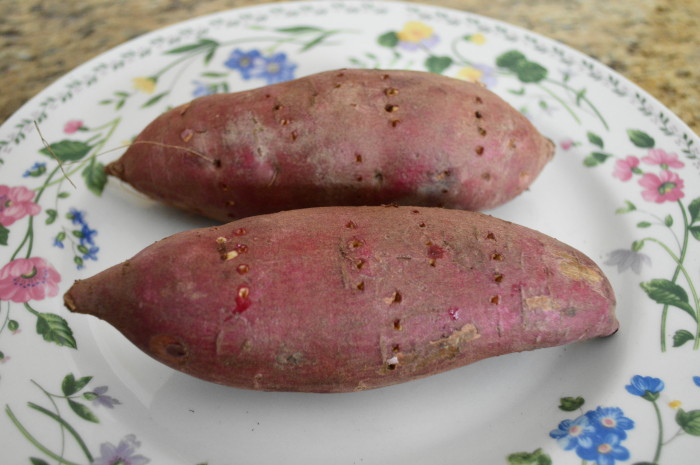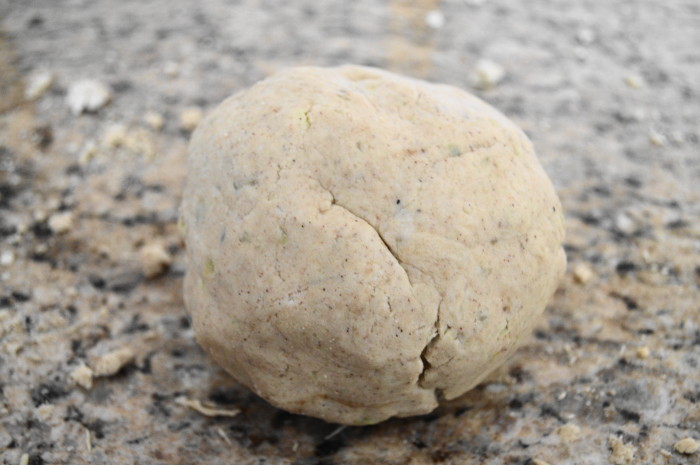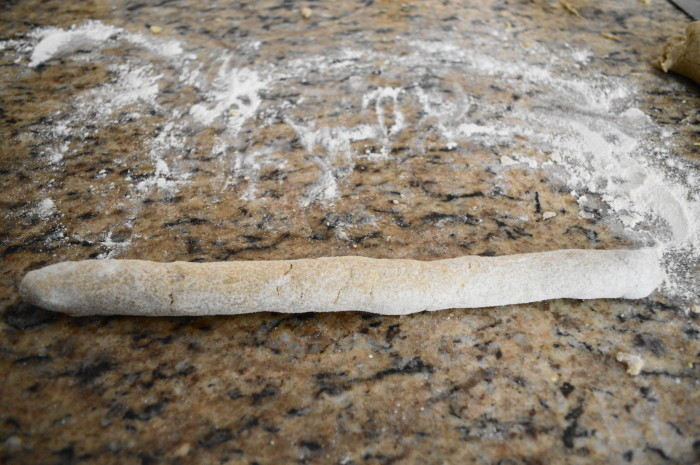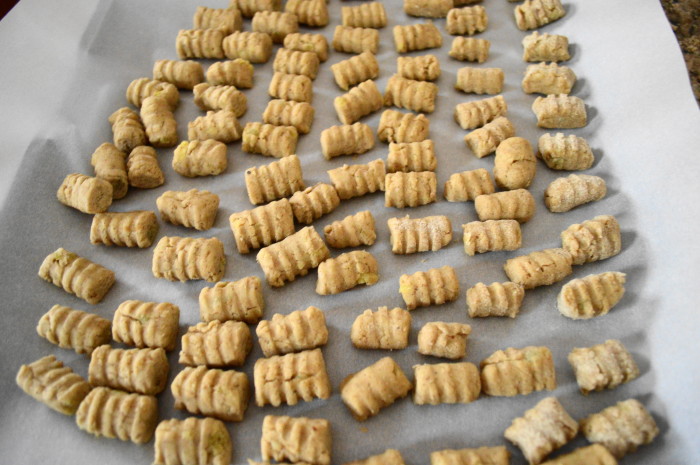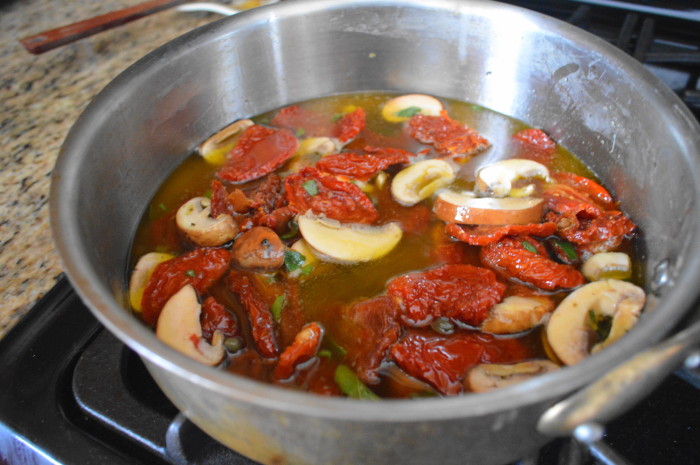 I just sprinkled chopped sage on top and served it immediately! Oh my goodness, the gnocchi were incredibly fluffy and cloud like with so much flavor. I couldn't believe it was vegetarian and gluten free because it was wonderfully filling and satisfying. The gnocchi took a little time to prepare but they were so well worth the effort. Enjoy friends!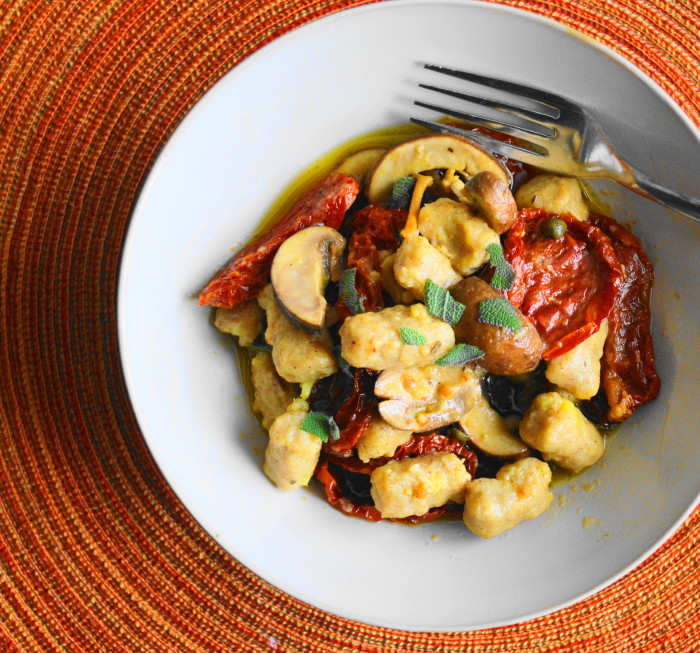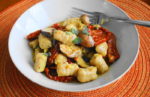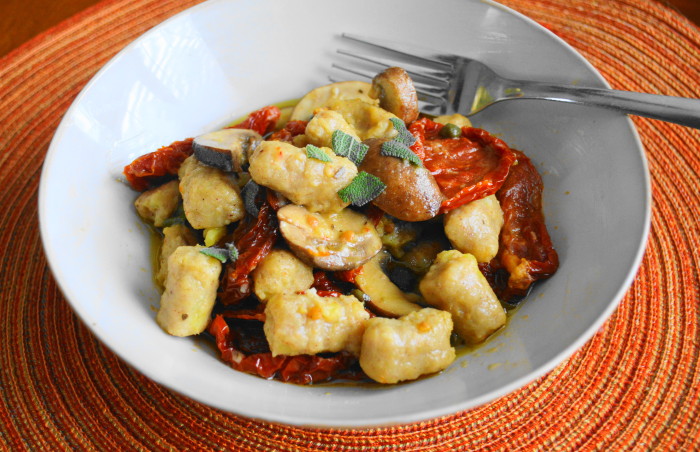 Sweet Potato Gnocchi
Ingredients
FOR THE SWEET POTATO GNOCCHI
2

whole

sweet potatoes

medium size

1 1/4

cups

quinoa flour

plus additional as needed for bench flour

1/2

cup

freshly grated parmesan cheese

3

ounces

ricotta cheese

3

ounces

mascarpone cheese

2

cloves

roasted garlic

*see note

1

tablespoon

dark brown sugar

1/2

teaspoon

salt

1/2

teaspoon

cinnamon

1/2

teaspoon

nutmeg

1

pinch

crushed red pepper
FOR THE SUN DRIED TOMATO BROTH
1

cup

olive oil

4

whole

roasted garlic cloves

*see note

6

whole

sage leaves

coarsely chopped, plus additional as needed for garnish

1

jar

sun-dried tomatoes

12 ounce size

4

whole

cremini mushrooms

stems removed and thinly sliced

1/8

cup

capers

1/4

cup

white wine

2

tablespoons

freshly grated parmesan cheese
Instructions
Take the sweet potatoes and prick them all over with a fork. Get them onto a microwave safe plate and microwave them for about 12 minutes, until they are completely tender and mashable. Cut them in half, set them aside and let them cool.

Once they are cool, scoop the filling out of the skin right into a large bowl. Add the quinoa flour, parmesan, ricotta, mascarpone, roasted garlic, brown sugar, salt, cinnamon, nutmeg, crushed red pepper. Stir all of that together to combine, then bring it all together into a ball with clean hands. Knead the ball of dough on a lightly floured surface until smooth and uniform.

Cut the ball of dough into 8 equal pieces. Take the first piece and gently use the palms of your hand to roll it back and forth until it becomes a long, thin log of dough. Cut the log into 1 inch pieces. Roll each piece over the back of a fork to make the signature gnocchi ridges. Transfer the pieces to a tray lined with parchment paper. Repeat the process with the remaining 7 pieces of gnocchi dough. Once all of the gnocchi are made set the tray aside.

Get a large pot of salted water on the stove to boil for the gnocchi. Then get a large rondeau pan out and start to make the sun dried tomato broth. Heat the olive oil in it over medium high heat. Add the sage and roasted garlic to let them get fragrant for a minute. Then add the sun dried tomatoes with the oil they were packed in, the mushrooms, capers, white wine and parmesan. Bring the mixture to a boil then reduce it to a low simmer and let it cook for 15 minutes

The water should be well boiling when the broth is done. Gently pour the gnocchi into the boiling water to cook for just a minute or two. Then drain them and pour the gnocchi into the pan with the sun dried tomato broth. Give it all a big stir, then turn off the heat.

Scoop the gnocchi into bowls and top them with additional chopped sage for garnish. Serve immediately and enjoy the goodness friends!
Recipe Notes
*To roast garlic, pre-heat the oven to 400. Cut the top off of a whole head of garlic to expose the tops of the cloves and drizzle the top with olive oil. Wrap it in foil and get it into the oven to roast for an hour. That's it! It will keep for weeks and is fantastic in so many dishes.
SaveSave