One of my favorite sources of inspiration is seeing what my friends are eating on social media. My friend Abbey posted a photo of a lavender crepe filled with lemon curd that she had. After I wiped a small amount of drool off of my keyboard, I decided I needed to make my own lavender lemon curd crepes. It seemed so perfect for Easter with the gorgeous citrus and floral notes, so I set about developing the recipe! First, I tackled the lemon curd. My easy homemade version came out so perfectly, so be sure to check out that recipe if you want to make your own! It was luscious and creamy and basically sunshine in a jar. Store bought lemon curd would have worked fine here too though. Then it was time for the crepes!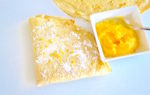 Servings

Prep Time

4

10

minutes
Servings

Prep Time

4

10

minutes
Servings

Prep Time

4

10

minutes

Servings

Prep Time

4

10

minutes
Combine the flour, ground lavender and salt together in a large mixing bowl. Whisk those dry ingredients together to aerate them. In another bowl whisk the eggs, milk and vanilla together. Pour those wet ingredients into the dry ingredients and whisk it all together into a smooth batter. To finish it, whisk in the melted butter. Set the batter aside.

Heat a crepe pan or large, very shallow skillet over medium high heat and grease it well with butter. Scoop 3/4 cup of the batter into the pan and rotate the pan off of the heat to let the batter completely coat the bottom. Let the crepe cook for a minute or two on the first side before carefully flipping it with a spatula. Let it cook for another minute or two on the other side, then set the crepe on a plate. Repeat with the remaining batter to make 4 crepes total.

Take the first crepe and spread 2 tablespoons of the lemon curd on one half of it. Fold the other half over, then spread another 2 tablespoons on half of the folded half. Fold the other half over again to have a perfect little layered triangle. Repeat with the other three crepes. Then top them all with lemon zest and powdered sugar. Serve immediately and enjoy!