I can bluntly say that I am not a big football follower. However, that all changes on Super bowl Sunday because the awesome parties and food make me so happy. It always is a great time chowing down with friends with lots of yelling at the TV. I can't help getting caught up in the excitement. Game day food is always hearty, super flavorful and should definitely involve beer in my mind. So in that spirit I made these incredible kielbasa sandwiches! They were simple to make.
I closed my sandwich up with the fluffy top bun and dove right in with no shame. Let me tell you these kielbasa sandwiches just screamed game day. The kielbasa was smokey and savory with the flavorful sauerkraut mixture and crisp pickles complimenting it perfectly. The fluffy pretzel bun just brought it all home. Hope you all enjoy these babies and have fun on Sunday! xoxo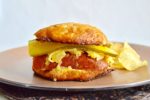 Servings

Prep Time

8

sandwiches

20

minutes
Servings

Prep Time

8

sandwiches

20

minutes
Servings

Prep Time

8

sandwiches

20

minutes

Servings

Prep Time

8

sandwiches

20

minutes
First, boil the kielbasa. Fill a large skillet with deep sides with water and bring it to a boil. Quarter the kielbasa ring and cook it in the boiling water for 30 minutes. Remove them to a cutting board when they are done and drain the water. Put the pan back on the heat and pour the sauerkraut in with its liquid. Let it heat up, then add the onion and two mustards. Season the mixture with the pinch of salt, then pour in the beer. Let the mixture cook for 3-5 minutes, until the liquid is pretty much gone. Stir in the cheddar cheese until it is melted, then take the pan off of the heat. Meanwhile, lightly toast the pretzel buns.

Time to assemble! Cut each quarter of kielbasa in half horizontally to have 8 equal pieces. Then cut each of the pieces in half lengthwise to have a flat side to put on the sandwich. You'll have 16 pieces total. Place two pieces of kielbasa flat side down on the bottom bun, then spoon a generous scoop of the sauerkraut mixture on the kielbasa. Top that with 2 sandwich stacker pickles, then close the sandwich. Repeat until they are all assembled and serve immediately! They are so perfect for the big game.