The temperatures have really dropped now here in New Jersey. That means I love to have my oven going with something scrumptious baking in it. It warms the house both with the heat and the great smells! I'm still trying to eat a little better in 2016 though, so I have been trying to find ways to make my baked goods a little leaner and more nutritious. This herbed lemon poppy seed bread was just the ticket! It had all of my favorite Mediterranean flavors that I grew up loving without as much of the guilt. I used almond milk to make it lighter and give it a nutty flavor at the same time. I also used quinoa flour to make it more nutritious. Best of all, it was so easy to make!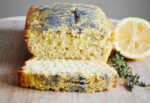 Servings

Prep Time

1

loaf

15

minutes
Servings

Prep Time

1

loaf

15

minutes
Servings

Prep Time

1

loaf

15

minutes

Servings

Prep Time

1

loaf

15

minutes
Pre-heat the oven to 350 and liberally spray a standard loaf pan with cooking spray. Combine the flour, sugar, baking powder, herbs de provence, poppy seeds and salt in a large mixing bowl. Whisk all of that together to aerate the dry ingredients. In another bowl combine the lemon zest, lemon juice, almond milk, olive oil, eggs and fresh thyme. Whisk those wet ingredients together until smooth. Pour the wet ingredients into the bowl of dry ingredients and whisk it all together into a smooth, thick batter.

Pour the batter into the prepared loaf pan and smooth it out to be even on top. Sprinkle a generous amount of additional poppy seeds on top, then bake the loaf for around 50 minutes. Use a toothpick inserted in the very center to test whether it is baked through, it's the most reliable way. It should come out cleanly.

When it's done, let the bread cool in the loaf pan for 15-20 minutes, then turn it out onto a cutting board to finish cooling. Slice the bread and serve with a great cup of coffee or tea! It will also keep for a day or so sealed in a container. Enjoy!