Guacamole is one of my favorite snacks and Mexican food toppings in the world. I am always willing to shell out the extra dollar or however much to get it on my burritos or tacos when I'm eating out. It's also so simple to make right at home, especially with weekend game days coming up. This easy smokey guacamole came together in minutes for immediate snacking!
That was all there was to making this easy smokey guacamole! Oh my goodness it was the perfect snack. The avocado was gloriously creamy and the perfect mild canvass for the rest of the flavors. The smokey dimension from the paprika and salt really gave it an edge that I loved. It was smooth but still had a little texture. Blue corn tortilla chips were perfect for scooping it up with their amazing crunch and flavor. I was one happy woman! Hope you all enjoy this incredible and easy snack. xoxo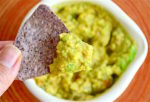 Servings

Prep Time

2-4

10

minutes
Servings

Prep Time

2-4

10

minutes
Servings

Prep Time

2-4

10

minutes

Servings

Prep Time

2-4

10

minutes
Cut open the avocados and remove the pits. Scoop the flesh right out of the skin into a large stone mortar that also has a pestle. Mash the avocado with the pestle, then add the lime juice, salsa, cilantro, smoked paprika and hickory smoked sea salt. Use the pestle to mash the mixture all together, then use a spoon to make sure it is all thoroughly mixed together. Serve it immediately with tortilla chips for an amazing snack!