I remember the kids in my elementary school class thought I was a very strange little person when I declared that my favorite sandwich was a Gyro. Even the ones who knew what a Gyro was had no clue what I was talking about because I pronounced it yee-ro (which technically is how it is supposed to be pronounced, it's the only way I ever heard it spoken)! The struggle of being Lebanese was real. Gyros are amazing creations of slow roasted and well spiced lamb or chicken that is super thinly sliced and served on a pita with yogurt sauce, tomatoes and cucumbers. I live for them, but they can be challenging and time consuming to make at home. I decided to take the easier route and put all of the flavors of Gyros that I adore into these scrumptious lamb burgers. First, I made the mixture for the patties.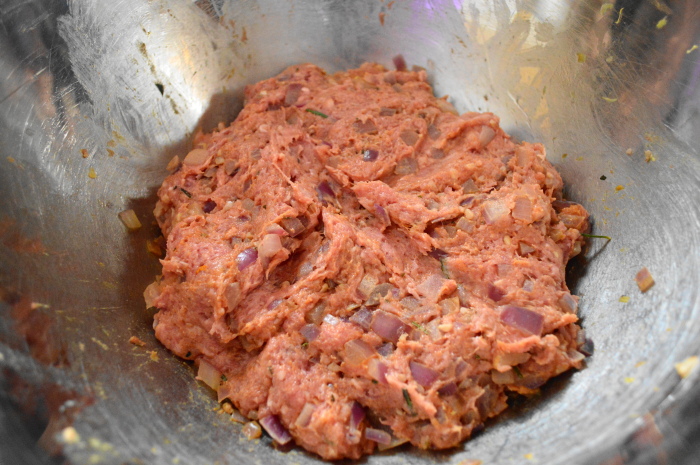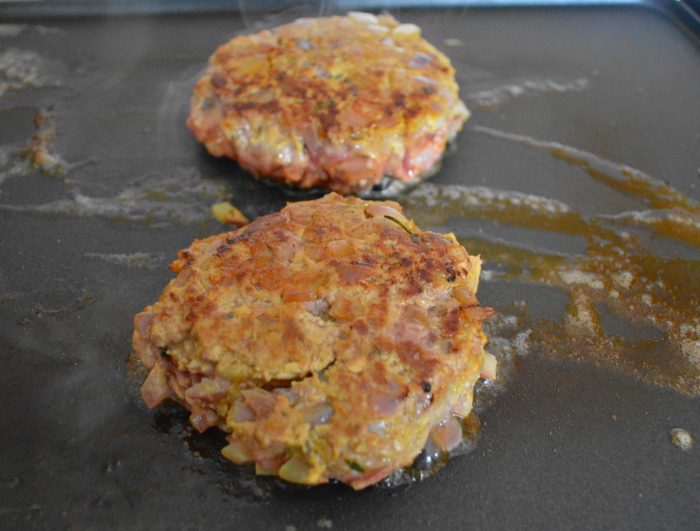 While the burgers cooked, I quickly pulled together all of the fixings and set up a dress your own lamb burger bar. Everything was ready! The rolls were first, then the chili cilantro butter, the burger patties, yogurt sauce, onion slices, cherry tomatoes and cucumbers. Any fixings that were leftover got all stirred together into a yummy yogurt salad for my lunch the next day! Those lamb burgers were so incredibly juicy and flavorful. With the fixings, I felt like I was having a Gyro in burger form! It made me so happy. Hope you all love them as much as we did! xoxo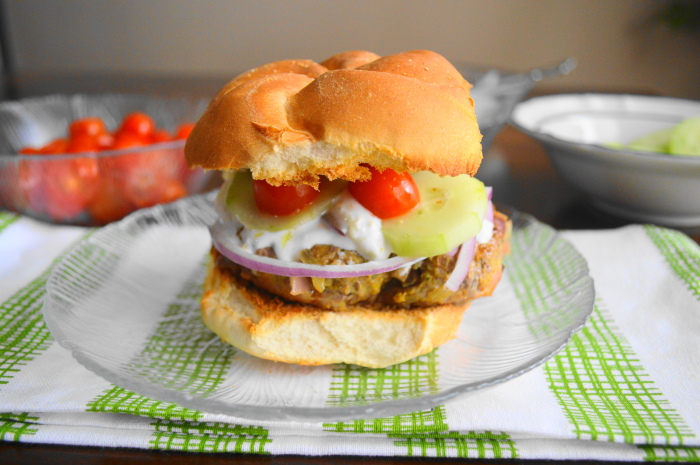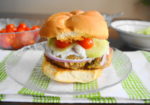 Lamb Burgers
Ingredients
For the lamb burgers
1

dash

olive oil

1/2

of a

red onion

peeled and diced small

1

tablespoon

minced garlic

1

sprig

rosemary leaves

finely chopped

1

pound

ground lamb

1

teaspoon

hickory smoked sea salt

1/2

teaspoon

cinnamon

1/2

teaspoon

coriander

1/2

teaspoon

turmeric

1/2

teaspoon

tahini paste

1

dash

Sriracha

1/2

of a

lemon

zested
For assembly
1

stick

salted butter

softened to room temperature

1

tablespoon

finely chopped cilantro

1/2

teaspoon

chili powder

1

dash

Sriracha

1

whole

cucumber

peeled

1

small container

plain greek yogurt

1/2

of a

lemon

juiced (same one you zested for the lamb mixture)

1

pinch

hickory smoked sea salt

10

whole

grape tomatoes

halved

1/2

of a

red onion

thinly sliced (other half of the one you diced for the burgers)

4

whole

kaiser rolls
Instructions
To make the patties, heat the olive oil in a pan over medium high heat. Add the diced red onion, garlic and rosemary and let them cook until fragrant for about a minute. Take the pan off of the heat and let it cool for a few minutes.

In a mixing bowl combine the ground lamb, salt, cinnamon, coriander, turmeric, tahini, Sriracha and lemon zest. Add the cooled onion mixture into the bowl, then mix everything together well with clean hands. Pat the mixture out into an even circle in the bowl and divide it into equal quarters. Form each quarter into a firm patty and lay the patties out on a plate.

Pre-heat an electric flat top griddle to 325 degrees. Cook the burgers until there is a good sear on the first side and they start to cook through for about 3-4 minutes, then flip them over to cook another 3-4 minutes on the other side. Transfer them to a plate and let them rest for 2-3 minutes.

While the burgers cook and rest, pull together the fixings. Toast the 4 kaiser rolls until just slightly crisp, then set them out on a plate. In a bowl, stir together the soft butter, cilantro, chili powder and Sriracha to make an amazing cilantro chili butter for the rolls. Take the peeled cucumber and cut it in half. Grate one half of the cucumber on the largest holes of the box grater, then stir it with the greek yogurt, lemon juice and salt in a bowl for the cucumber yogurt sauce. Thinly slice the other half of the cucumber and set them aside in another bowl. The halved grape tomatoes and sliced red onion go into their own separate bowls to finish the wonderful fixings bar (all of this can be done ahead as well).

Set everything up in a line so that everyone can dress their own lamb burger to their liking. Enjoy the big, juicy, very well dressed burger!
SaveSave