Making bread is one of my favorite ways to relax. Kneading the dough and working with it is pure zen in a crazy world. So when I started to buy a whole bunch of whole wheat pita bread to use in various recipes, I stopped myself and decided to make my own! Not only was it going to relax me, it was going to be cheaper than buying it since the recipe was very basic!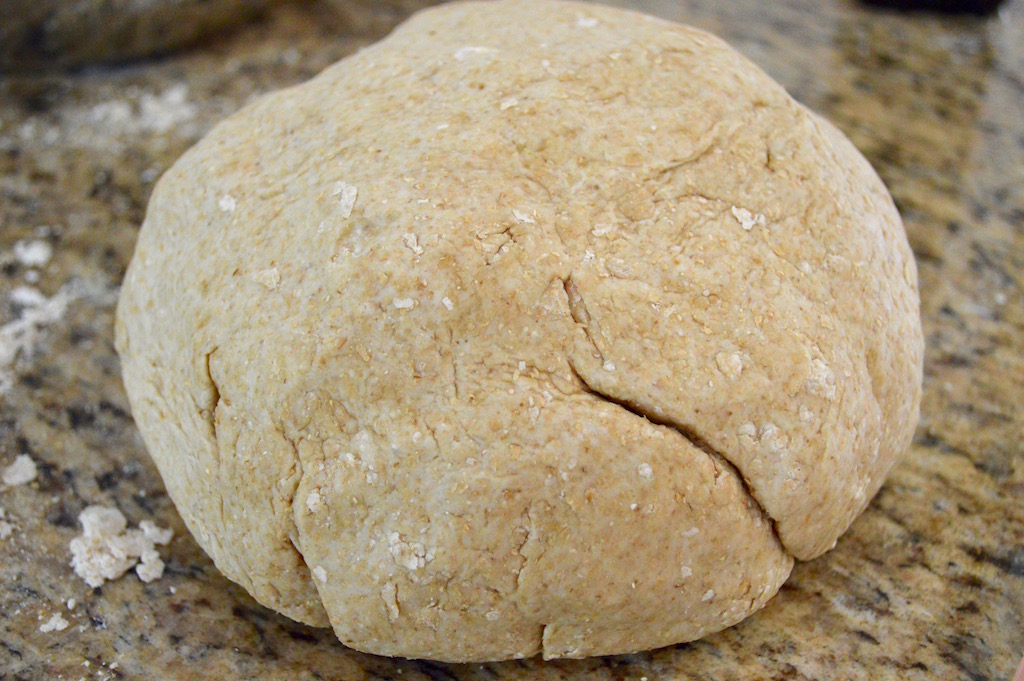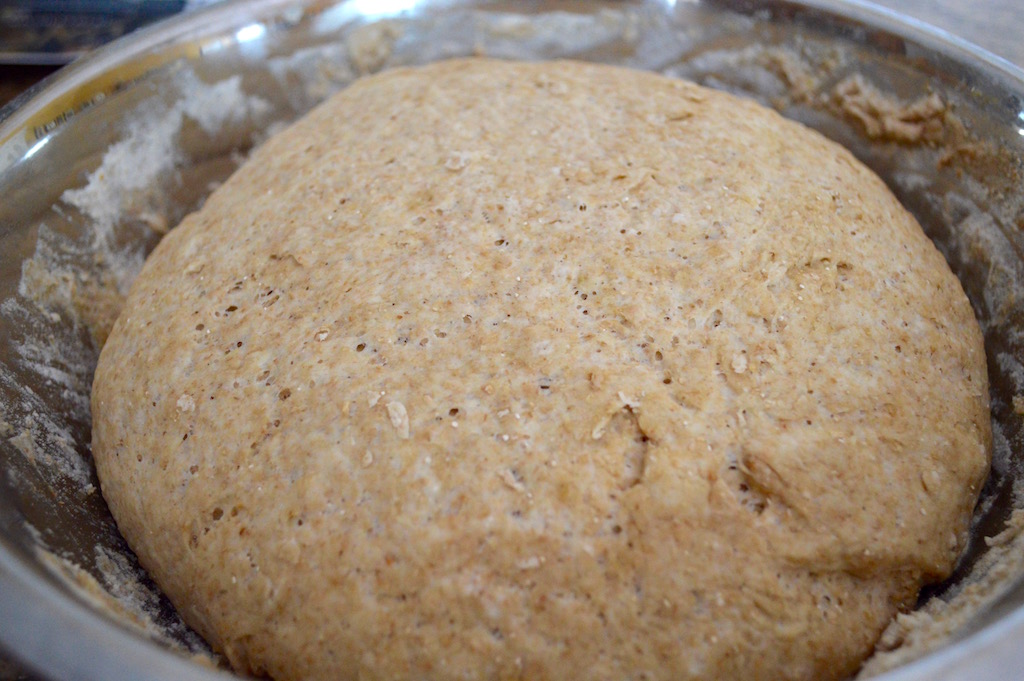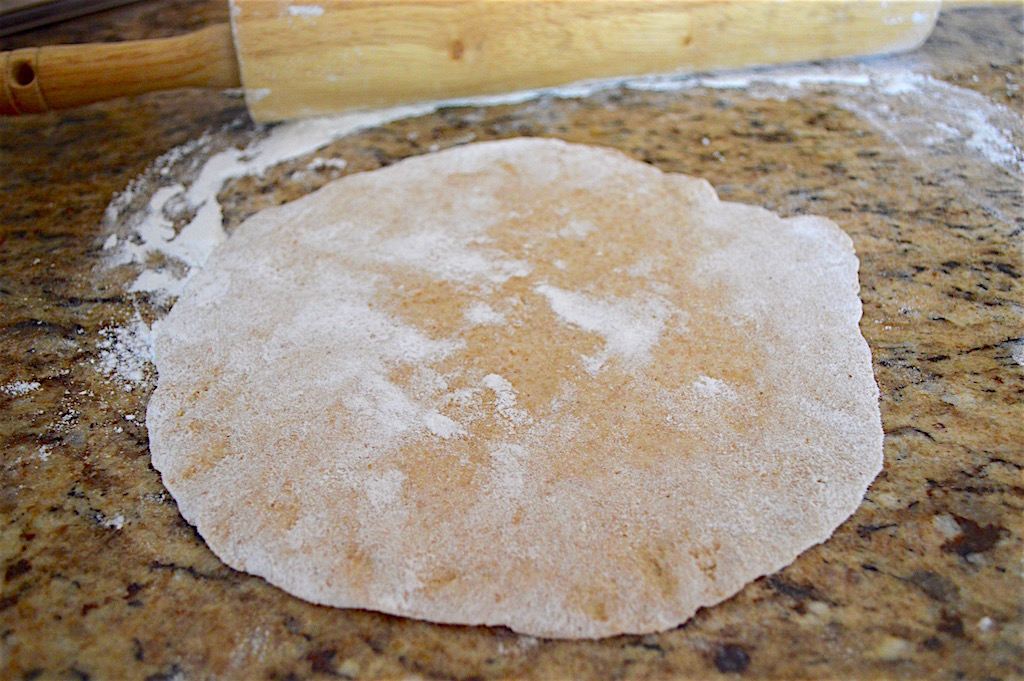 Once all of the whole wheat pita bread baked and cooled, it was time for storage. I kept what I needed immediately out in a sealed container. The rest were frozen in batches to pull out whenever I need them! This recipe was fantastic to make a big batch that I could use for a long time. I love to use them to make pita chips, hold yummy falafel or become an amazing whole wheat personal pizza crust! The pita-bilities are endless (sorry, I couldn't resist). Hope you all enjoy! xoxo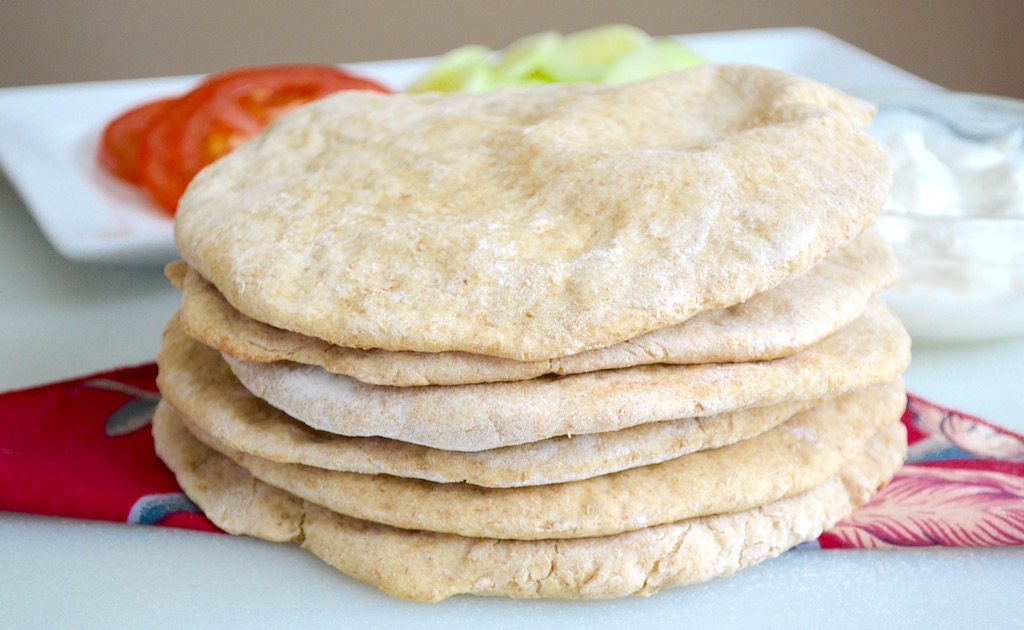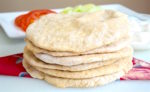 Whole Wheat Pita Bread
It is much easier than it seems to make amazing, fluffy homemade whole wheat pita bread! This makes a large batch to use in countless ways.
Keyword:
Pita Bread, Whole Wheat Pita Bread
Ingredients
4 2/3

cups

whole wheat flour

3 1/2

cups

all-purpose flour

2

packets

active dry yeast

2

teaspoons

salt

1/4

cup

olive oil

plus additional for greasing the baking sheets

3

cups

warm water

it should feel like bathwater
Instructions
First, make the easy dough. Whisk the two flours, active dry yeast and salt together in a large mixing bowl just to aerate them. Then stir in the olive oil, followed by the water to bring the dough together. Bring it together into a large ball and turn it out onto a clean, floured surface. Knead the dough for 10 minutes to really activate the gluten and make the dough elastic. Then return it to the bowl and cover it. Let it sit in a warm, dry place for an hour to rest and double in size.

When the hour is up, pre-heat the oven to 450 and line two sheet trays with silicone mats. Drizzle a little olive oil on each mat and use a brush to coat the mat with it. Take the dough and punch it down. Then take a piece of the dough and roll it into a ball slightly larger than a golf ball. Press it down into a round disc and roll it out to be a more flat, thin disc on a floured surface. Transfer it to a baking sheet and repeat until you have 2 discs per baking sheet. Bake them for 8-10 minutes, rotating the trays halfway through.

Let them cool, then transfer them to a plate and get the next four discs onto the two sheets. Keep going in batches of 4 like that until the dough is all used. There should be enough to make 20, so 5 batches will be needed with a couple of minutes of cooling time between each batch. When the pita are all baked and cooled, keep what you need immediately sealed and out, then warm it up in the toaster when you need it. The rest can be frozen for months to pull out as needed to make personal pizzas, pita chips, to serve with falafel, you name it!!
Nutrition Facts
Whole Wheat Pita Bread
Amount Per Serving (1 pita)
Calories 149
Calories from Fat 25
% Daily Value*
Fat 2.8g4%
Sodium 233mg10%
Potassium 45mg1%
Carbohydrates 26.6g9%
Protein 3.8g8%
Iron 1.6mg9%
* Percent Daily Values are based on a 2000 calorie diet.