When Marc and I found out that there was going to be a huge dessert expo and tasting not far from us in northern NJ, we needless to say got very excited. We were barely able to get tickets, we managed to get them just before it sold out! The Sweet Escape is still a new event as this was only its second year, but it has already gained a reputation for showcasing some of the most amazing pastry and confection vendors in the state. This year there were 38 vendors in all, and they were all getting a lot of love from the many, many guests. There was such a massive line around the expo floor to check out each vendor because everyone was stopping, sampling and enjoying all the gorgeous confections. The smell of chocolate and frying dough was everywhere, it was like being in Willy Wonka's factory! I really enjoyed all the incredible booths, but there were five that really stood out to me and those are the ones I am going to talk about in a little depth. The first was Cake & Co. Their table was just gorgeous with so many delicate mini cupcakes and truffles. Immediately they told me to sample their signature vanilla bean truffle and I am so glad they did. It was a real vanilla flavor, not artificial tasting at all. It had that perfect truffle texture as well. I also tried one of their mini cupcakes and it was so moist and flavorful. I was really struck by how excited they were to have me try the truffle, it spoke to a very deep passion for their confections that resonated with me. Their website is www.cakeandconj.com, I would highly recommend checking them out.
The best cupcake I had at The Sweet Escape though was from Danjae's Delights. Danjae has been in business for 12 years, specializing in cakes and cupcakes. We bonded a bit over the fact that our biggest culinary influences came from our grandmothers. She grew up helping her grandmother make cakes for weddings and other occasions and then studied pastry herself. It showed big time in her cupcakes. I tried the red velvet and Marc tried the key lime and they were everything a cupcake should be. There was no artificial quality to the flavor, which is hard to do with red velvet. They tasted like they came right from scratch out of her grandmother's kitchen! Her influences were on full display in her baking there at the Sweet Escape. Be sure to head over to Danjae's website at danjaesdelights.com.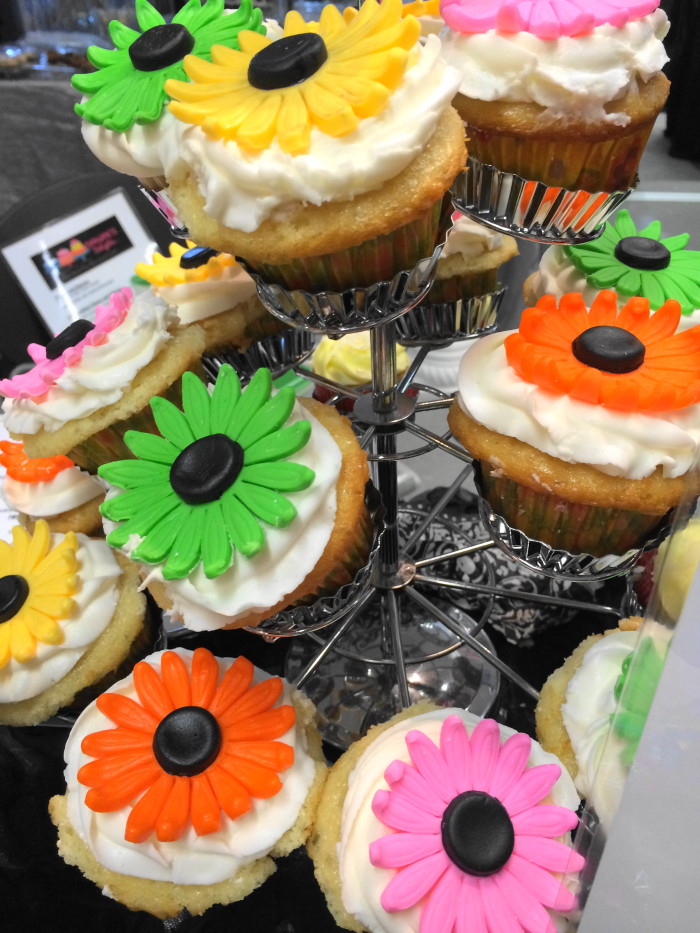 Lumpasugah had a booth with the most gorgeous sweet potato pies I had ever seen. Let me tell you, their taste lived up to their looks! They were so luscious and creamy with an amazing crust. When I spoke to chefs Debveda and Janelle, there was so much pride and passion for their all-natural ingredients and lovingly handmade pies. There are no preservatives whatsoever and the crusts are hand rolled. You can place orders for their incredible confections at www.lumpasugah.com.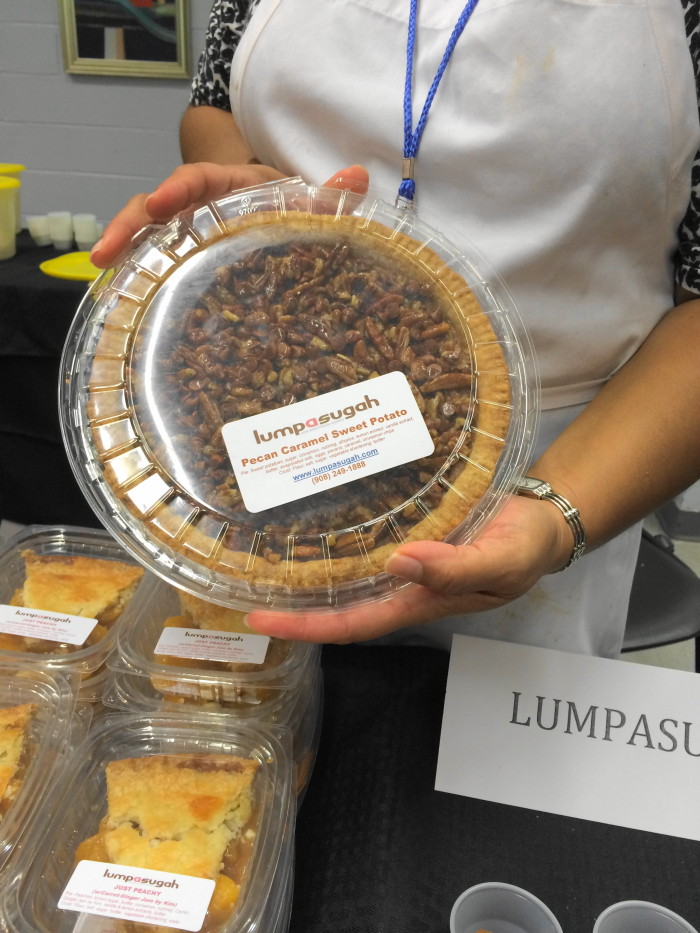 For something completely different from baked goods, there was Artisanal Jams by Kim. She had platters of crackers with her jams on them to sample and I've never had anything like them. There was carrot ginger and roasted garlic, definitely not the usual strawberry or grape. Well, there was a sort of grape in her incredible…are you ready for this…pinot noir jelly! I took a jar of it home and I don't think crackers or peanut butter sandwiches will ever be the same in this house. If you're wondering, there is only a slight difference between jam and jelly. Jam is made with crushed fruit or veggies, while jelly is made from the juice of fruit or veggies. Kim's jams and jellies are beautiful in their simplicity. The pinot noir jelly is just pinot noir wine, sugar, lemon juice and pectin but it comes together so perfectly. She was celebrating 5 years of being in business at the Sweet Escape and could not have been more fun to talk to or gracious. Check out her work at jamsbykim.com!
Our last stop was the source of the intoxicating fried dough smell. Sweet Dreams Gourmet Mini Donuts had a show stopping booth because they were making and frying the donuts right there live. Donutologist (yes, you read that right) Todd Jones has been in business over 30 years with his fluffy mini donuts. He has an incredible machine that makes and fries the mini donuts on the spot without having to even flip them. The batter is dropped by the machine into one fryer, then flipped over by a mechanical arm into the next fryer, then flipped again onto a draining rack perfectly cooked. Fresh mini donuts right out of the fryer…my day was made. There was no adornment needed on them except a sprinkle of powdered sugar. So many donuts can taste oily and heavy, but these were insanely light and fluffy. Todd can set up his machine for any kind of occasion, I'm a little sad I didn't know about Sweet Dreams when Marc and I got married! Their website can be found at sweetdreamsminidonuts.com.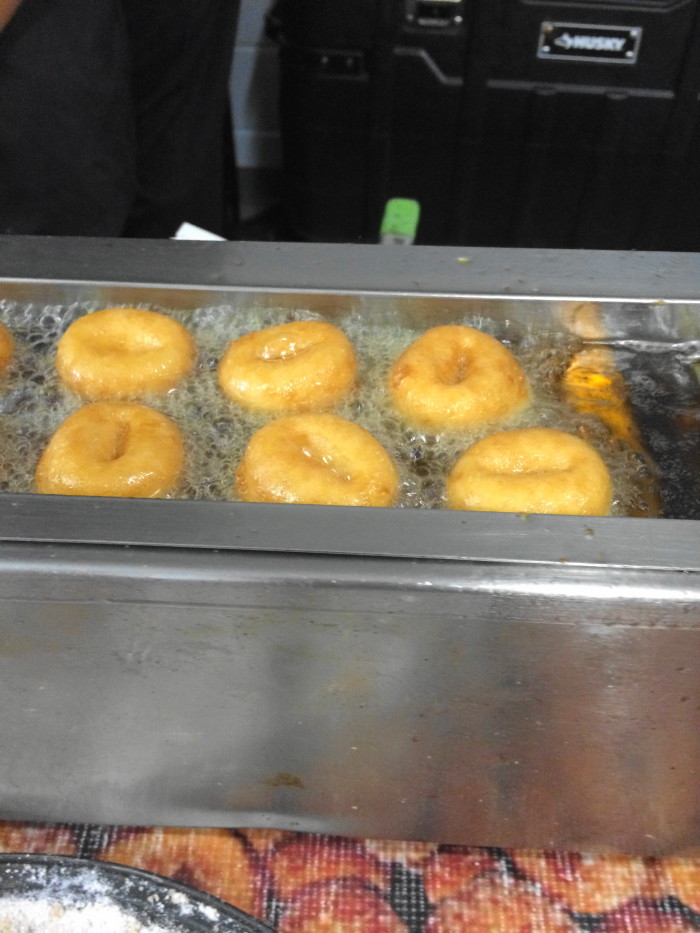 The Sweet Escape was just such a fun afternoon out with Marc and best of all, I got to meet so many amazing fellow pastry and confection enthusiasts. Talking to pastry chefs and confectioners that are so passionate about their craft is always a joy. For a full list of vendors and more information, visit http://www.njdesserttastingexpo.com/. It is definitely going to become a yearly tradition with us as long as it goes on, hope to see you there!