I really like to take pleasure in the small things in life. Yesterday it was 80 and sunny here, so I enjoyed a 2 mile walk. I hadn't taken a long walk in the warm sunshine in forever and it was blissful. When Marc get homes from work on a Friday, we like to take 15 minutes or so to just stand at our kitchen island and enjoy some wine and cheese while we chat. It's like our own personal happy hour and I love it. In the mid-afternoon, there is nothing I love more than enjoying some kind of baked good with a cup of tea and some quiet. I don't do it often since that would be bad for my waistline but it is glorious when I indulge. It was an indulgence I really needed this week, so I whipped up the most incredible spiced rose crumb cake.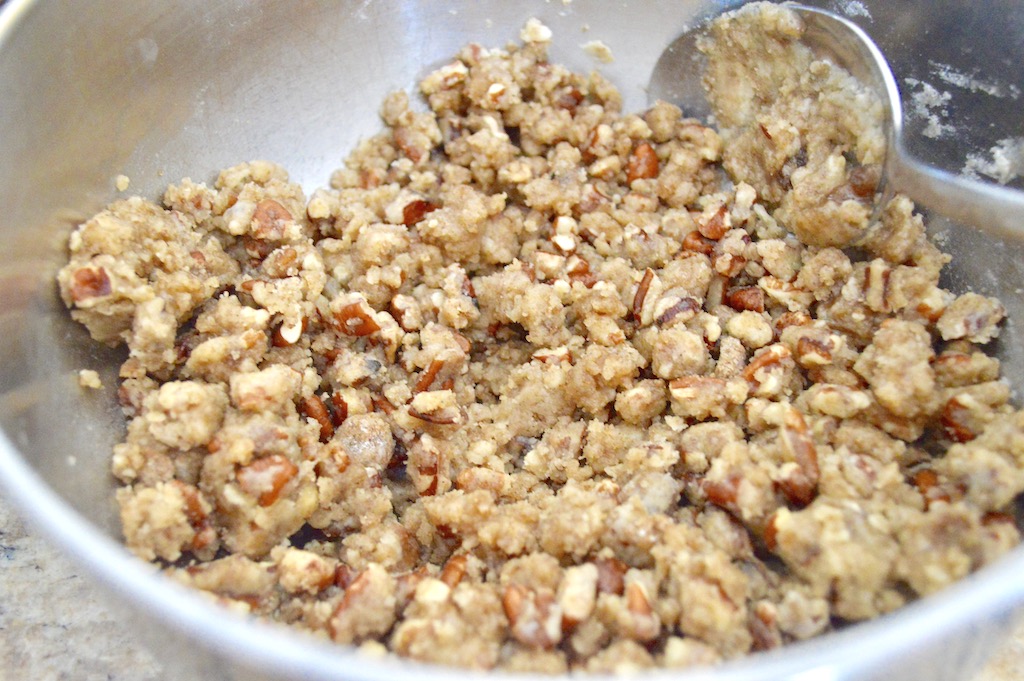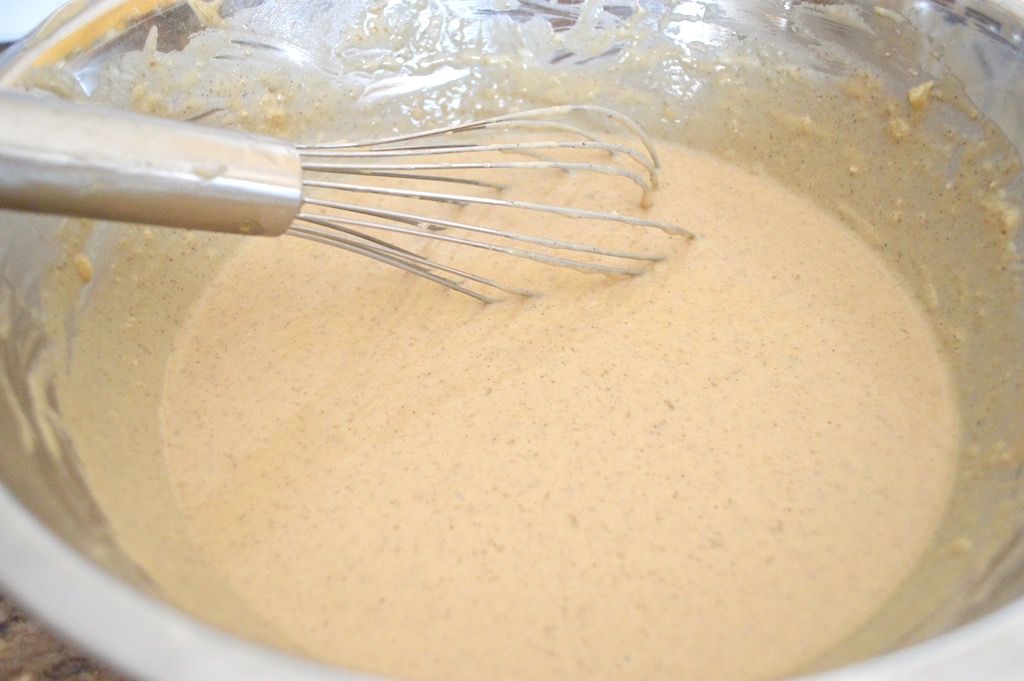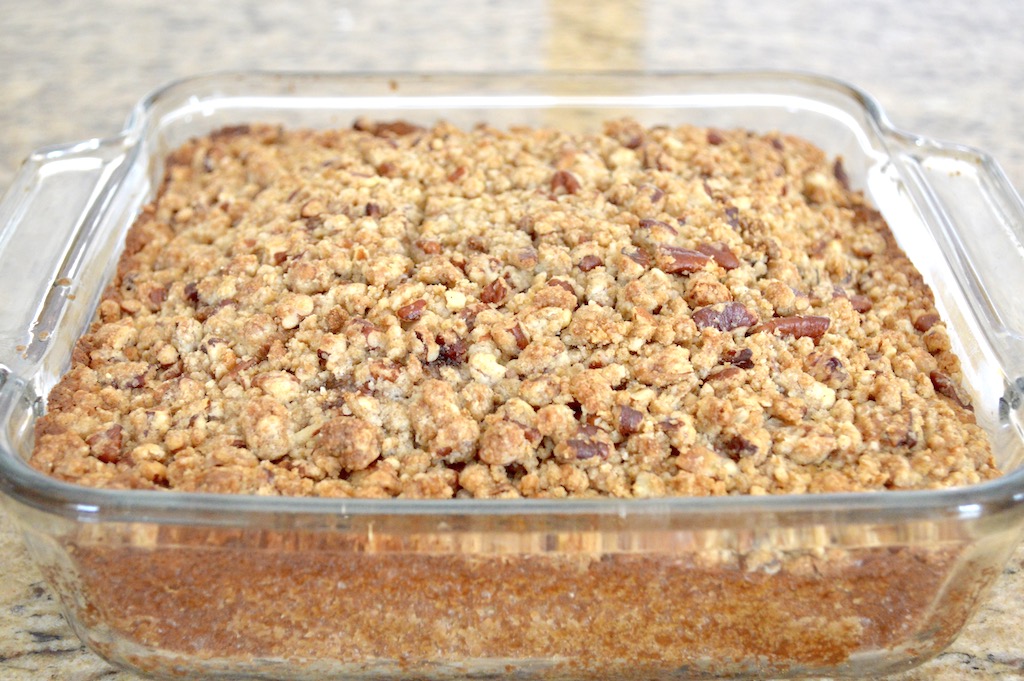 Once it cooled, I cut the cake into 8 equal squares and enjoy a piece with a yummy cup of chai tea. Oh my goodness, the rose flavor was there but the spices cut through to keep it from tasting like soap. The crunchy crumb topping was the perfect texture compliment to the soft cake crumb. I loved how versatile this spiced rose crumb cake was too. I ate it for breakfast, an afternoon snack and dessert over the course of the week. It kept for days all sealed up! Hope you all love it too. xoxo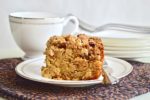 Spiced Rose Crumb Cake
This is such a gorgeous and simple spiced rose crumb cake with an airy, fluffy cake and sensational pecan crumb topping! Perfect for breakfast, dessert or tea time.
Keyword:
Crumb Cake, Rose
Ingredients
FOR THE CRUMB TOPPING
1/2

cup

all-purpose flour

1/2

cup

chopped pecans

1/3

cup

dark brown sugar

packed

1/2

teaspoon

cinnamon

1/2

teaspoon

ground mahlab

1/2

teaspoon

ground cardamom

1/2

teaspoon

rose water

1/2

stick

butter

melted
FOR THE CAKE
1 1/3

cups

all-purpose flour

3/4

cup

dark brown sugar

1

tablespoon

baking powder

1/2

teaspoon

cinnamon

1/2

teaspoon

ground mahlab

1/2

teaspoon

ground cardamom

1/4

teaspoon

baking soda

1

pinch

salt

2

cups

milk

1

stick

butter

melted

2

whole

eggs

1/2

teaspoon

rose water
Instructions
Pre-heat the oven to 375 and spray an 8 x 8 baking pan well with cooking spray. Then make the crumb topping first. Simply stir the flour, pecans, brown sugar, cinnamon, mahlab, cardamom, rose water and melted butter together thoroughly until it is a moist, pebbly crumb texture. Make the easy cake batter next. Whisk the flour, brown sugar, baking powder, cinnamon, mahlab, cardamom, baking soda, and salt together in a large whisking bowl. Whisk the milk, melted butter, eggs and rose water together in another bowl. Pour the wet ingredients into the dry ingredients and whisk it all together thoroughly until smooth.

Pour that batter into the prepared pan and make sure it is even. Then evenly sprinkle the crumb mixture on top in a layer. Bake the cake for about 45 minutes, until the outside is golden and the interior is baked through. The middle will puff up a lot and that is normal. Use a toothpick and see if it comes out cleanly from the center to make sure it is perfect. Let it cool for at least half an hour, then cut it into 8 equal pieces. Serve with great coffee or tea and enjoy!
Nutrition Facts
Spiced Rose Crumb Cake
Amount Per Serving (1 piece)
Calories 376
Calories from Fat 188
% Daily Value*
Fat 20.9g32%
Cholesterol 91mg30%
Sodium 116mg5%
Potassium 302mg9%
Carbohydrates 44.7g15%
Protein 4.7g9%
Calcium 150mg15%
Iron 0.9mg5%
* Percent Daily Values are based on a 2000 calorie diet.