I've already talked a lot about how we are all about breakfast in this house. It's our favorite meal of the day. Frankly, I can't even function without breakfast and a big cup of coffee in the morning. Poor Marc knows that I'll only be able to really carry on conversation once my cup is no less than half gone. He still loves me anyway, remarkably. Anyway, on weekday mornings I never have time to really cook breakfast, so I just make them ahead. That's exactly what I did with these wonderful little turkey sausage pancake muffins! I made them over the weekend and we had breakfast for the week.
We each had one immediately with warm maple syrup. Oh my goodness, they were everything I needed in a breakfast! Having the pancake and sausage together in one little package was amazing. The warm maple syrup really took them over the top. I froze the rest, and we heated them up quickly in the microwave in the morning for the rest of the week! These were perfect for meal prep. Hope you all love them too! xoxo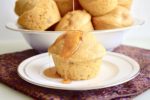 Servings

Prep Time

12

muffins

30

minutes
Servings

Prep Time

12

muffins

30

minutes
Servings

Prep Time

12

muffins

30

minutes

Servings

Prep Time

12

muffins

30

minutes
First cook the sausage. Heat the butter in a large skillet over medium high heat. Add the diced sausage and let it cook until it is completely cooked through and browning around the edges for about 5 minutes. Set it aside and let it cool. Then make the batter. Whisk the flour, brown sugar, baking powder, cumin, paprika and salt together in a large mixing bowl. Then whisk the milk, eggs and vanilla together in another bowl until smooth. Pour the wet ingredients into the dry ingredients and whisk it all together until it is a thick, smooth batter. Use a slotted spoon to leave any excess grease behind to transfer the sausage into the batter and fold it in with a spatula.

Then pre-heat the oven to 350 and liberally spray a 12 well muffin tin with non flavored cooking spray. Use a 4 ounce ladle or 1/2 cup measure to scoop an equal amount of the batter into each well. They should be filled to the top. Bake them for 20-25 minutes, until a toothpick comes out cleanly and they are golden. Let them cool for 5 minutes, then remove them to a rack to cool more, enough to handle them. Serve them immediately with warm syrup. Freeze the leftovers for breakfast all week!