My husband and his sister ran their annual 5k this weekend to raise money for the NJ National Guard Youth Programs. More power to them, especially since it was in the freezing rain. If I am running, it means something is chasing me and you should run too! I do much better with zumba or kickboxing to stay active. I wanted to send them off with a good breakfast, so I whipped up these amazing and nutritious strawberry yogurt oat muffins! The batter was a cinch.
These babies were just the ticket to power my wonderful hubby and sister through their race! They made great time in spite of the horrible weather and had a blast. It powered me through my morning of chores and errands too. The muffin crumb was so tender because of the yogurt. We had some leftover and they kept perfectly sealed overnight to enjoy the next day. Yum!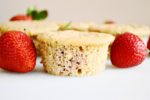 Servings

Prep Time

15

muffins

15

minutes
Servings

Prep Time

15

muffins

15

minutes
Servings

Prep Time

15

muffins

15

minutes

Servings

Prep Time

15

muffins

15

minutes
Preheat the oven to 350 and line a 12 well muffin pan plus 3 more in a second pan with paper liners. Whisk the oat flour, sugar, wheat germ, baking powder, salt, nutmeg, and baking soda together in a large mixing bowl. In another bowl whisk the milk, Greek yogurt, eggs and strawberry balsamic vinegar together. Pour those wet ingredients into the dry ingredients and whisk it all together just until it is a smooth batter. Switch to a rubber spatula and fold in the oats and strawberries.

Scoop a 1/3 cup portion of the batter into each lined well, then bake the muffins for about 30 minutes or so. A toothpick inserted in the center should come out cleanly. Let them cool in the pan for 10 minutes or so before removing them from the pan to finish cooling. Serve immediately! They will also keep sealed in a container for a day. Enjoy!