Now that it is officially fall, it is time for pumpkin everything! I have no shame in saying that I am obsessed with it. It is so yummy in desserts, but I also like to use it in savory recipes. I've already made pumpkin sausage rigatoni and pumpkin sausage mac and cheese. I'm detecting a pattern. There is just something about how savory meat works so well with the sweet pumpkin puree and spices. So this week I made a huge vat of pumpkin chili spaghetti. It was a wonderful one pot wonder that was so perfect for fall.
When the spaghetti was tender after about 10 minutes, it was time to eat! I scooped a healthy portion into each bowl and topped them all with a generous sprinkle of cheese. It was such a satisfying, complete meal in a bowl. The chili was meaty and flavorful and everything it should be. I loved tossing it with the tender spaghetti instead of rice or just dipping crusty bread in it too. It really was the perfect fall dinner. Hope you all love it! xoxo
SaveSave
SaveSave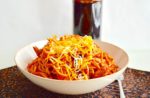 Servings

Prep Time

6-8

15

minutes
Servings

Prep Time

6-8

15

minutes
Servings

Prep Time

6-8

15

minutes

Servings

Prep Time

6-8

15

minutes
Get out a large pot and heat the olive oil in it over medium high heat. Add in the diced poblanos, onion and minced garlic and let them get fragrant for a couple of minutes. Then add the beef and let it brown as you break it up. While it browns, season the mixture with the chili powder, pumpkin pie spice, paprika, salt and pepper. Once the beef is brown, stir in the pumpkin puree and pumpkin beer and let it cook for a minute. Finally, pour in the crushed tomatoes and both cans of beans. Bring the chili to a boil, then reduce it to a simmer to cook for an hour.

When the hour is up, bring it back up to a gentle boil and add in the spaghetti. Stir it all together thoroughly until the spaghetti is tender for about 10 minutes. Then scoop it into bowls and serve with a generous handful of shredded cheese on top! Enjoy! The leftovers are even better the next day.