There was a lot of pressure the first time I made potato salad for my husband. He grew up with some of the best made by both of his parents and he lives for the stuff. To come up with a version that would live up to what he grew up with was daunting to say the least. Judging by his reaction, I think I came up with a winner with this perfect potato salad. It was simple to make too!
I was so happy that Marc loved this version of potato salad since it was slightly less creamy and more mustardy than he was used to. It worked so well though! On the side of some grilled burgers it was summer perfection. Hope you all enjoy this version of a classic! xoxo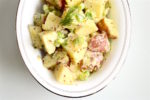 Servings

Prep Time

8-10

15

minutes
Servings

Prep Time

8-10

15

minutes
Servings

Prep Time

8-10

15

minutes

Servings

Prep Time

8-10

15

minutes
Fill a large pot about halfway with water and bring it to a boil on the stove. Salt the water generously. Add the potatoes in and let them boil for 5 minutes. Reduce the heat to a simmer and let them cook for another 10 minutes. They should just be fork tender. Drain them in a colander and then put the colander back over the pot off of the heat. Cover the colander with a clean towel and let the potatoes steam for another 15 minutes.

While the potatoes cook and steam, prepare the dressing. Wrap a bowl in a cold, wet towel. Then combine the egg yolk, vinegar, Dijon, dill, salt and pepper in the bowl and whisk it all together. Continue to whisk while you slowly pour in the canola oil until you have a pale, thick mayo. Then whisk in the whole grain mustard and buttermilk to finish it up and give it more flavor. Set the dressing aside.

When the potatoes are done and cool enough to handle cut them all in half, then cut each half into quarters. Add them to a large bowl along with the celery, scallions, dill, salt and pepper. Pour in the dressing and toss it all together thoroughly. Cover the bowl with plastic wrap and let the salad chill for 3 hours. Then serve it on the side of your meal and enjoy!