Growing up my mom was always the one who hosted the big Holiday meals. She made the most incredible Thanksgiving and Christmas dinners without so much as a hitch every year. Since she made so much food, she devised a couple of dishes that she could make quickly and easily. These peach halves with mincemeat were one of them and they were always such a hit! It is ironic looking back because they were the easiest dish ever and yet they were my favorite. Just goes to show that dishes don't have to be fancy and time consuming to be fantastic!
It was as easy as that to make these peach halves with mincemeat! I served them hot immediately. Oh my goodness, they brought me right back to my childhood at my mom's Holiday meals. The spice of the mincemeat was so good with the sweet peaches. They were really the perfect cinchy side dish! I hope you all enjoy this life long favorite of mine. xoxo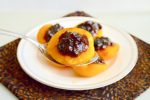 Servings

Prep Time

8

5

minutes
Servings

Prep Time

8

5

minutes
Servings

Prep Time

8

5

minutes

Servings

Prep Time

8

5

minutes
Pre-heat the oven to 350 and get out a 9 x 13 baking dish remove the peaches from their syrupy cans and line them up in the baking dish. Fill the empty pit of each peach half with a generous spoonful of the mincemeat, then get the dish into the oven to bake them for 20 minutes. Serve them hot immediately when they are done! So easy!