The horrific hurricanes lately made me think back to the destruction here during Hurricane Sandy. It hit while I was in culinary school and my school closed for weeks. There was water damage and no power so it took a while for it to be ready to reopen. I'll never forget the first day back because I was so happy to be there. I was rusty but we picked up right where we left off. We were studying French dishes and made these incredible Normandy style pork chops for our first dish since the closure. So I decided to make them again as I thought about all of the people recovering and rebuilding after Harvey and Irma the way we did after Sandy.
When the Normandy style pork chops finished baking, I served them immediately! I plated each pork chop with an apple ring or two before I spooned a generous amount of the cream sauce on top. They were perfect with potatoes and a salad on the side for a fantastic, complete meal. On a more serious note, as I said earlier my thoughts and love are with the people affected by the hurricanes. They helped us through Sandy and I hope we can be just as supportive of them. Please donate and help however you can, whenever you can. xoxo
SaveSaveSaveSave
SaveSave
SaveSaveSaveSave
SaveSave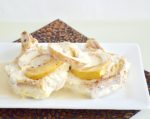 Servings

Prep Time

6

15

minutes
Servings

Prep Time

6

15

minutes
Servings

Prep Time

6

15

minutes

Servings

Prep Time

6

15

minutes
Pre-heat the oven to 400 and get out a large casserole dish. Spray it generously with cooking spray. Heat the olive oil in a large skillet over medium high heat. Season the pork chops generously with salt and pepper, then brown them all for 3-4 minutes on each side. If they won't all fit at once, do 2 batches of 3. As they finish browning, transfer them into the sprayed casserole dish and sprinkle them evenly with the bread crumbs. Brown the apple slices in the same pan as the pork chops for just a couple of minutes and then spread them out on top of the pork chops.

Deglaze the pan with the calvados and scrape up all of the brown bits. Let it reduce for about a minute. Then pour in the heavy cream and let it come to a gentle boil. Once it starts to boil, pour the cream sauce in the casserole with the pork chops and put the dish in the oven to bake for at least 20-25 minutes. This will depend on how thick your chops are. Since they are simmering in the sauce they won't dry out, so err on the side of caution. When they are done, serve immediately with your favorite sides. Enjoy!