I have always thought that macarons are one of the prettiest, most elegant little desserts out there. Whenever Marc and I go into the city we love to buy a few at one of the countless amazing bakeries for a treat. I tried making them once years ago and it was not a huge success. They weren't smooth on top and didn't develop the signature "feet" on the bottom for some reason. I recently came across a recipe on Food52 though for classic macarons from one of my baking idols, Dorie Greenspan. It was completely different from the first one I tried and seemed really doable. So I decided to give her recipe a try with a few of my own little twists. Let me tell you, these strawberry rose macarons were pure bliss! They took a little time but it was well worth it.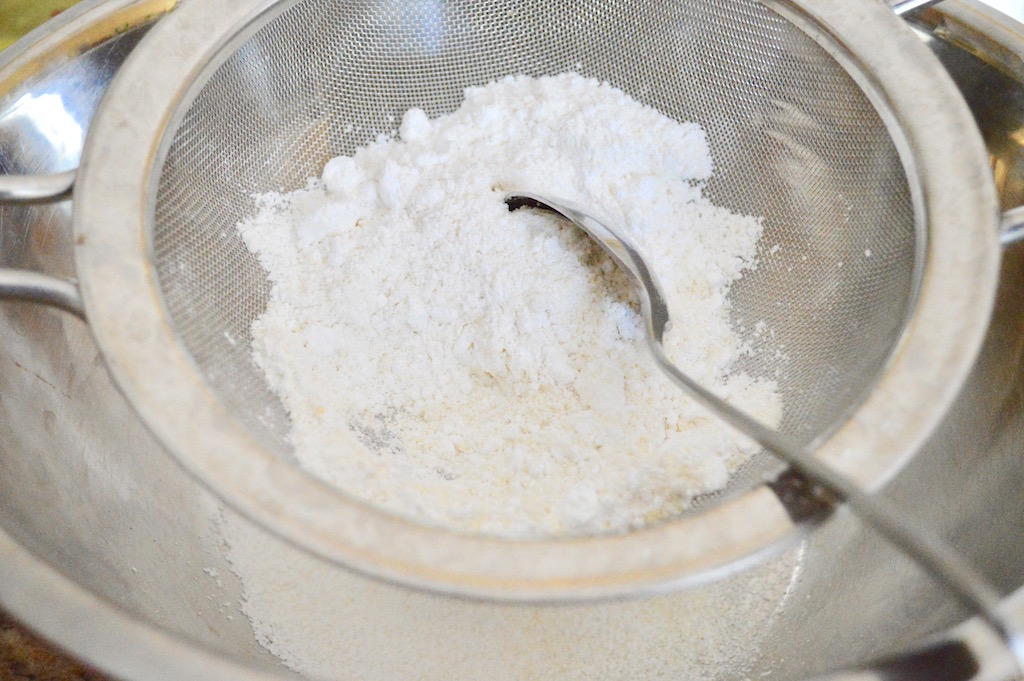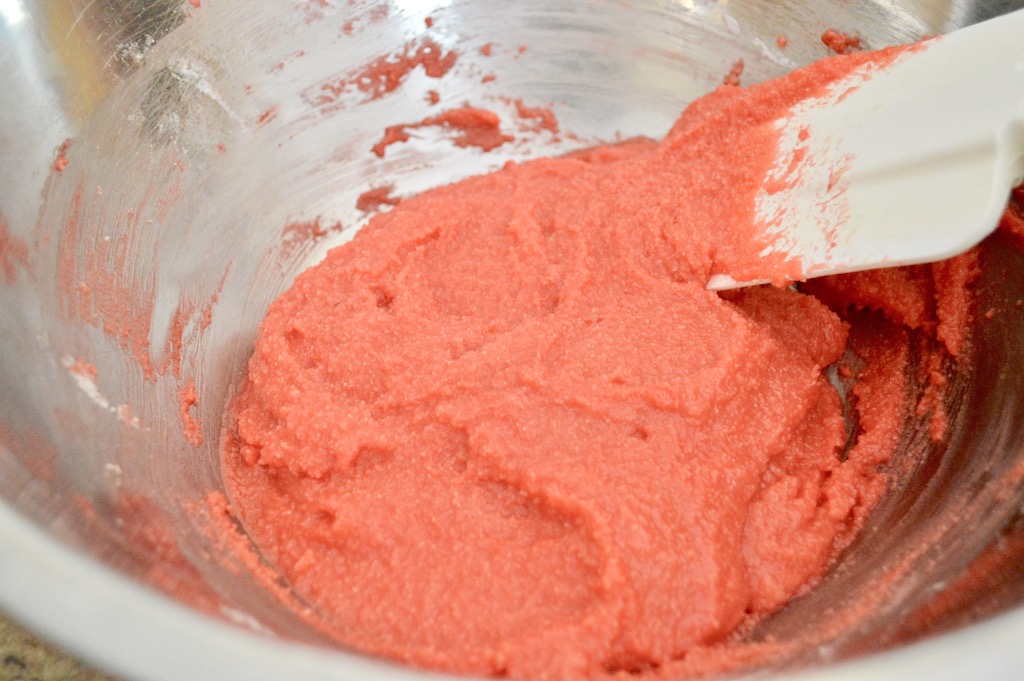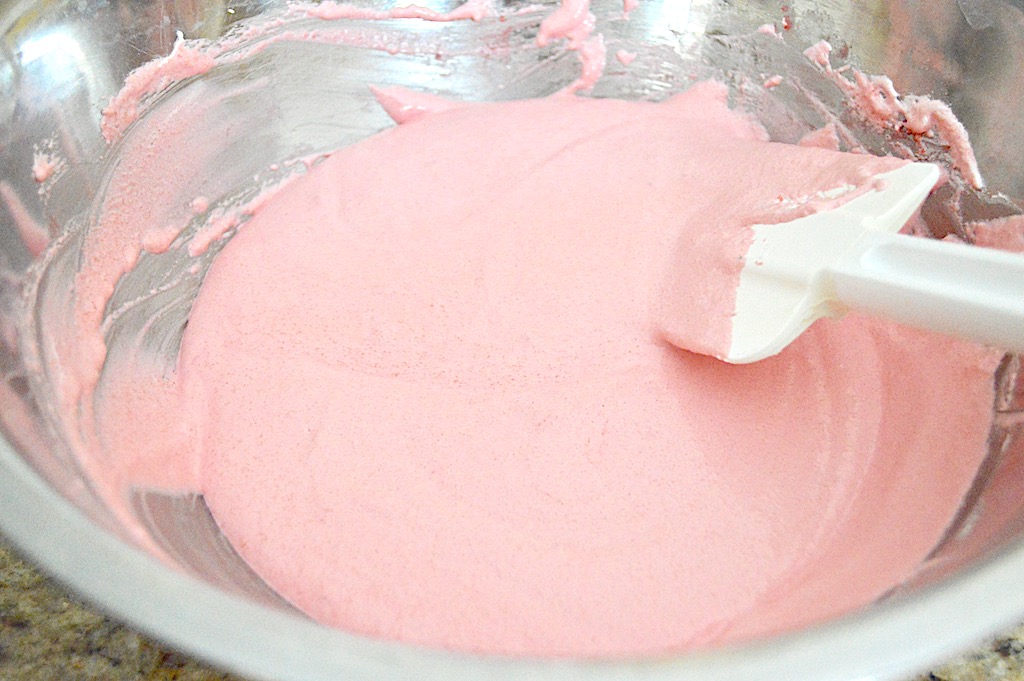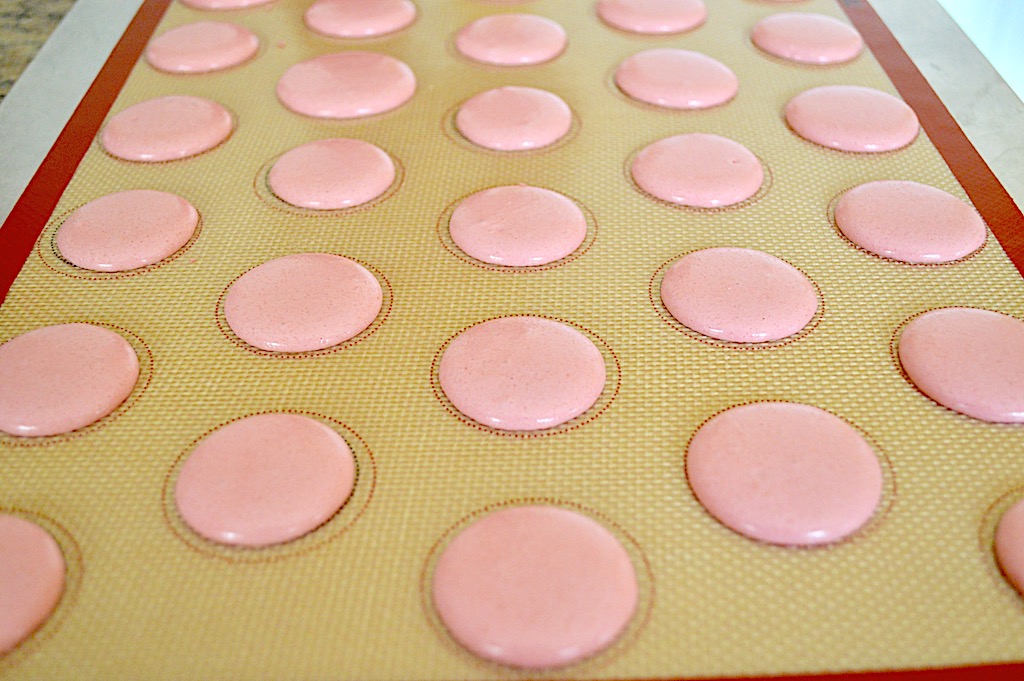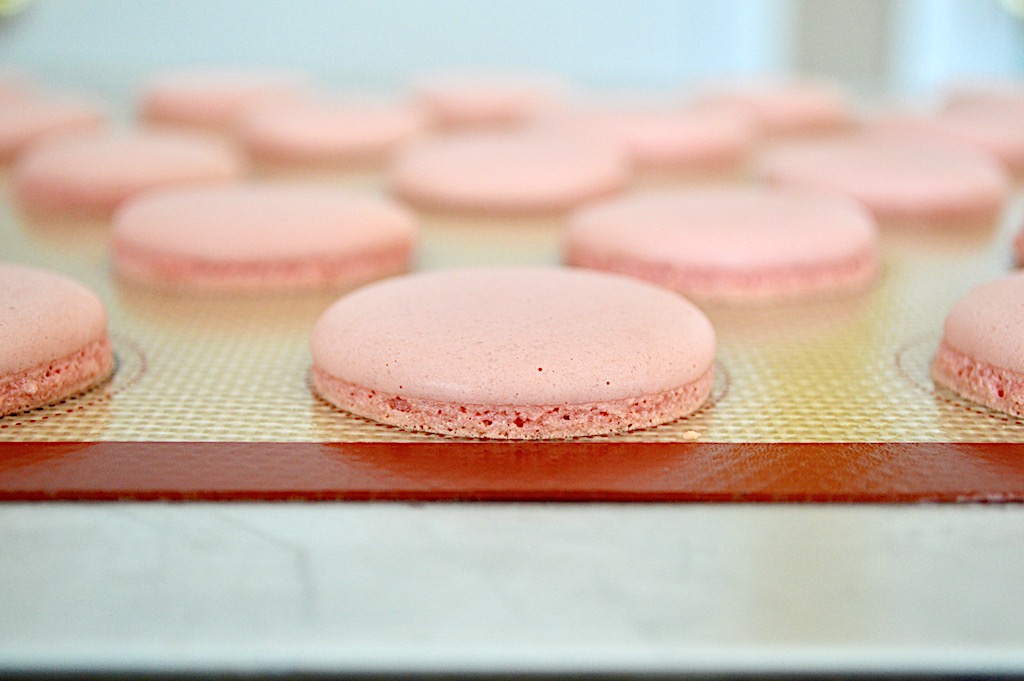 After the strawberry rose macarons cooled, it was time to assemble them. I spread about a teaspoon of strawberry jam on half of the cookies before I sandwiched them with their matching other half. Then I stored them in airtight containers in the refrigerator until it was time for dessert. Oh wow, I was thrilled with how these pretty jewels came out. The rose flavored cookies worked so well with the strawberry jam filling. Many thanks to Dorie Greenspan for such a perfect and fun recipe. Hope you all love these as much as I did! xoxo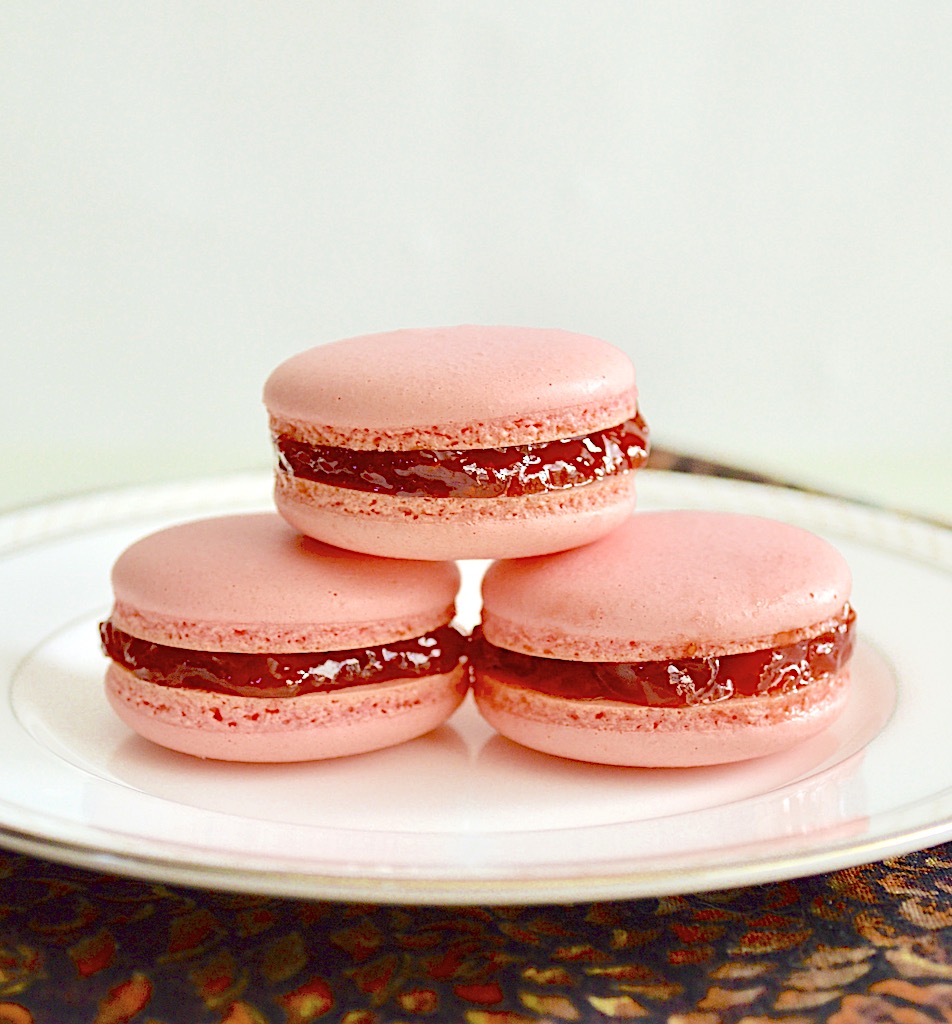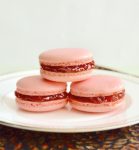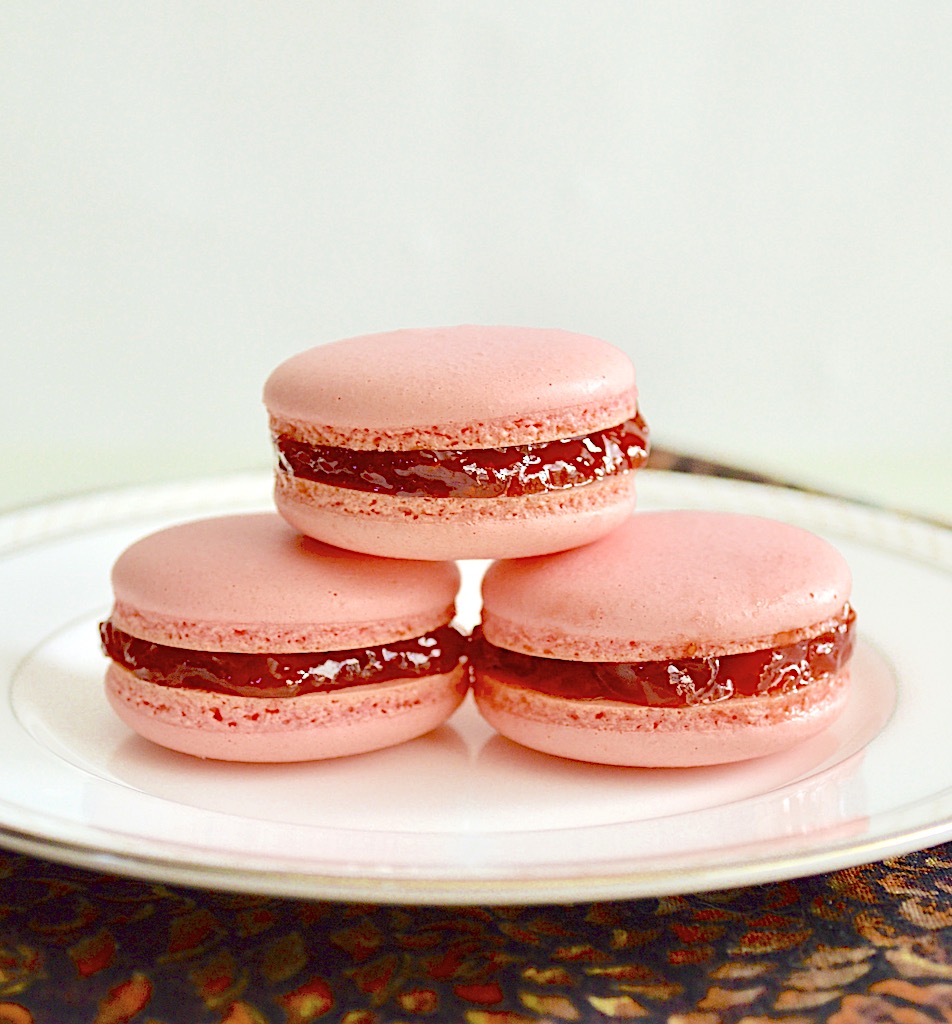 Strawberry Rose Macarons
These strawberry rose macarons are so darn elegant, pretty and delectable! The delicate rose flavored cookies work so well with the strawberry jam filling.
Keyword:
Macarons, Strawberry Rose Macarons
Ingredients
200

grams

almond flour

200

grams

powdered sugar

5

whole

egg whites

at room temperature

1/2

teaspoon

rose water

1/2

teaspoon

red food coloring

1

cup

granulated sugar

1/4

cup

water

strawberry jam

for filling
Instructions
Get out two sheet trays and line them with either silicone mats that have macaron templates on them, or parchment paper. If using parchment paper, draw 30 equal circles on each piece to make yourself a template and turn them over to have the ink face down. Take the almond flour and powdered sugar and press them through a fine mesh strainer into a large mixing bowl. This will take a little time and elbow grease but it is completely necessary for the texture of the cookies. Whisk them together in the bowl to blend them. Then pour in half of the egg white liquid, the rose water and red food coloring. Use a spatula to fold and mash the mixture together into a uniform paste. Set the paste aside.

Combine the sugar and water in a small saucepan and heat it up over medium high heat. Use a candy thermometer to make sure it reaches 243 degrees. While it heats up, set up a stand mixer with a whisk attachment and pour the remaining egg whites into it. Whip up the egg whites on high speed until they hold stiff peaks. Turn the speed to low and keep whipping the egg whites while the sugar comes to temperature on the stove. When the sugar reaches temperature, slowly and carefully pour it into the stand mixer with the egg whites and let it get mixed in. Turn the speed to high and let the meringue whisk together thoroughly until it becomes white, shiny and comes down to room temperature for about 10 minutes.

Take the meringue and fold it in thoroughly with the paste in the mixing bowl. You will need to mash it together a little too to break up the paste into the meringue. It should become a smooth, shiny and pretty pink mixture. Scoop half of it into a pastry bag with a 1/2 inch opening. Hold the opening over the center of the first circle on your sheet tray template and gently squeeze until it is filled. If there is a little point on top don't worry, it will dissolve. Fill the first sheet this way, then repeat with the second half of meringue on the other sheet tray.

Now this is the heart stopping but necessary part. Lift each filled sheet tray about 8 inches above the counter and let it drop onto the counter. This will get out all of the air bubbles to make a really smooth, shiny top. Let the trays sit out for 30 minutes to dry out and firm up a little. When the 30 minutes are almost up, fit a rack in the center of the oven and preheat it to 350. Bake the first tray for 6 minutes, then rotate the tray to ensure even baking and let them bake for another 6-7 minutes. Take that tray out and let the cookies cool completely and bake the second tray in the same way. Let that tray cool completely too.

Assemble the macarons by spreading about a teaspoon of strawberry jam on the flat side of one of the cookies. Then place another cookie of the same size on top and gently twist to make sure the filling spreads to the edge and the sandwich holds together. Chill them in the refrigerator in sealed containers until you are ready to serve them! Let them sit out for a few minutes before you serve them and enjoy.
Nutrition Facts
Strawberry Rose Macarons
Amount Per Serving (2 macarons)
Calories 323
Calories from Fat 39
% Daily Value*
Fat 4.3g7%
Sodium 14mg1%
Carbohydrates 68.3g23%
Protein 3.1g6%
* Percent Daily Values are based on a 2000 calorie diet.
SaveSave