I've already talked about how much I love Easter brunch. It is one of my absolute favorite mornings of the year! My family all gets together and we have a huge feast with all kinds of food. Muffins are always on the table to pass around, and usually I make my spiced carrot muffins. This year I decided to switch it up, so I created some amazing lemon lavender mascarpone muffins! They were such a cinch to make.
Once they finished cooling, it was time to see if these babies were Easter worthy. Oh my goodness they were. The lemon and lavender made them taste so fresh and floral for spring. The mascarpone gave them the most incredible mouthfeel. They were so airy! I can't wait to serve these for Easter brunch next weekend. I hope you all enjoy them too! xoxo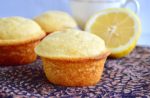 Servings

Prep Time

12

muffins

20

minutes
Servings

Prep Time

12

muffins

20

minutes
Servings

Prep Time

12

muffins

20

minutes

Servings

Prep Time

12

muffins

20

minutes
Pre-heat the oven to 350 and spray a 12 well muffin pan really well with cooking spray. Combine the flour, sugar, baking powder, lemon zest, lavender, baking soda and salt in a large mixing bowl and whisk them all together to aerate them. Combine the milk, mascarpone cheese, lemon juice, lavender extract, and eggs in another bowl and whisk them together until smooth. Pour the wet ingredients into the dry ingredients and whisk everything together until it is a smooth batter.

Fill the muffin wells almost to the top using a heaping 1/3 cup measure. Bake the muffins for about 25 minutes, until they puff up gorgeously and bake through. Use a toothpick and insert it into the center of a few to make sure it comes out cleanly. Let them cool for 5-10 minutes in the pan, then turn them out onto a rack to cool completely. Serve them immediately and enjoy! They also will keep for 2 days in sealed containers.