There is really nothing like a hot bowl of soup on a cold night. I've already mentioned that broccoli and cheddar is one of my favorite combinations in the world since childhood. It was actually one of the only ways I wanted to eat my veggies as a kid and it always stuck with me since then. So this week I whipped up an amazing big pot of creamy broccoli cheddar soup for a fantastic, comforting meal! It came together easily.
I ladled the soup right into pretty crocks and topped it with a little more cheddar cheese. Oh my goodness it was everything I hoped for and more in a soup! The texture was rich, thick and creamy with so much wonderful flavor. On the cold nights we had this past week it hit the spot and warmed me right through. This creamy broccoli cheddar soup was pure comfort! Hope you all enjoy! xoxo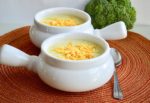 Servings

Prep Time

6-8

15

minutes
Servings

Prep Time

6-8

15

minutes
Servings

Prep Time

6-8

15

minutes

Servings

Prep Time

6-8

15

minutes
Get out a large dutch oven and heat the olive oil in it over medium high heat. Let the garlic, onion and celery soften and get fragrant in it for a minute. Then stir in the broccoli and let it soften with the aromatics for another minute or two. Season it all while it cooks with a big pinch of salt and big pinch of pepper. Remove those veggies from the pan and transfer them to a plate for later.

Then add the butter and flour to the pot. Whisk them together until it is a thick paste with golden color. Slowly pour in the milk while you keep whisking to have the start of béchamel sauce. Let the mixture come to a gentle boil, then reduce it to a simmer. Allow it to thicken and cook for 15 minutes, whisking occasionally. Then pour in the heavy cream, chicken stock and return the veggies to the pan.

Season the soup again generously with salt and pepper, then let it come back to a gentle boil. Reduce it a simmer and let the soup cook for 30 minutes, stirring occasionally. When it is done, use an immersion blender to puree the soup to a thick, creamy texture. Take the pot off of the heat and stir in the cheddar cheese to let it melt right in. Ladle the soup into pretty bowls or crocks and serve hot immediately with extra cheddar on top! Enjoy!