Half moon cookies are such a staple here in the Northeast. So I was very excited to work with fellow blogger Brad Nierenberg and have him to a guest blog post on this classic. Like me, he cherishes his old family recipes and this is one for the books for sure. Here is what he had to say about them:
There are plenty of recipes for similar cookies, whether they are called half moon cookies or black and white cookies. All accounts agree they originated in the state of New York. The histories diverge as to whether they hail from The Big Apple or Upstate NY. Since my gram's family never stepped foot in New York City, I would argue the best Half Moon Cookies hail from upstate (upstate is defined by non New Yorkers as anything north of New York City).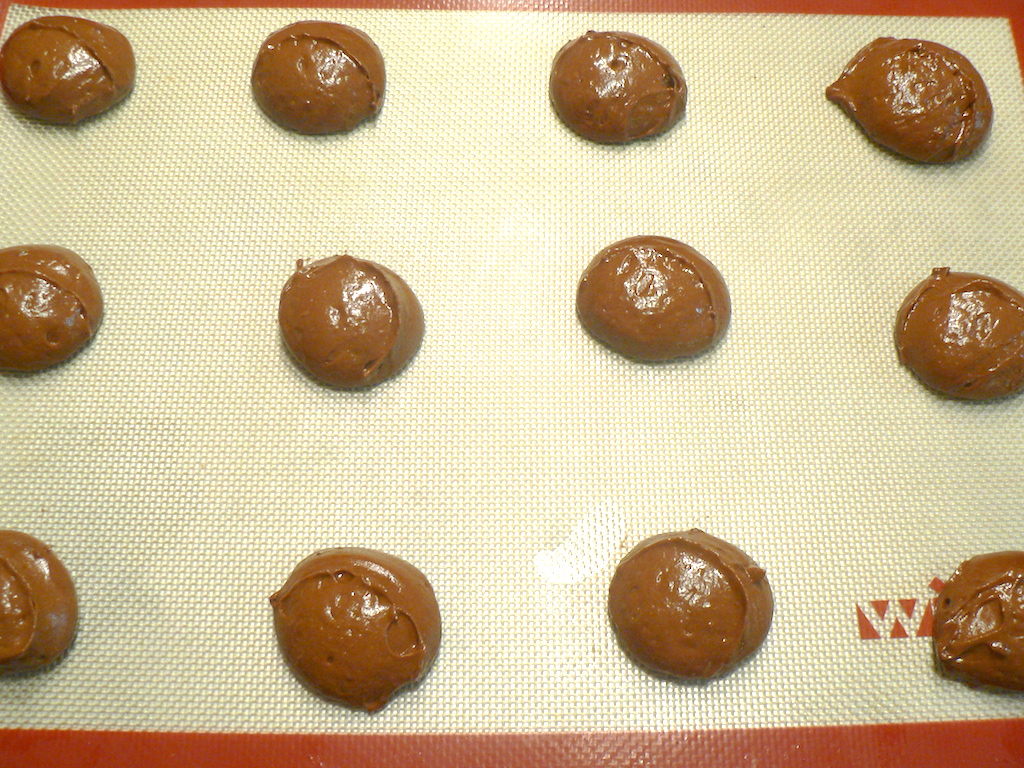 But even the recipes from upstate pale in comparison to the delicious cookies I grew up devouring because the others lack the rich flavor that comes with Gram's secret ingredients – sour milk and molasses!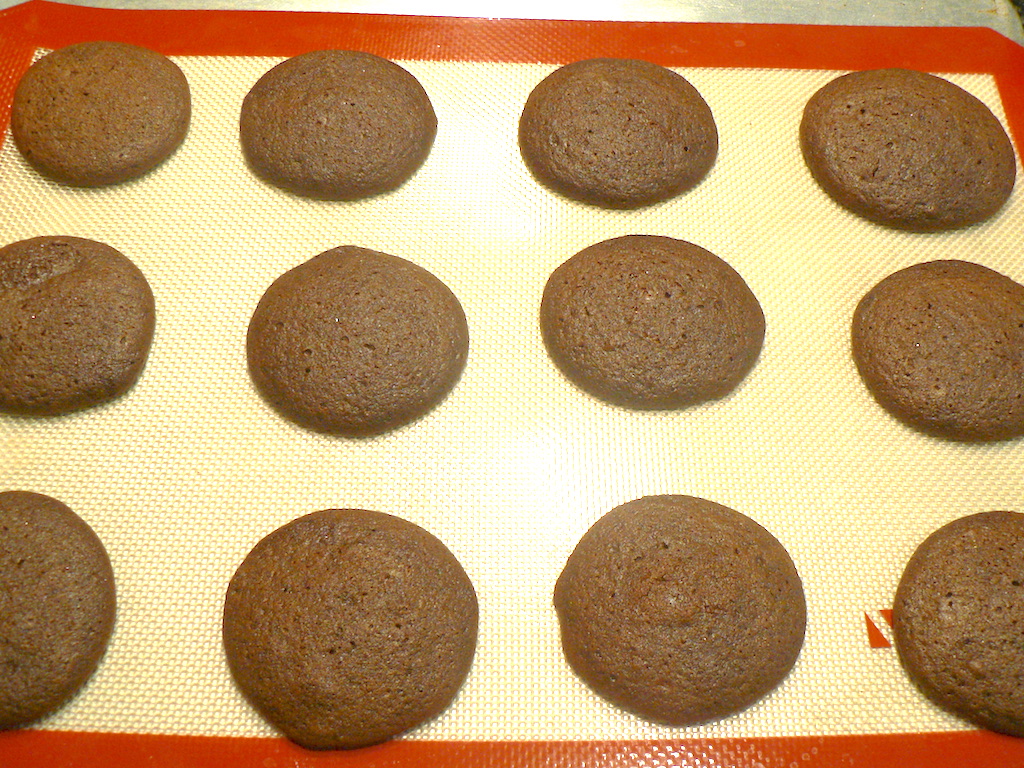 They are a little messy to eat, so I keep mine quite small in diameter. My gram was a firm believer that dessert was the best part of the meal, so she made them really big! I hope you all enjoy these gorgeous, cakey cookies as much as I do.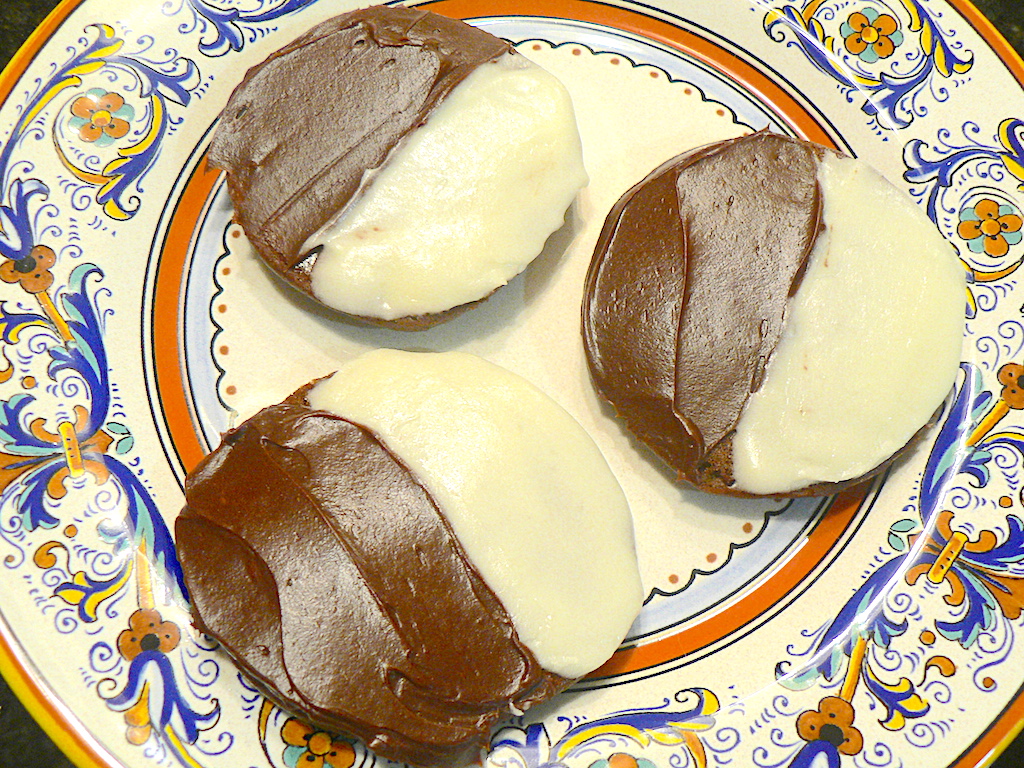 *Brad Nierenberg is a home cook who likes to share old family recipes to keep them alive. As a closet foodie, he tries plenty of new recipes out on family and friends too. Brad blogs about his cooking at brad | the | gourmand. Many thanks to him for this wonderful family recipe!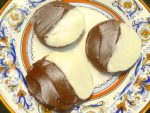 Half Moon Cookies - Guest Post by Brad Nierenberg
Ingredients
FOR THE COOKIES
1/2

cup

milk

1

tablespoon

white vinegar

2

cups

flour

1/2

cup

cocoa powder

1

teaspoon

baking soda

1/2

teaspoon

salt

1

stick

butter

softened to room temperature

1

cup

granulated sugar

2

whole

eggs

1/4

cup

maple syrup

1

teaspoon

vanilla extract
FOR THE VANILLA FROSTING
1/2

stick

butter

softened to room temperature

1/2

teaspoon

vanilla extract

1/4

teaspoon

salt

2

cups

powdered sugar

3

tablespoons

milk
FOR THE CHOCOLATE FROSTING
1

stick

salted butter

2

ounces

unsweetened bakers chocolate

2/3

cup

sour cream

1/3

cup

cocoa powder

2

teaspoons

vanilla extract

2

cups

powdered sugar
Instructions
First, make the sour milk for the cookies. It basically means it becomes buttermilk. Combine the milk and white vinegar in a bowl and mix them together well. Set it aside for 10 minutes. Then pre-heat the oven to 350 and line two sheet trays with silicone mats or parchment paper. Prepare the dry ingredients by whisking the flour, cocoa powder, baking soda and salt together in a bowl. Set them aside as well.

Set up a stand mixer with the paddle attachment and combine the butter and sugar in its bowl. Beat them together until fluffy. Pour in the two eggs, maple syrup, vanilla, and sour milk one at a time, letting each one get mixed in before pouring in the next. Finally, turn the speed to low and slowly add in the dry ingredients just until it becomes a dough.

Use a cookie scoop to drop perfect little mounds of the dough evenly on the cookie sheets. The amount of cookies yielded will depend on how big you want the cookies. Bake the cookies for 10-12 minutes, until baked through and slightly crisp around the edges. Let them cool completely. While the cookies bake and cool, make the black and white frostings.

You will need to wash out the stand mixer bowl and paddle attachment. Then start with the vanilla (white) buttercream. Beat the butter, vanilla and salt together in the mixer until it is fluffy. Turn the speed to low and slowly add in the powdered sugar until it becomes a luscious frosting. Then slowly pour in the milk to thin it out a bit and make it shiny. Transfer it to a bowl or container and set it aside. Then make the chocolate frosting, washing out the bowl and paddle attachment again.

Combine the chocolate and butter in a microwave safe bowl. Melt them together in the microwave for a minute and stir them together. If needed, microwave for another 30 seconds to make them completely smooth. Let it cool for a few minutes. Pour the ganache into the stand mixer bowl and mix it well with the sour cream, cocoa powder and vanilla. Then slowly add in the powdered sugar. Take the cooled cookies and frost each of them with vanilla frosting on one half and chocolate on the other half. Serve immediately!
SaveSave