Berry season really makes me so happy. It means warm weather and gorgeous fruit to eat. So when I bought a ton of blueberries this week, I knew I wanted to make classic blueberry muffins with them. This was no ordinary recipe though. My mother-in-law Cathy was a fantastic baker, and her recipes are really treasured in this family. This particular recipe even appeared in a cookbook to raise money for my sister-in-law's dance school. While I usually like to put my own spin on things, I strictly followed her recipe this time.
After the classic blueberry muffins cooled, I couldn't wait to try one. Oh my goodness, there were juicy blueberries in every bite. My mother-in-law's recipe didn't skimp on them at all. The muffin crumb was so fluffy and tender with that hit of spice from the nutmeg. In short, they were incredible. I was so happy that I was able to carry on one of her most beloved recipes. Hope you all love them as much as we do in this family! xoxo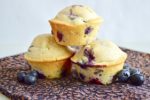 Servings

Prep Time

12

muffins

20

minutes
Servings

Prep Time

12

muffins

20

minutes
Servings

Prep Time

12

muffins

20

minutes

Servings

Prep Time

12

muffins

20

minutes
Pre-heat the oven to 375 and liberally spray a 12 well muffin pan with cooking spray. Combine the flour, sugar, baking powder and salt together in a large mixing bowl and whisk them together to aerate them. Then combine the eggs, milk, 1/3 cup of melted butter, nutmeg and vanilla in another bowl and whisk them together until smooth. Pour those wet ingredients into the dry ingredients and whisk all of it together until it is a thick, smooth batter. Take the blueberries and sprinkle them with a little sugar. This helps keep them suspended in the muffins. Then gently fold them into the batter with a spatula.

Fill each of the muffin wells almost to the very top with the batter and make sure it is even in the well. Bake the muffins for about 20 minutes, until they are puffy and starting to become golden around the edges. Take them out and while they are still hot, brush them all with additional melted butter. Then sprinkle them generously with more sugar on top. Let them cool for about 10 more minutes, then remove them from the pan to cool completely. Enjoy them immediately with great coffee. They will also keep in airtight containers for a couple of days!