Marc and I are trying to eat a little less decadently nowadays. I still need my desserts sometimes because my sweet tooth just won't be denied for long. Cutting back is helping though! We are also trying to get more veggies and beans in our life and less meat. So I created these amazing little chickpea burgers. They were loosely based on my beloved falafel recipe and I think my Nana Jeanie would have been proud of them!
I served the chickpea burgers right away on the fluffy, toasty buns. For toppings, I decided on avocado, sliced tomato and ketchup. They added even more gorgeous flavor and texture to the mix! When I bit in I didn't even miss the beef. The burgers were so satisfying and flavorful, let me tell you. Best of all, we both enjoyed them guilt free! Hope you all enjoy this lighter take on a classic burger. xoxo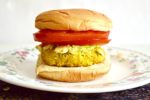 Servings

Prep Time

6

burgers

15

minutes
Servings

Prep Time

6

burgers

15

minutes
Servings

Prep Time

6

burgers

15

minutes

Servings

Prep Time

6

burgers

15

minutes
Set up a food processor and combine the chickpeas, oats, cilantro, tahini, turmeric, coriander and salt in its bowl. Pulse it all together a few times to bring it together. Add in the lemon juice and pulse it a few more times until it is a uniform, smooth mixture. Divide the mixture into 6 even portions and form them into firm patties.

Heat up an electric griddle to 350 or a griddle pan over medium high heat. Lightly grease it with olive oil. Cook the 6 patties for about 4-5 minutes on each side to cook them through perfectly. They should get lightly golden brown on the outside. Meanwhile, toast the buns. Serve the burgers immediately on the toasted buns with the sliced avocado, sliced tomatoes and ketchup for toppings! Enjoy!