Oatmeal cookies are like giant hugs to me. They're delightfully chewy and so comforting. My whole family adores them, so I decided to whip up a batch with a big flavor boost! The addition of mashed bananas and chocolate chips sent them way over the top. I just love the combination of banana and chocolate, and I thought they would be perfect for Father's Day weekend. These babies were also so simple to make!
Oh my goodness, I have to admit I didn't wait for them to cool for too long and had two of these guys still warm. They were so soft and chewy! The oats and chocolate chips gave them amazing texture while the banana flavor came through perfectly. These banana chocolate chip oatmeal cookies were a huge hit with my family this weekend and I hope they become a hit with yours too! xoxo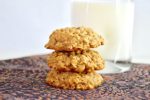 Servings

Prep Time

40

cookies

30

minutes
Servings

Prep Time

40

cookies

30

minutes
Servings

Prep Time

40

cookies

30

minutes

Servings

Prep Time

40

cookies

30

minutes
Pre-heat the oven to 350 and line three baking sheets with silicone mats or parchment paper. Combine the flour, corn starch, baking soda, cinnamon, nutmeg, ground ginger and salt together in a bowl and whisk them together to aerate them. Set the dry ingredients aside. Then set up a stand mixer with the paddle attachment. Beat the mashed banana, softened butter and dark brown sugar together in it thoroughly until it is smooth. Add the egg and vanilla next. Turn the speed to low and slowly pour in the dry ingredients just until they disappear in. Finally, switch to a spatula and fold in the oats and chocolate chips.

Use a 1.5 inch cookie scoop to scoop out perfect portions of the cookie dough onto the sheet trays. The recipe makes about 40, so I did 15 on two of the sheets and 10 on the third. Bake the cookies for 12-15 minutes, rotating the trays halfway through to ensure even baking. They should become slightly brown around the edges. Let them cool for 4-5 minutes on the sheet trays, then transfer them to cooling racks to finish cooling. Serve them immediately with a frosty glass of milk! They will also keep well for days in airtight containers.