Whenever Marc and I go out for Chinese food at our local restaurant, we always start with a yummy salad. I'm not even usually a big salad person but this one converted me. It's an Asian noodle salad loaded with flavor and I am obsessed. So I tried to recreate it right at home! I knew the basic ingredients so I had a place to start.
I covered the salad and refrigerated it until it was dinner time. The leftovers kept perfectly for another couple of days too! In fact the flavors deepened even more, so I recommend making it ahead of time. I hope you all enjoy this simple and amazing salad! It is better than calling for take out for sure. xoxo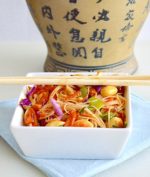 Servings

Prep Time

6

20

minutes
Servings

Prep Time

6

20

minutes
Servings

Prep Time

6

20

minutes

Servings

Prep Time

6

20

minutes
First, prepare the rice noodles according to the package. They may need to be either gently boiled or soaked in hot water for just a few minutes. Drain them in a colander and rinse them well under cold water. Transfer them to a large salad bowl and toss them with the carrots, cabbage, scallions, bean sprouts, peanuts and cilantro. In another bowl whisk the soy sauce, two oils, Worcestershire sauce, grated ginger, grated garlic, peanut butter and Chinese five spice together thoroughly. Pour the dressing into the salad and toss it all together really well to coat everything. You can either serve immediately or cover it in the refrigerator until you want to eat it! It will keep for a couple of days.