Breakfast was easy and yummy this weekend! Marc and I were craving pancakes big time since they are a mainstay in our house. So I decided to work on a fall inspired pancake recipe that was a little healthier and more substantial than the norm. Oh boy did I hit the jackpot with these amazing, fluffy apple oat pancakes! Best of all, I made the batter quickly the night before so that the morning was easy. It let the flavor really develop gorgeously. I'm also not good at measuring and thinking in the morning before I'm caffeinated.
Oh my goodness, I was a happy woman when I got to eat. The apple oat pancakes were like pillows in the mouth. There was also a lot of substance and texture too though from the fresh apples and oats in them. The warm spices and great cup of pumpkin spiced coffee on the side just brought it all home for a great fall morning. Hope you all enjoy! xoxo
SaveSave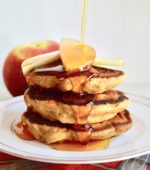 Servings

Prep Time

6

20

minutes
Servings

Prep Time

6

20

minutes
Servings

Prep Time

6

20

minutes

Servings

Prep Time

6

20

minutes
Combine the oat flour, brown sugar, baking powder, cinnamon, pumpkin pie spice and salt in a large mixing bowl and whisk them together to aerate them. Combine the milk, apple sauce, apple cider, vanilla and egg yolks together in another bowl and whisk them together until it is smooth. Pour the wet ingredients into the dry ingredients and whisk them together thoroughly until it is a uniform batter. Take the egg whites and whip them up until they form stiff peaks with a hand mixer in another bowl. Use a spatula to gently fold them into the batter, along with the diced apple and oats. Cover the batter and let it sit overnight.

In the morning, the batter will be very thick. This is perfect. Heat up an electric griddle to 350 or a griddle pan over medium high heat on the stove. Lightly grease the griddle with butter. Scoop the batter onto the griddle in the size pancakes you desire, cooking about 6-8 pancakes per batch. Let them cook for 3-4 minutes on each side to get them puffy and golden. Serve them as you cook them with apple slices and maple syrup on top! Enjoy!