This is an incredible break from the every day chicken that will transport you to exotic Morocco. It is easy to put together since everything goes into the pot and you just let it go low and slow. With a dish like this it is really important to have all of your ingredients measured out and ready, this way you can just throw everything in to the pool when it's needed. I fell in love with making Moroccan food at school and I've enjoyed evolving this dish ever since. This Moroccan chicken is one of my husband's favorite things I make, and it's great to entertain with as well since it feeds a crowd.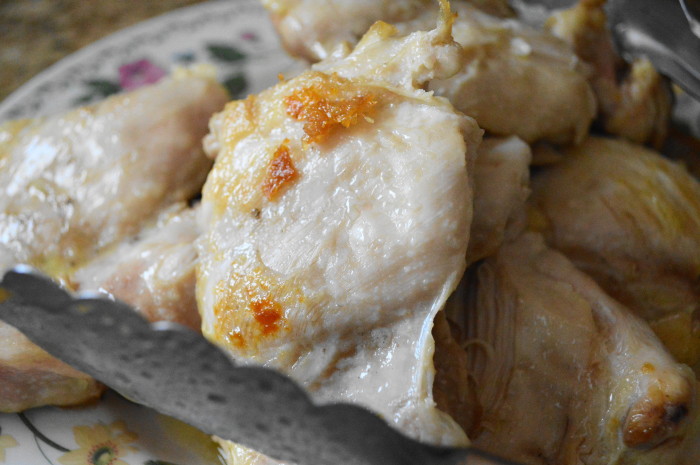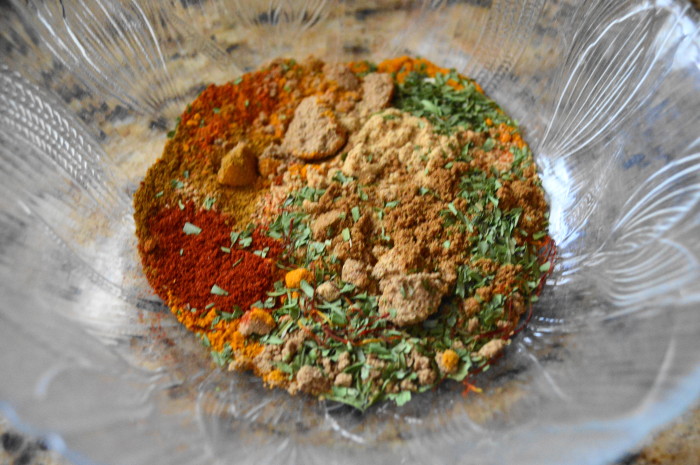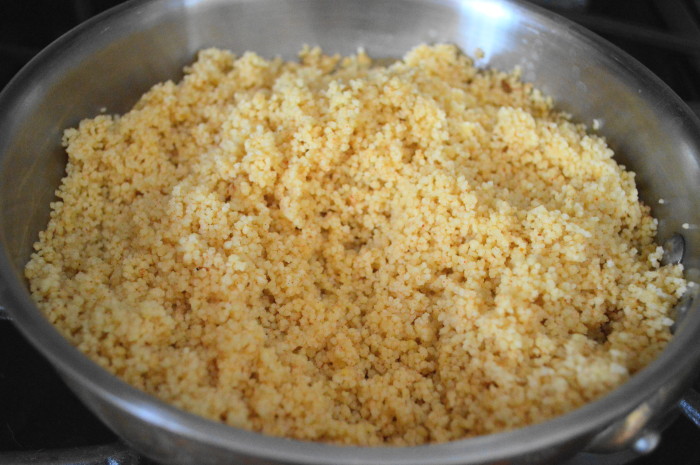 It was just time to serve after that. I actually received a gorgeous tagine as a wedding gift. That's how much I love Moroccan food! I piled the couscous in it and ladled the Moroccan chicken all over it on top. I was able to serve it family style this way. Oh my goodness, if I closed my eyes I could have been at the market in Marrakech. The chicken was insanely tender and flavorful. Try this out friends and get transported to exotic Morocco! xoxo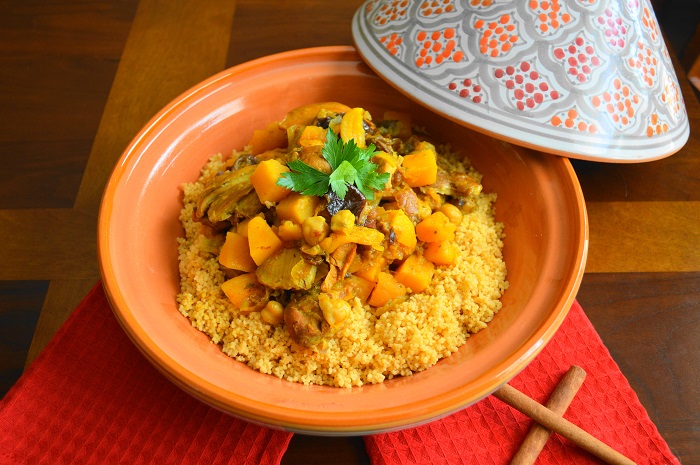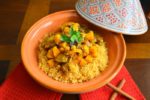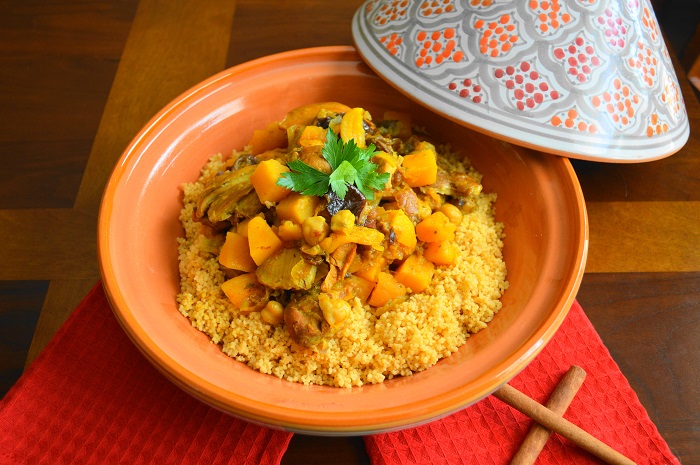 Moroccan Chicken with Couscous
Ingredients
FOR THE MOROCCAN CHICKEN
1

dash

olive oil

for browning

2

pounds

chicken thighs

skinless

1

whole

onion

peeled and thinly sliced

1

dash

white wine

for deglazing

1

teaspoon

Ras el hanout spice blend

found in most spice shops

1

teaspoon

coriander

1

teaspoon

turmeric

1/2

teaspoon

cumin

1/2

teaspoon

ground ginger

1/2

teaspoon

dried tarragon

1/2

teaspoon

smoked paprika

1/8

teaspoon

cayenne pepper

1

pinch

saffron

1

pinch

salt

6

cups

chicken stock

1

tablespoon

honey

2

whole

cinnamon sticks

8

ounces

butternut squash

cubed

4

ounces

dried apricots

roughly chopped

4

ounces

dried prunes

roughly chopped

1

can

chickpeas

10 ounce size, rinsed and drained

2

whole

bay leaves

parsley

as needed for garnish
FOR THE COUSCOUS
2

cups

chicken stock

1/2

teaspoon

salt

1/2

teaspoon

Ras el hanout spice blend

1/2

teaspoon

turmeric

1/2

teaspoon

smoked paprika

1

box

plain couscous

10 ounce size
Instructions
Heat the olive oil in a large dutch oven over medium high heat. Brown the chicken thighs in it in batches for about 3 minutes on each side. They don't have to be completely cooked through, just golden on the outside. Remove them to a plate when they are done. Add the sliced onion to the pot and deglaze with the white wine to scrape up the yummy brown bits. Let the onion get soft and fragrant for a couple of minutes.

Add the Ras el hanout, coriander, turmeric, cumin, ginger, dried tarragon, smoked paprika, cayenne and salt to the pot and let them get fragrant for about 30 seconds while stirring. Then pour in the chicken stock and honey and let the mixture come to a boil. Add the butternut squash, apricots, prunes and chickpeas. Return the chicken to the pot and stir everything well. Stick the bay leaves in last. Bring the pot to a boil again and reduce it to a simmer. Let the Moroccan chicken simmer for 2 hours.

When the Moroccan chicken is just about done, quickly prepare the couscous. It only takes 10 minutes tops! In a small pot heat the chicken stock to a gentle boil. Add the spices and stir it in while it heats up. Once it is boiling, pour in the couscous and cover the pot. Take it off of the heat and let the couscous cook for 5 minutes, until it is tender. Fluff it up with a fork when it's done and that's it.

Remove the cinnamon sticks and bay leaves from the Moroccan chicken and take it off of the heat. Scoop the couscous into pretty bowls and ladle a generous portion of the Moroccan chicken over it. Garnish with fresh parsley and serve immediately! This can also be served family style in a pretty tagine.
SaveSave