My Mom really is magical in the kitchen, let me tell you. I got so excited when she made these calzones. Not only were they absolutely delicious, but it meant that there was some kind of fun occasion. She usually made these around the Holidays or for a birthday. My two older siblings were off to college when I was still pretty young, so these calzones meant that they were home and we were all together. They are huge and so filling with loads of sausage, peppers, onions and potato closed up in a pizza dough shell. These calzones are actually responsible for making me fall head over heels for the combination of sausage, peppers and onions. This recipe is pretty much my Mom's recipe to the letter, with just a couple of my own touches. I also decided to make my own pizza dough. You can find the incredibly easy recipe for it here! You could also use three pounds of store bought pizza dough to make it a little more quick and easy.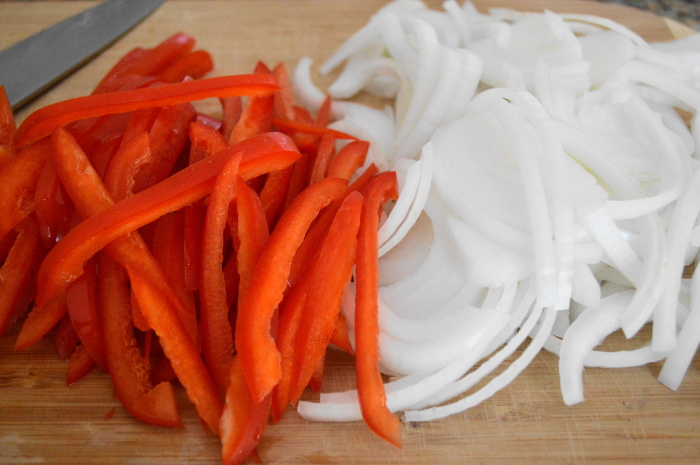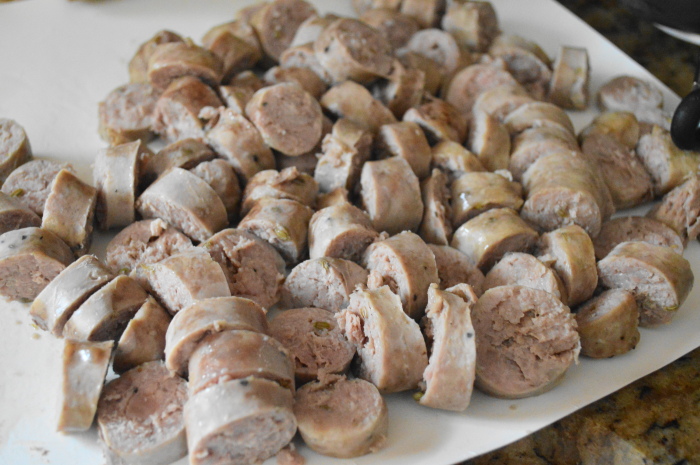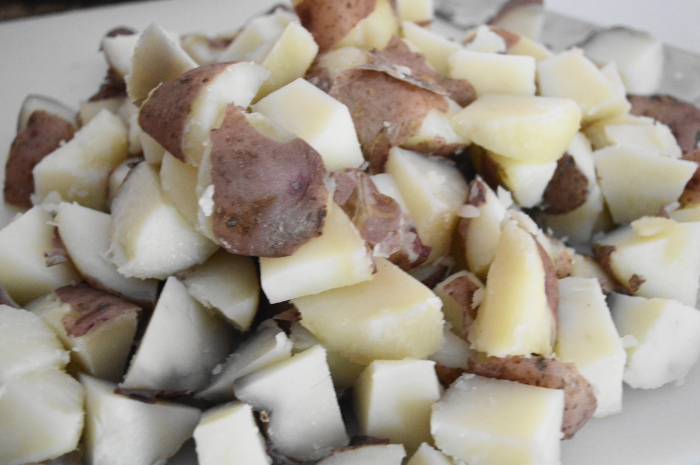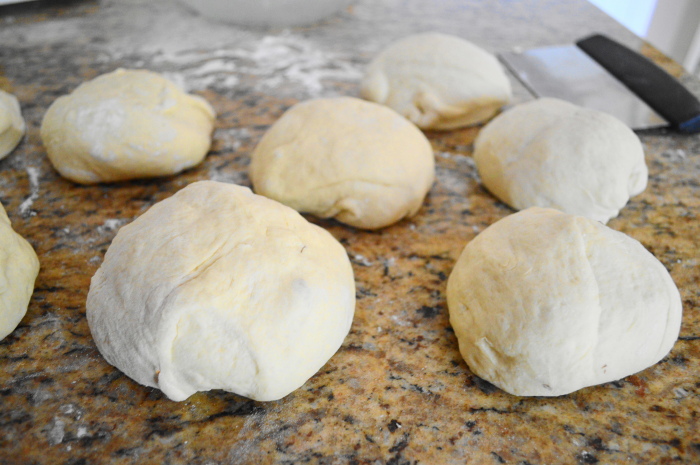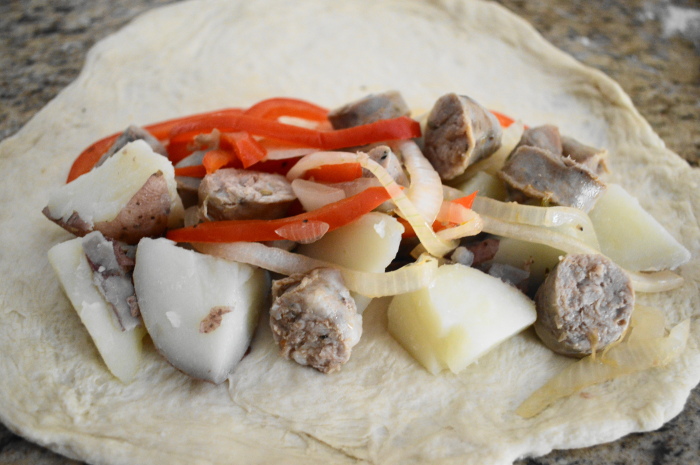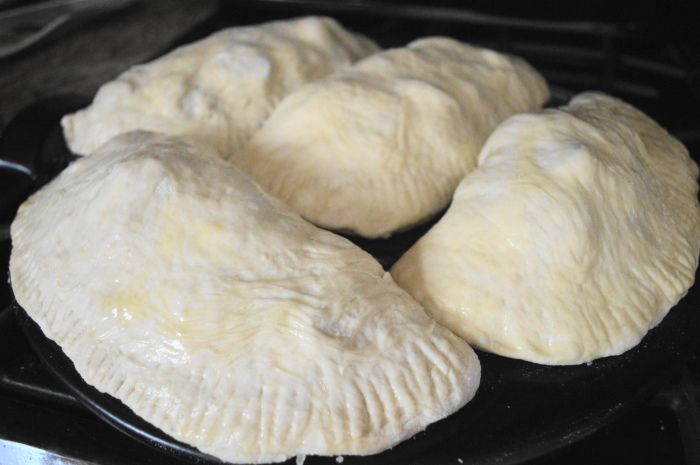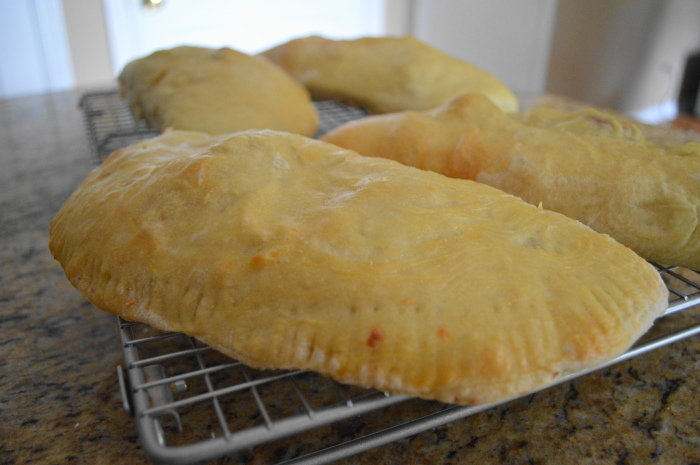 These babies are amazing served with a side of warm marinara sauce. They are so big that just one half of a calzone can be pretty filling. When I bit in, they brought me right back to my childhood and great family times. I loved carrying on one of my Mom's most amazing dishes. To me that's what food is all about!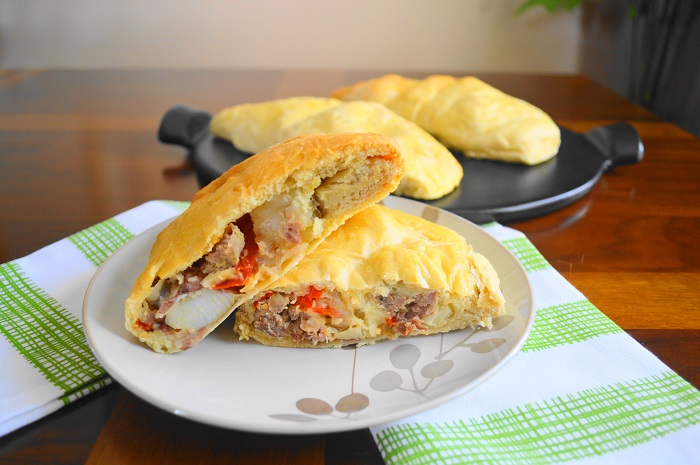 SaveSave
SaveSaveSaveSave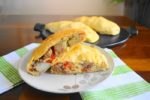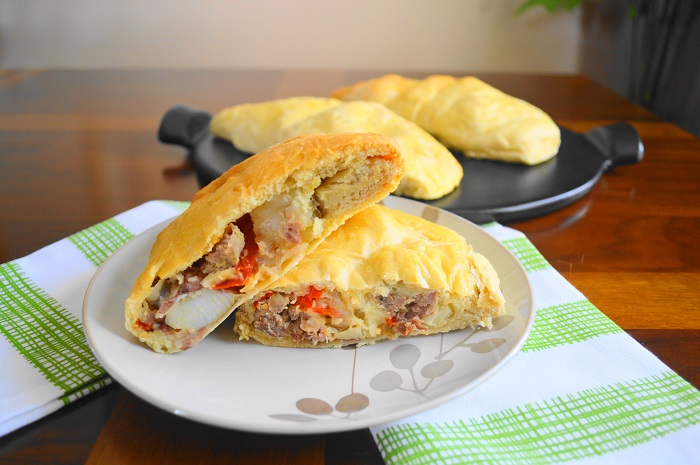 Mom's Calzones
Ingredients
8

whole

red potatoes

9

links

sweet Italian sausage

1

dash

olive oil

1

large

onion

peeled and thinly sliced

2

whole

red bell peppers

seeded and thinly sliced

1

large pinch

salt

plus additional for the boiling water

1

pinch

crushed red pepper

1

pinch

dried basil leaves

1

recipe

homemade pizza dough

(or 3 lbs of store bought dough)

shredded mozzarella

as needed for the filling

2

whole

eggs

1

dash

water

marinara sauce

for serving
Instructions
Get a large pot on the stove filled with salted water and bring it to a boil to boil the potatoes. Also get a large rondeau on the stove filled with salted water to boil the sausage links. Boil the potatoes and sausage links for 20 minutes, until tender. Drain them both when they are done and let them get cool enough to handle. Cut the potatoes into small chunks and cut the sausage links into thin coins.

Take the rondeau pan again and get it back on the stove. Heat the olive oil in it over medium high heat and then get the onions and peppers into it to get soft for 3-4 minutes. Season them with the salt, crushed red pepper and dried basil. Return the sausage into the pan and let it meld with the veggies for a couple of minutes. Take the mixture off of the heat and set it aside. Pre-heat the oven to 375 degrees.

Take the pizza dough and divide it into 8 equal pieces. Round out each piece into a ball, then roll them out on a well floured surface into 8 big circles that are about 1/4 inch thick. Place a handful of the potatoes onto one half of each circle of dough, then top the potatoes with a big scoop of the sausage, pepper and onion mixture. Top the filling off with a generous handful of shredded mozzarella.

Bring the other half of dough over the filling on each calzone, then crimp the edges together. Finish the edges by pressing down with a fork to make the signature pretty tine marks. Whisk together the eggs and water in a bowl to make an egg wash. Brush each calzone generously with the egg wash to make them nice and golden. Then get the calzones onto pizza stones or sheet trays lined with parchment. Bake them in the oven for 30 minutes, until golden and bubbly. Take the calzones out and let them cool a minute, then serve them immediately with warm marinara sauce on the side. Enjoy!
SaveSave