Last night was rainy and a little chilly here, and it was really starting to feel a bit like fall. Something hot and comforting was the ticket for dinner, and I was able to devise this amazing pumpkin chili from what I had on hand in my pantry and freezer! It was an easy one pot meal that I put together quickly and then allowed to just simmer low and slow. I always stock up on cans of pumpkin puree in the fall since, let's be real, I love everything and anything pumpkin! I also always try to have a couple of packages of meatloaf mix or ground beef at the ready in my freezer to be able to pull together an easy meal like this.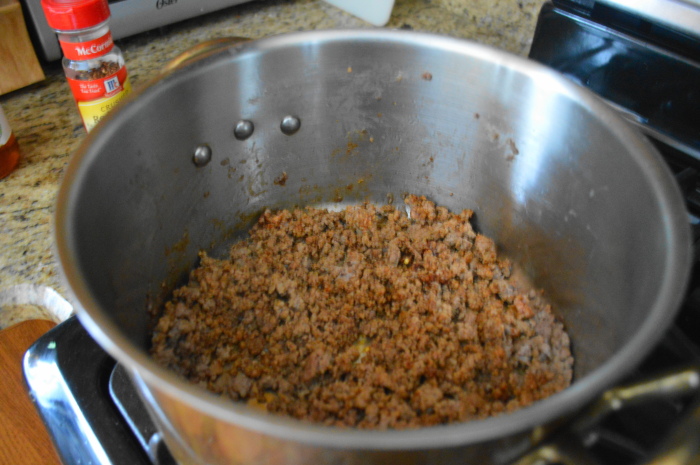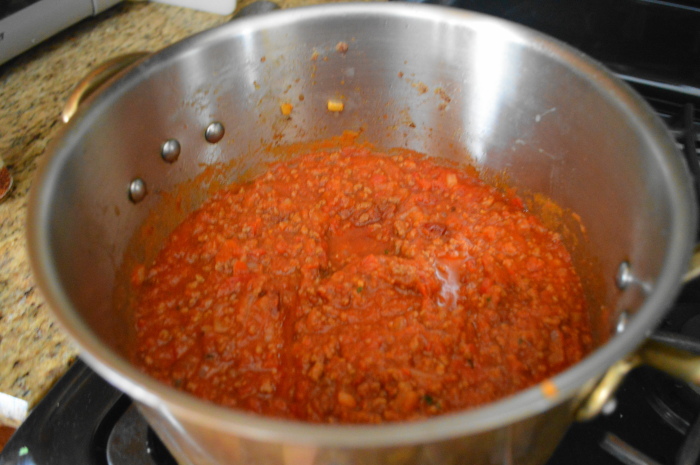 It was as easy as that. When it was done, I scooped the pumpkin chili out into bowls and topped them off with a dollop of greek yogurt and a little more fresh cilantro. The greek yogurt was the perfect finish because it added a great tang and creamy texture to the dish. Marc and I mopped up the deliciousness with some crusty bread and washed it all down with pumpkin beers. Let me tell you, this pumpkin chili was a bowl of pure fall comfort. All of the warm spices really enhanced the meat and canned pumpkin. The flavors melded together just gloriously!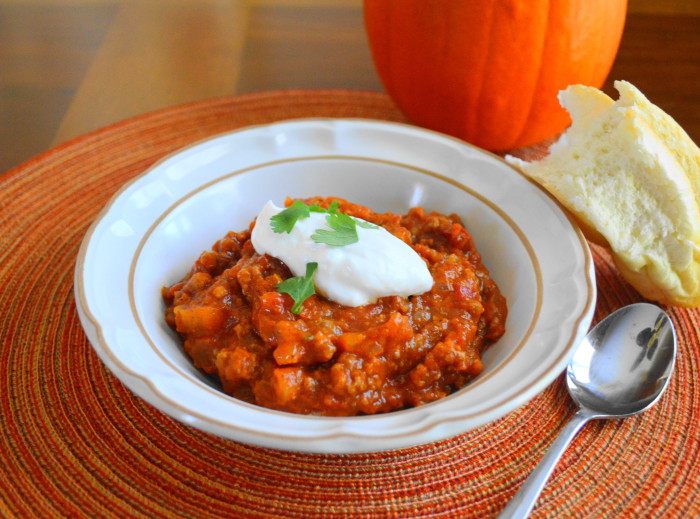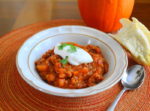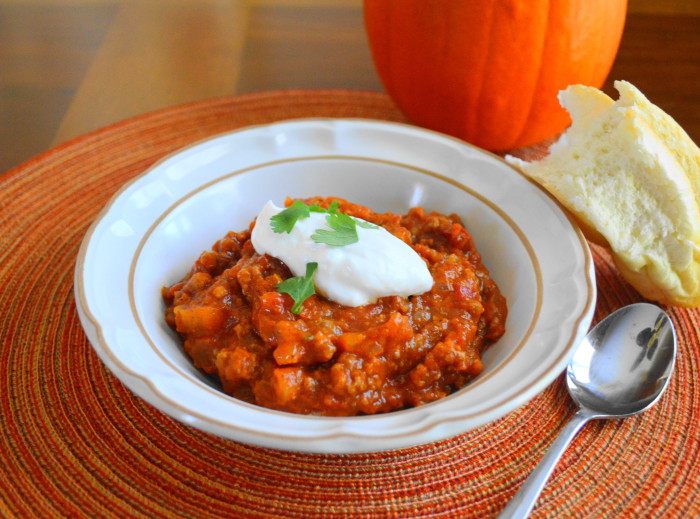 Meaty Pumpkin Chili
Ingredients
1

dash

olive oil

1

pound

meatloaf mix

(equal parts beef, pork and veal)

1

teaspoon

chili powder

1

teaspoon

lime sea salt

(regular sea salt is great too!)

1/2

teaspoon

cinnamon

1/2

teaspoon

nutmeg

1/2

teaspoon

smoked paprika

1/4

teaspoon

cumin

1

pinch

crushed red pepper

1

whole

onion

peeled and diced small

4

whole

chipotles in adobo sauce

finely chopped

1

tablespoon

fresh cilantro leaves

finely chopped, plus additional for topping

2

tablespoons

apple cider vinegar

1 1/4

cups

canned pumpkin puree

1

can

crushed tomatoes

28 oz size

1/4

cup

chicken stock

1

cup

Greek yogurt

as needed for topping
Instructions
Get a large pot on the stove and heat the olive oil in it over medium high heat. Brown the meat in it for about 5 minutes while you break it up with a spoon. While the meat cooks, spice it up with the chili powder, salt, cinnamon, nutmeg, smoked paprika, cumin and crushed red pepper.

Add the onion, chipotles in adobo and fresh cilantro to the pot once the meat is cooked and let them get fragrant for a couple of minutes. Deglaze the pan with the apple cider vinegar, scraping up those yummy brown bits at the bottom of the pot.

Add the pumpkin puree, crushed tomatoes and chicken stock into the pot and give the pumpkin chili a big stir. Bring it to a boil, then reduce it to a simmer and let it go low and slow for an hour.

Scoop the chili into bowls, then top them off with a dollop of greek yogurt and a few fresh cilantro leaves. Enjoy the Fall inspired comfort!
SaveSave