I know, I know, the pumpkin has been flowing freely in our house. I have many cans of the good stuff stocked in the pantry and wanted to use it up! This time I took it to Italy and used it in an amazing ravioli filling all sealed up in tender, fresh pasta dough to make the most incredible fresh pumpkin ravioli. I always associate ravioli with my Nana Lulu. Not only would she cook it so well, but man could she eat it. When she started to slow down and not cook as much my family would take her out to dinner at this great Italian place called Rivoli's. Rivoli's is known for their absolutely humongous portions. I could almost take a bath in a bowl of their pasta. The rest of my family and I would be sitting at the table chatting, eating, ready to take about 2/3 of our dinner home with us. Then we would look over at her because she had been so quiet and her entire bowl of ravioli was cleaned out. My Nana Lulu sat there very quietly and discreetly devouring about half a pound of ravioli like some kind of pasta loving ninja! Taking her to Rivoli's for her ravioli fix was always a treat for everyone and such great memories to boot. So these fresh pumpkin ravioli are in honor of her, I know she would love them! First, I worked on the pasta dough.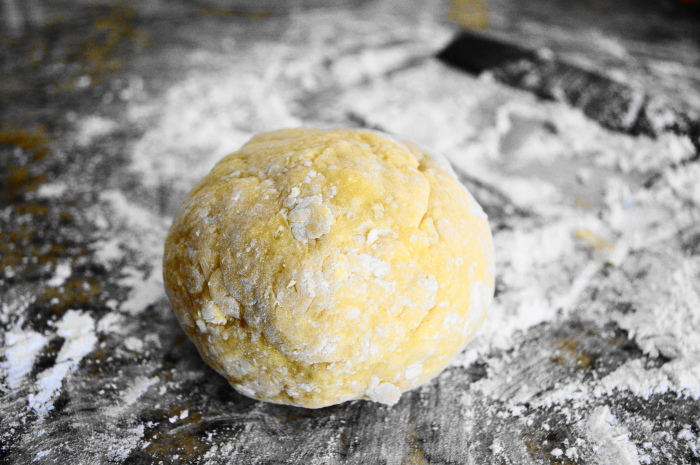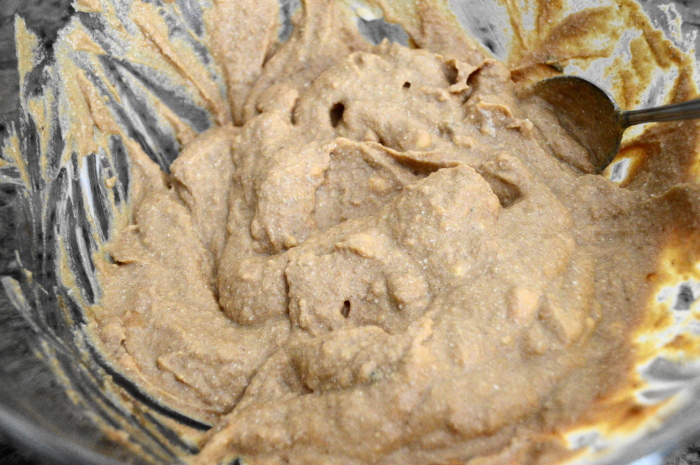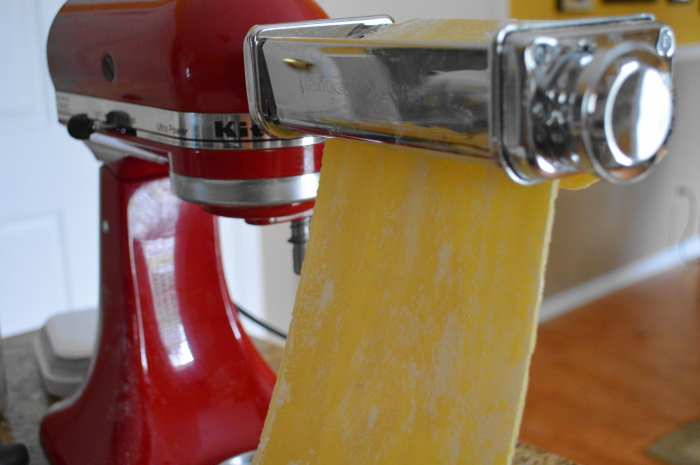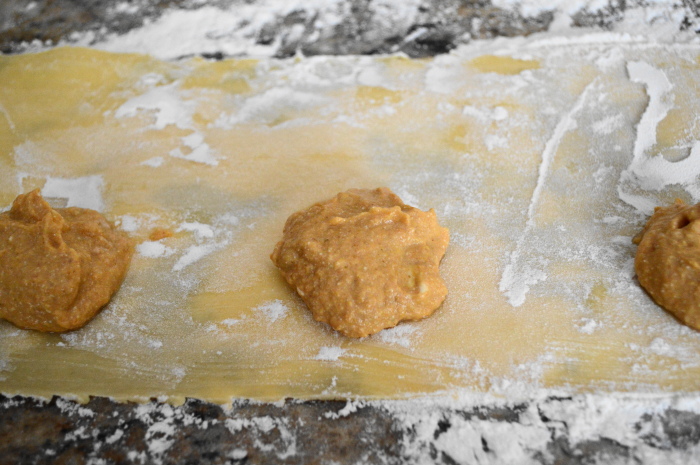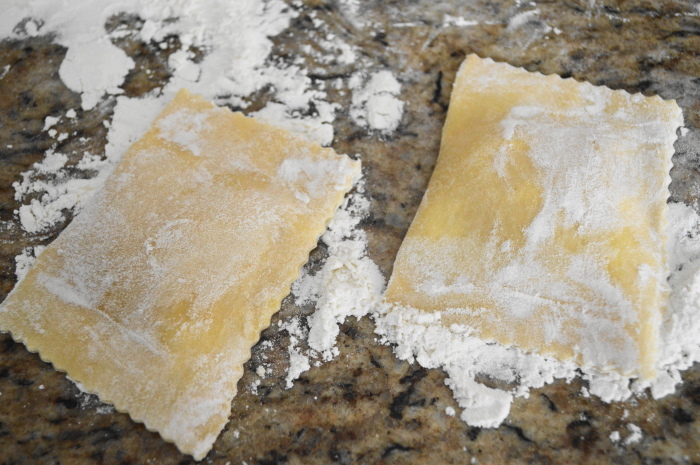 The fresh pumpkin ravioli went into boiling water for just a couple of minutes. Then I scooped them out and transferred them to the big pan of warmed up sauce to give everything a big toss together. I plated six ravioli per plate and evenly distributed any remaining butter sauce on top. Then each plate got garnished with chopped sage and chopped walnuts for some crunch. This is definitely one of my favorite recipes since it combines two of my absolute favorite things…pumpkin and pasta! The fresh pumpkin ravioli took a little bit of time and a lot of love, but oh my goodness is it worth it. The handy printable is just below!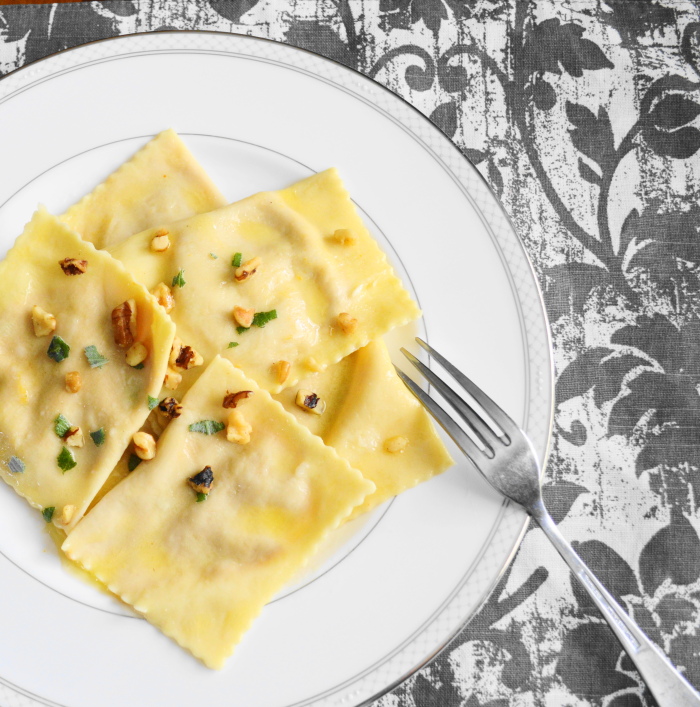 SaveSave
SaveSave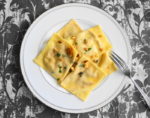 Fresh Pumpkin Ravioli
Ingredients
For the pasta dough
11

ounces

all-purpose flour

3

whole

eggs

1

pinch

truffle sea salt
For the sauce
1 1/2

sticks

butter

1/4

cup

white wine

8

whole

sage leaves

1

whole

bay leaf

6

whole

black peppercorns

1

pinch

truffle sea salt
For the ravioli filling
1

cup

canned pumpkin puree

1/2

cup

ricotta cheese

1/2

cup

goat cheese

softened to room temperature

4

whole

sage leaves

finely chopped, plus additional for garnish

1

tablespoon

pumpkin butter

1/2

tablespoon

balsamic vinegar

1

whole

egg

1/2

teaspoon

cinnamon

1

pinch

truffle sea salt

chopped walnuts

as needed for garnish
Instructions
To make the dough, create a big well with the flour. Crack the eggs into the well and also add the salt. With a fork, break up the eggs while slowly incorporating the flour until you have a soft dough start to form. Bring it all together with your hands into a ball of dough and knead it for 3-4 minutes. Wrap the dough in plastic and set it aside to rest for an hour.

Meanwhile, prepare the sauce. Melt the butter in a small pot over medium high heat until it really starts to sizzle and cook. It should be on the edge of becoming brown butter. Pour in the white wine, then take the pot off of the heat. Stir in the sage, bay leaf, peppercorns and salt. Put the lid on the pot and set it aside to steep for an hour.

Put the filling together next, it's super easy! In a large bowl combine the pumpkin puree, ricotta, goat cheese, sage leaves, pumpkin butter, balsamic, egg, cinnamon and salt. Stir it all together until it is luscious, creamy filling. Cover the bowl and refrigerate it until you are ready to make the ravioli.

When the dough has rested, it is time to roll it out, Cut the dough ball in half and roll out each half until you can see your hand through it. It will be too long to handle, so cut it in half to get two sheets. Repeat with the other half. Set the sheets aside and cover them with a clean towel to keep them from drying out.

Get a large pot of salted water on the stove and bring it to a boil. Take the butter sauce and pour it through a fine mesh strainer into a large rondeau pan. Get the rondeau pan on the stove and let it get nice and warmed up over low heat.

Take the filling out of the refrigerator and form the ravioli. On a well floured surface, lay out the first sheet of pasta with the long end facing you. On the half closest to you, evenly space out tablespoons of the filling. There should be room for 6 on the sheet. Brush the edge closest to you with water, then bring the other half over and seal the edges together. Gently press around each mound of filling to really seal it in, Trim the edge of dough closest to you with a fluted pastry cutter as well as the two outer ends, then cut in between each mound of filling to cut out the ravioli. Repeat the process with the other three sheets of dough.

Transfer the ravioli to the boiling water and let them cook for a couple of minutes, then scoop them out and transfer them right into the pan of warm butter sauce. Toss everything together thoroughly to make sure the ravioli get well coated in the butter sauce.

Plate 6 ravioli per plate and evenly distribute any left behind butter sauce on top. Then garnish each plate with chopped sage and chopped walnuts. Mangia and enjoy!
SaveSave