Yesterday was my sister-in-law Amy's birthday! She and I love to have culinary adventures together. We've made everything from pierogies to churros to way too many cookies to count. Her birthday is only 3 days before mine, so we have always joked that we are the Gemini twins. Last year, I made her a red velvet cake and I wanted to step it up this year. Chocolate strawberry shortcake is one of her favorites, so it was an easy answer! Since strawberries are in season now, they were looking so juicy and amazing at the market.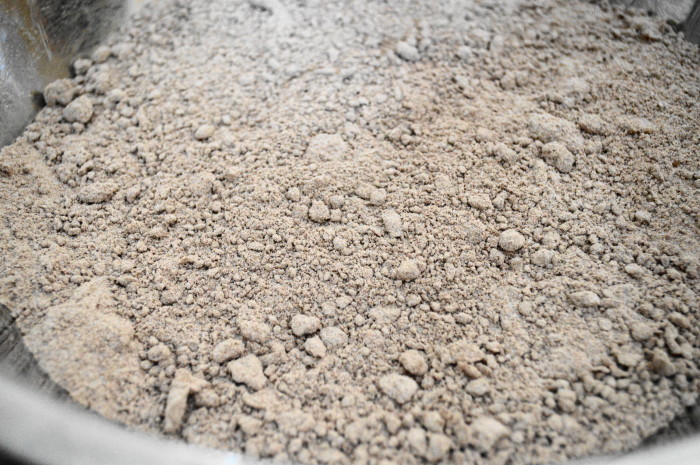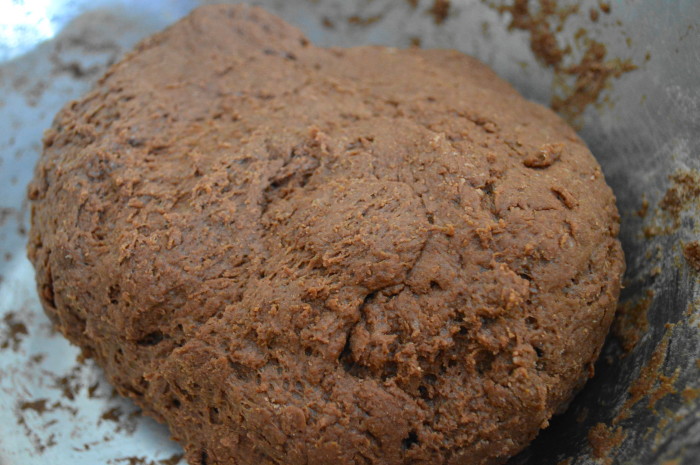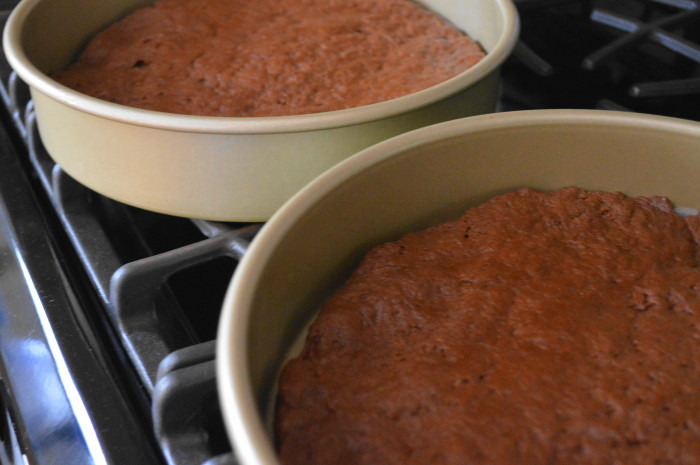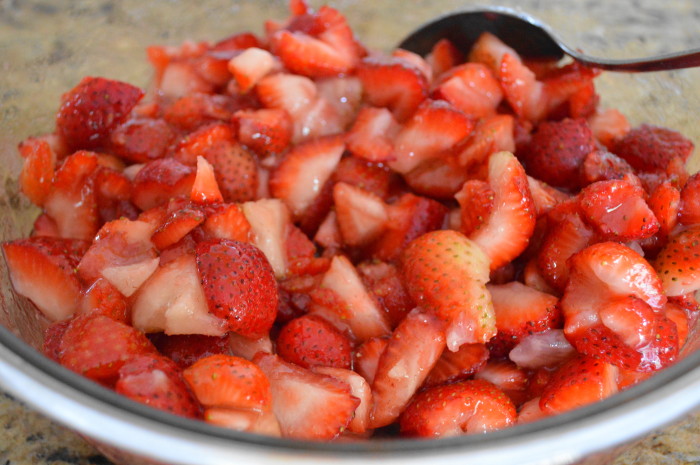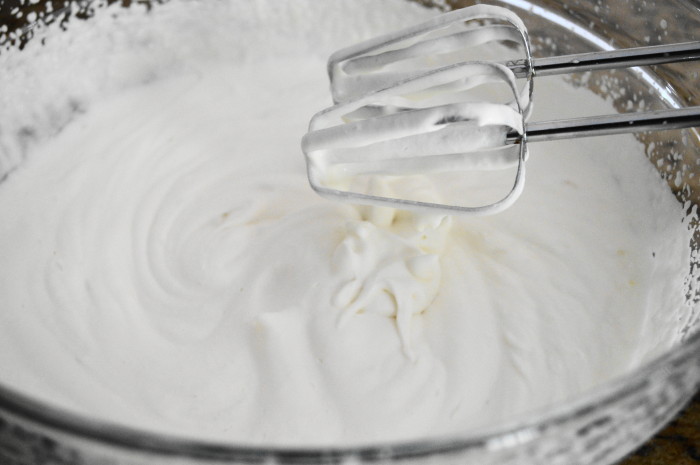 After that, it was just a matter of layering everything! I spread a generous amount of whipped cream on the first layer. The chopped strawberries were nestled in a juicy layer on top of the whipped cream. Then the second layer went on top, followed by more whipped cream and more strawberries for garnish. This chocolate strawberry shortcake was made with a whole lot of love for my sister-in-law, and whoever you make it for will feel the love too! Enjoy!!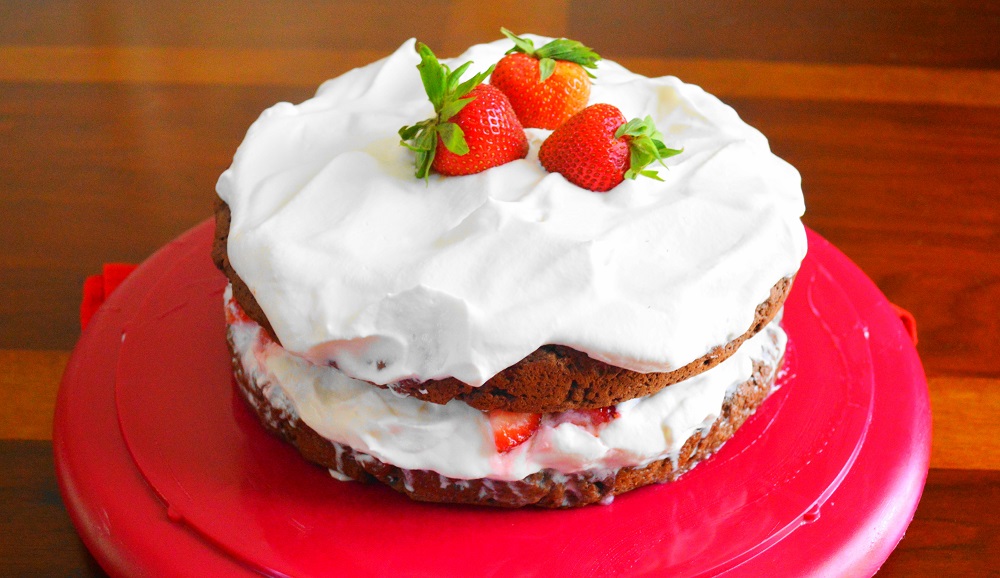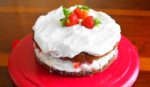 Chocolate Strawberry Shortcake
Ingredients
3 3/4

cups

all-purpose flour

1/2

cup

sugar

plus an additional 1/3 cup for the strawberries

1/2

cup

unsweetened cocoa powder

2

tablespoons

baking powder

1

teaspoon

salt

10

tablespoons

butter

cold and cut into cubes

2

whole

eggs

1

cup

milk

1

pound

fresh strawberries

hulled and roughly chopped

1

pint

heavy whipping cream

2 1/2

tablespoons

powdered sugar

1/2

teaspoon

vanilla extract
Instructions
Pre-heat the oven to 425 degrees. Get out two 9 inch cake pans, line them with parchment paper on the bottom and spray them liberally with cooking spray. In a large mixing bowl, whisk the flour, 1/2 cup sugar, cocoa powder, baking powder, and salt together to aerate them. Add in the butter and cut it into the dry ingredients with a pastry blender without over working it. It should look pebbly. In a separate bowl, whisk together the eggs and milk. Pour it into the rest of the ingredients and gently mix it in. Bring the dough together with your hands and knead it for about a minute in the bowl. Divide the dough in half and gently press each half out to evenly fill each cake pan. Bake the chocolate strawberry shortcake for 15 minutes.

While the cake bakes, stir the chopped strawberries with the extra 1/3 cup sugar in a bowl. Set it aside, then prepare the whipped cream. Pour the heavy whipping cream into a bowl and whip it with a hand mixer until it becomes fluffy and holds it shape. Add in the powdered sugar and vanilla and whip it all together more with the hand mixer just until it has stiff peaks. The cakes should be done by this point. Take them out and let them cool for 20 minutes. Then turn them out onto a clean cutting board to finish cooling.

Time to assemble the cake! Place one of the cake layers onto a cake plate and spread a generous layer of whipped cream onto it. Then evenly distribute the strawberries on top of the whipped cream. Put the second layer of cake on top of that and gently press down so that it all holds together without squishing the filling out. Spread another very generous layer of whipped cream on top and garnish the top with the 3 additional strawberries. You may not need all of the whipped cream, store any leftovers for ice cream sundaes! Slice and serve it to the delight of your guests. Enjoy!
SaveSave