This year my brother and I brought brunch to my Dad for Father's Day, which was really fun. I made a double recipe of my savory breakfast casserole, while my brother whipped up crispy potatoes and a yummy fruit salad. I wanted to make something sweet to round it out, and these chocolate hazelnut cookies were perfect for my Dad. To say that he is a chocoholic would be an understatement. The running joke is that when he wants cake, chocolate cake is not enough. It has to be chocolate chocolate cake. When hazelnuts get added to the mix, the man is in heaven. Ferrero Rocher chocolates are his absolute favorite chocolates in the world. That was the inspiration behind these easy and incredible chocolate hazelnut cookies!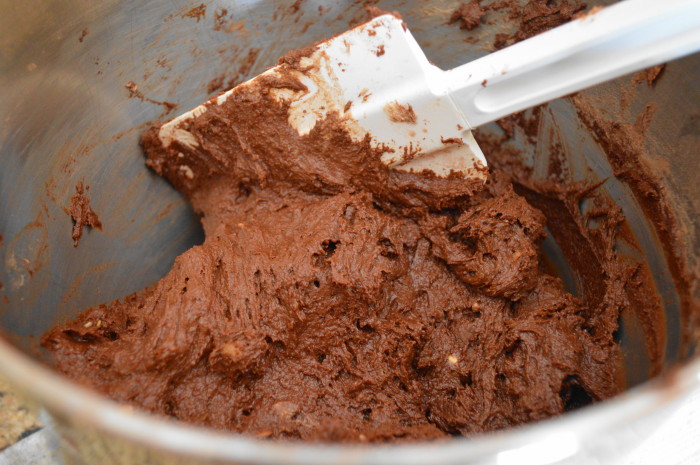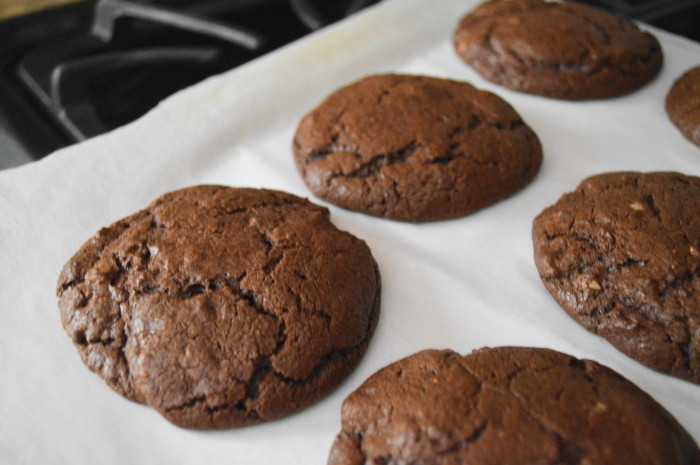 Let me tell you, these chocolate hazelnut cookies were just to die for. The Ferrero Rocher chocolates just melted into the cookie. It made them almost gooey in the middle with hits of crunchy hazelnut. It was the perfect way to round out a fantastic Father's Day brunch in honor of an absolutely wonderful Dad! xoxo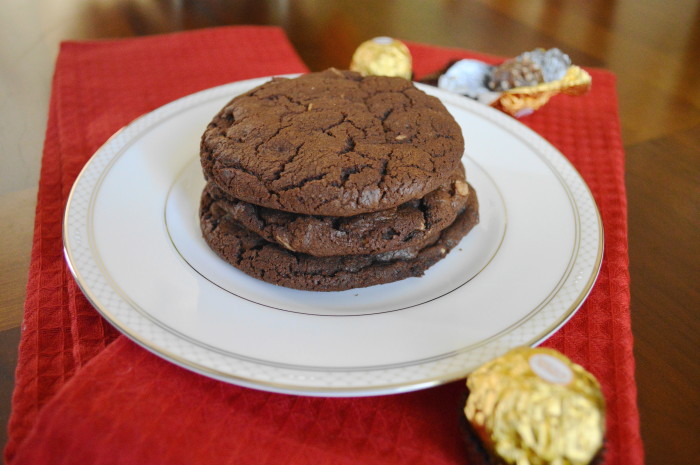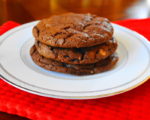 Chocolate Hazelnut Cookies
Ingredients
1 1/4

cups

all-purpose flour

3/4

cups

unsweetened cocoa powder

3/4

teaspoon

baking soda

1

stick

unsalted butter

softened to room temperature

1/2

stick

salted butter

softened to room temperature

1

cup

granulated sugar

2/3

cup

dark brown sugar

1/2

cup

Nutella

2

whole

eggs

9

whole

Ferrero Rocher candies

roughly chopped
Instructions
In a bowl whisk the flour, cocoa powder and baking soda together to fully combine and aerate them. Set the bowl aside. In the bowl of a stand mixer, combine the two butters and two sugars. Cream them together thoroughly with the paddle attachment until it is a light and fluffy mixture. Then beat in the chocolate hazelnut spread. Add in the eggs one at a time until they are completely mixed in. Then slowly add in the dry ingredient mixture until just combined. Turn off the mixer and switch to a rubber spatula to gently fold in the chopped up Ferrero Rocher chocolates.

Pre-heat the oven to 375 and line a baking sheet with parchment paper or a silicone mat. Use a 1.5 inch cookie scoop to scoop up perfect round portions of the batter. Spread the scoops out evenly onto the baking sheet and press each ball of dough down to flatten it into a nice disk. Bake the chocolate hazelnut cookies for about 15 minutes, until the edges just start to get crisp and they are cooked through. Take them out when they are done and let them sit for a few minutes to cool. Transfer them to a rack to finish cooling. Serve immediately and enjoy!
SaveSave