I am always on the hunt for easy appetizers that are elegant enough for entertaining. When I spied the gorgeous brie I had in my refrigerator, I decided to make a quick and decadent lunch for me and Marc by baking it with puff pastry (that was also sitting in my freezer, just waiting for something delicious to happen to it). These incredible baked brie galettes came together in minutes and were so simple! Once I let the puff pastry thaw at room temperature for about 30 minutes, it was ready to work with.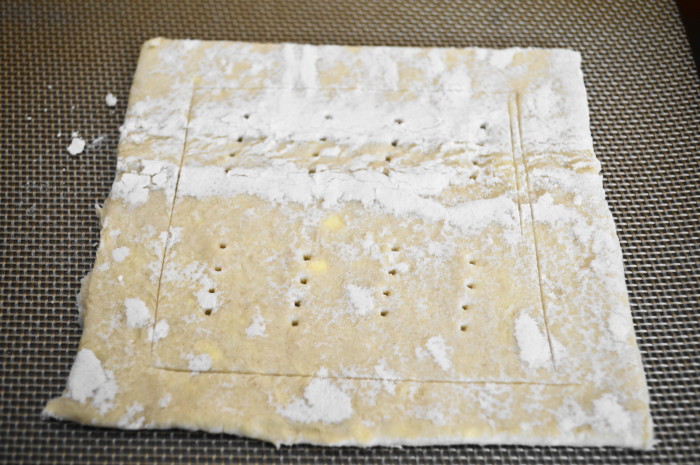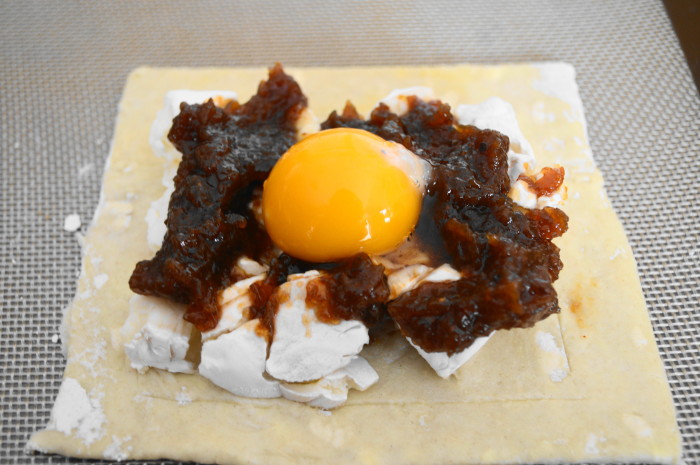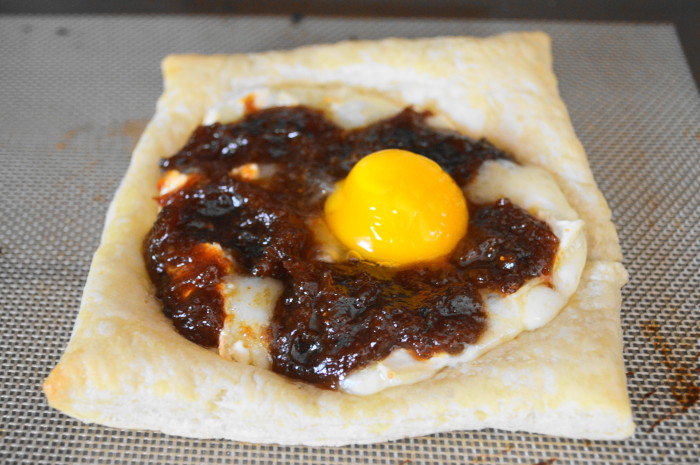 Then I got to have one of my favorite eating moments in the world. There is something so satisfying about cracking into an egg yolk and letting it run all over the place! It mingled gorgeously with the cheese and fig jam. As I got to the buttery, flaky crust I was in pure heaven. These baked brie galettes seemed like such a fancy, decadent dish but could not have been easier to make. I couldn't wait to impress Marc with it and he was a happy man when I gave him his. Hope you all love them too! xoxo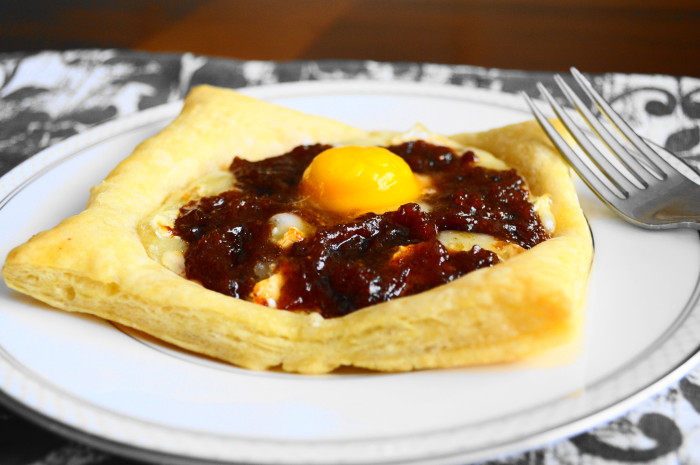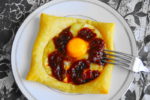 Baked Brie Galettes
Ingredients
1

sheet

frozen puff pastry

thawed but still cold

1

whole

egg

1

dash

water

1

wheel

brie cheese

quartered (8 oz size)

1/2

cup

fig jam

4

whole

egg yolks
Instructions
Pre-heat the oven to 350 and line two baking sheets with silicone mats. Take the puff pastry sheet and cut it into quarters to have four squares and transfer the squares to the baking sheets with two on each sheet. Score a thick border on each square lightly with a knife without cutting completely through. Within the border of each square, dock the puff pastry with a fork to keep the middle from puffing up. This way just the border will puff up to form the crust.

Beat the whole egg and water together in a bowl to make an egg wash. Liberally brush each prepared square of puff pastry with the egg wash to make it golden. Crumble a quarter of the brie within the border of each puff pastry square, then spoon two tablespoons of fig jam on each square on top of the brie. Form a small well in the middle of each filling and gently add an egg yolk to each well.

Get the galettes into the oven and let them bake for about 12 minutes, until the puff pastry is golden and the filling has melded together gloriously. The egg yolk will be perfectly set. Then just take them out and serve them immediately as an incredible appetizer!
SaveSave