It's become a delicious necessity to meal prep for breakfast. Marc and I are powered by it for the whole week and really cannot live without it. I am the biggest grouch in the world if I don't have a good breakfast washed down with a huge mug or thermos of coffee, but cooking is not an option on weekday mornings. So for this week, I made these absolutely delectable, adorable and (best of all) freezable veggie tot breakfast cups. They were really simple to make and even more fun to eat.
Let me tell you, I loved reheating these veggie tot breakfast cups for quick breakfasts this week. They still maintained great texture and flavor. This recipe would also make an amazing brunch option for a crowd because they are such elegant, satisfying little bites. Hope you all love them!! xoxo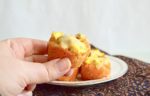 Servings

Prep Time

24

breakfast cups

30

minutes
Servings

Prep Time

24

breakfast cups

30

minutes
Servings

Prep Time

24

breakfast cups

30

minutes

Servings

Prep Time

24

breakfast cups

30

minutes
Pre-heat the oven to 425 and liberally spray a 24 well mini muffin tin with cooking spray. Put two tater tots into each well and bake them for 10 minutes. Remove them and let them cool enough to handle but leave the oven on. While they cook and cool, make the scrambled eggs. Heat the butter in a large skillet over medium high heat. Add the sausage and brown it as you break it up. Let it cook completely. Meanwhile, whisk the eggs, milk, chives, salt and pepper together thoroughly. Pour that into the pan of cooked sausage and scramble the eggs completely until they form soft curds. Turn off the heat and stir in the cream cheese.

Now it's time to assemble! Form the tater tots into little cups by pressing the center down firmly to make a hole and pressing the sides out to widen it. Fill each up generously with the scrambled eggs and sausage. Return the tin to the oven to bake for another 15 minutes. Take it back out and sprinkle the top of each cup with a generous pinch of the grated cheese. Bake it again for just a couple of minutes to melt the cheese. Then let them cool for just a couple of minutes and serve! They also freeze and reheat well.