Scones are a bit of an institution on my mom's side of the family. Her scones are the stuff of legends and I live for them. All of my recipes for scones are based on her basic recipe and these delectable strawberry mascarpone scones were no different. I've found strawberries so cheap at the market lately so I bought way more than I care to admit! I love to eat them just dipped in Nutella as a snack. I wanted to use them up in a breakfast treat this week too, so I got to work! The dough was simple to put together.
I served them warm and oh my goodness were they incredible! The juicy strawberries were little jewels throughout and cut through the creamy mascarpone. The drizzle on top gave them the most amazing finish! My mom's scones recipe never fails and this version might have become my favorite. They were the perfect way to use up some of my strawberries. Enjoy! xoxo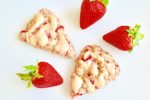 Servings

Prep Time

8

scones

10

minutes
Servings

Prep Time

8

scones

10

minutes
Servings

Prep Time

8

scones

10

minutes

Servings

Prep Time

8

scones

10

minutes
FOR THE MASCARPONE DRIZZLE
Pre-heat the oven to 400 degrees and line a baking sheet with a silicone mat or parchment paper. Combine the flour, sugar, baking powder, nutmeg and salt in a large mixing bowl and whisk them together to aerate them. Gently stir in the mascarpone cheese, strawberry balsamic vinegar and fresh strawberries until it just comes together into a sticky dough. Dust your clean hands with a little extra flour and bring it together into a ball, then flatten it out into an even disc about 6 inches in diameter on a well floured surface. Sprinkle the top with flour as well.

Cut the disc of dough into 8 equal wedges by quartering it, then cutting each quarter in half. Transfer the wedges to the baking sheet and bake the scones for 15-20 minutes. They should be puffy and golden and just baked through. While they bake, make the easy drizzle for topping. Simply stir the mascarpone, balsamic, powdered sugar, vanilla and water together thoroughly until it is a thin mixture perfect for drizzling.

When the scones are done, let them cool for a few minutes. While they cool, drizzle the mascarpone mixture generously on top. Serve them immediately with great tea or coffee and enjoy!