I devised these little spicy ham and cheese croquettes as my yummy solution when I realized I made way too much Spanish style rice for dinner the other day. Croquettes are always such a fantastic way to use up leftover rice or potatoes. It was the same principal as my beloved Italian rice balls. Since the rice was already Spanish style, I decided to take these in a spicy direction and they came out even better than I ever could have hoped! Don't you just love when leftovers get reinvented into something incredible and new?
Any food that is pan fried is best served immediately, so that's what I did. Oh my goodness, these spicy ham and cheese croquettes were little bombs of huge flavor! The exterior was crispy with the creamy, spicy pepper jack in the center. They were spicy but not too spicy. I dipped mine in my favorite salsa and that addition of tomato flavor just sent these babies over the top! They were a perfect snack before Marc and I had dinner. Enjoy!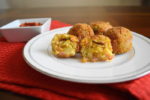 Servings

Prep Time

10

croquettes

10

minutes
Servings

Prep Time

10

croquettes

10

minutes
Servings

Prep Time

10

croquettes

10

minutes

Servings

Prep Time

10

croquettes

10

minutes
In a bowl combine the cooked rice, 1/2 cup breadcrumbs, eggs, salt, sriracha and ham. Mix it all thoroughly and knead it a bit to bring it together. Take a small handful of the mixture and place a cube of the pepper jack in the middle of it. Form the mixture into a tight ball surrounding the pepper jack. With the size that I made mine, I got 10 croquettes out of the mixture but this could vary depending on the size you make them. Adjust the amount of pepper jack cubes you cut up based on how many croquettes you yield. Roll each of the croquettes in the additional breadcrumbs to thoroughly coat them and transfer them to a platter when they are done.

Get a large pan or pot on the stove and fill it with 2-3 inches of canola oil. Heat the oil over medium high heat for a gentle pan frying. Once the oil is hot, pan fry the croquettes in 2 batches so that there is enough room in the pan and you can babysit them more easily. Let them get golden on one side for about 2-3 minutes, then use a spoon to gently roll them over to the other side without squishing them or making them lose their shape. Transfer the cooked spicy ham and cheese croquettes to a plate lined with paper towels to blot the oil and repeat with the next batch. I did two batches of 5. Once all of the croquettes are cooked, serve them immediately with salsa or marinara for dipping! Enjoy!