After some really gorgeous weather it became really cold again here in NJ. At least I got to soak up some Vitamin D while it lasted! This weekend it went down to 20F so we needed something cozy for breakfast. That's where this incredible sausage sweet potato breakfast skillet came in. It was so hearty and simple to make!
That was all there was to making this yummy sausage sweet potato breakfast skillet! I served it immediately for brunch and I was one happy woman. As we ate the winter chill just melted away for a bit, especially with great coffee to wash it down. xoxo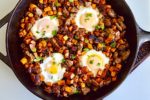 Servings

Prep Time

2-4

20

minutes
Servings

Prep Time

2-4

20

minutes
Servings

Prep Time

2-4

20

minutes

Servings

Prep Time

2-4

20

minutes
Get out a large cast iron skillet and heat a big dash of olive oil in it over medium high heat. Brown the sausage in it as you break it up. Add the sweet potato and onion and toss it with the sausage. Season everything with the salt, garlic powder, crushed red pepper and cinnamon and stir it all well. Then let everything sit undisturbed for 5 minutes so that it develops a crust. Stir everything again well and add the Worcestershire sauce. Let the mixture sit undisturbed again for another 5 minutes to let the potatoes cook through thoroughly and develop even more of a crust.

Stir in the cheddar at this point and let it melt right in. Then make 4 little pockets in the mixture and drizzle a little olive oil in each one so that the eggs don't stick. Gently pour an egg into each pocket. Cover the pan and let the eggs set for about 2 minutes. Garnish it all with a big sprinkle of fresh parsley and serve immediately! Enjoy!